Negotiator – Yang Mi, Huang Zitao
Negotiator is an urban romantic drama directed by Liu Yizhi, starring Yang Mi and Huang Zitao.

The drama tells the love story of Tong Wei, a senior negotiator, and Xie Xiaofei, the heir to a secretive and wealthy Chinese family in American society, who meet and fall in love through fate.
Details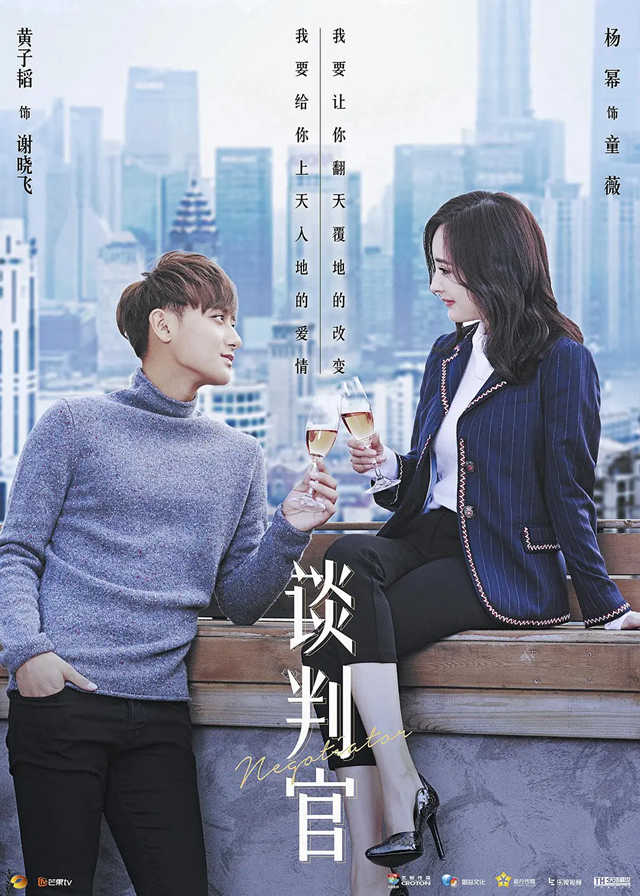 English Title: Negotiator
Chinese Title: 谈判官
Genre: Urban, Romance
Episodes: 43
Duration: 45 min.
Director: Liu Yizhi
Writer: Fei Huijun, Li Xiaoliang
Producer: Fang Ying, Zhao Ruoyao
Broadcasting Website: Croton MEGA HIT, Viki, iQIYI, YOUKU, MGTV, TencentVideo
Released Date: February 4, 2018
Cast

Yang Mi
as Tong Wei

Huang Zitao
as Xie Xiaofei

Dylan Kuo as Qin Tianyu
Mao Linlin as Xia Shanshan

Yang Feiyang as Zhao Chenxi

Winston Chao as Xie Tianyou

Zhu Xudan
as Shang Bichen

Lai Yi as Xie Xiaotian

Zhao Chulun as Yang Xiao
Li Tingting as Tong Tiantian
Synopsis
With her solid professional skills and bold and careful negotiation style, Tong Wei is the youngest and brightest negotiator in the Sino-American Economic and Trade Association.
She met Xie Xiaofei through a commercial M&A project. The Xie family is a secretive and wealthy Chinese family in American society, and Xie Xiaofei is the heir to the family.
Xie Xiaofei, who grew up in the U.S., is proud and arrogant. Because his ideal is not supported by his father and family, he frequently confronts Tong Wei in negotiations.
However, as the relationship deepens, they gradually go from mutual dislike to mutual appreciation, and fall in love finally.
At this time, Xie's father encountered betrayal, Xie Xiaofei experienced alienation.
Tong Wei comes forward and uses her negotiating expertise to win an important project for the Xie family. Xie family eventually reclaims their shares.
At this point, Tong Wei discovers that the death of her parents was related to the Xie family, and she and Xie Xiaofei eventually break up due to the feud between the previous generations.
After years of separation, the lovers have to meet at the negotiation table.
Tong Wei and Xie Xiaofei confirm their love in the love-hate relationship. Xie Xiaofei also feels the prosperity of China and convinces his family to move their business focus back to China.