Intense Love – Ding Yuxi, Zhang Yuxi
Intense Love is a sweet urban romantic drama directed by Cai Cong, led by Zhang Yuxi, Ryan Ding Yuxi, co-starring Wanyan Luorong, Wu Yang, Lin Xinyi, Zhang Yao, with a special appearance by Shi Mingze.
The drama is based on the novel of the same title by Liu Mang Xing, which tells the sweet love story of an inspirational actress who falls in love with a dedicated male doctor.
Details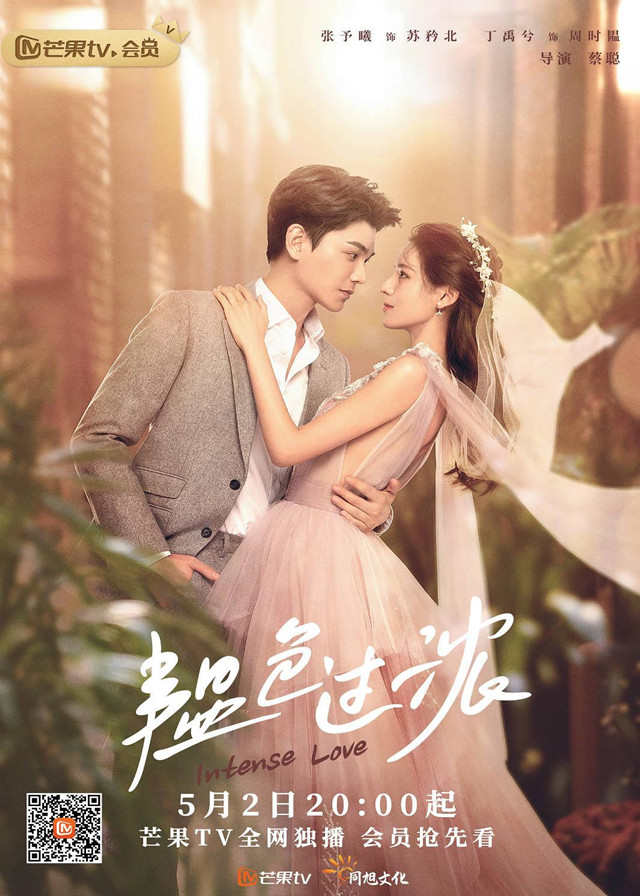 English Title: Intense Love
Chinese Title: 韫色过浓
Genre: Urban, Romance
Tag: Arranged Marriage, Arranged Relationship, Female Chases Male First, Nice Male Lead, Entertainment Industry, Steamy Kiss
Episodes: 24
Duration: 45 min.
Director: Cai Cong
Writer: Jiang Yu, Wang Minna, Liu Yiru, Yang Yaming
Product Company: Mongo TV
Released Date: 2020-05-02
Broadcast Website: Viki, MGTV, MGTV Drama Channel, Prime Video
Cast
Synopsis
Su Jinbei's family had arranged an engagement for her at an early age, but she did not want to obey her parents' arrangement and decisively ran away from the engagement.
However, shortly afterward, she was hospitalized due to a car accident. She finds that she has lost her precious first kiss after waking up.
The doctor in charge of Su Jinbei is a man named Zhou Shiyun. What Su Yuanbei didn't expect was that this handsome and ruthless doctor was the "fiance" that she had avoided before.
Su Jinbei immediately fell in love and pursued Zhou passionately, but she didn't reveal her true identity.
However, the clever Zhou Shiyun had already known Su Jinbei's little trick and knew all about her.
With such a huge difference in strength, can Su Jinbei be able to move this cool doctor?
Reviews
You May Also Like
Related Posts
Chinese Dramas Like Intense Love

Ryan Ding Yuxi, Zhang Yuxi Rumored To Be In A Relationship Again

Who Is Zhang Yuxi's Boyfriend? What's Her Ideal Type

Zhao Lusi, Ryan Ding Yuxi Refused To Be CP, Will They Played In "The Romance Of Tiger And Rose 2"?

Who Is Ryan Ding Yuxi's Girlfriend? Dating Kala Jiang Zhuojun?

What's Liu Xueyi And Zhang Yuxi's Relationship?

Xiao Zhan Ranked 1st, Wang Yibo 2rd - The Most Popular Chinese Actor in Thailand

Liu Xueyi, Zhang Yuxi Were Exposed To Be In A Relationship, Studio Denied It.

Zhang Yuxi Photos

Ding Yuxi Photos

How is Ding Yuxi and Peng Xiaoran's relationship?

Ryan Ding Yuxi, Esther Yu Shuxin Sweet Love Between Writer And Editor In "Moonlight"

The Two Sweet Dramas Starred By Yang Yang, Ding Yuxi, Who Will You Choose?

Zhang Yuxi Dramas, Movies, and TV Shows List

Ding Yuxi Dramas, Movies, and TV Shows List