I'm a Pet At Dali Temple – Xu Kaicheng, Hu Yixuan
I'm a Pet At Dali Temple is a historical fantasy romantic drama directed by Liu Zhenming, starring Xu Kaicheng, Hu Yixuan, Wang Xiran, Xu Jiawei, and Li Yizeng.

The drama is adapted from the web novel "Da Li Shi Shao Qing De Chong Wu Sheng Ya", which tells the story of a modern extinct yin and yang master, Ru Xiaolan, who inexplicably turns into a cat and falls into the arms of the handsome president of Dali Temple (the Supreme Court), Qing Moyan, staging a sweet human-pet romance that crosses time and space and breeds, and uncovering the shocking secret behind the strange cases.
Details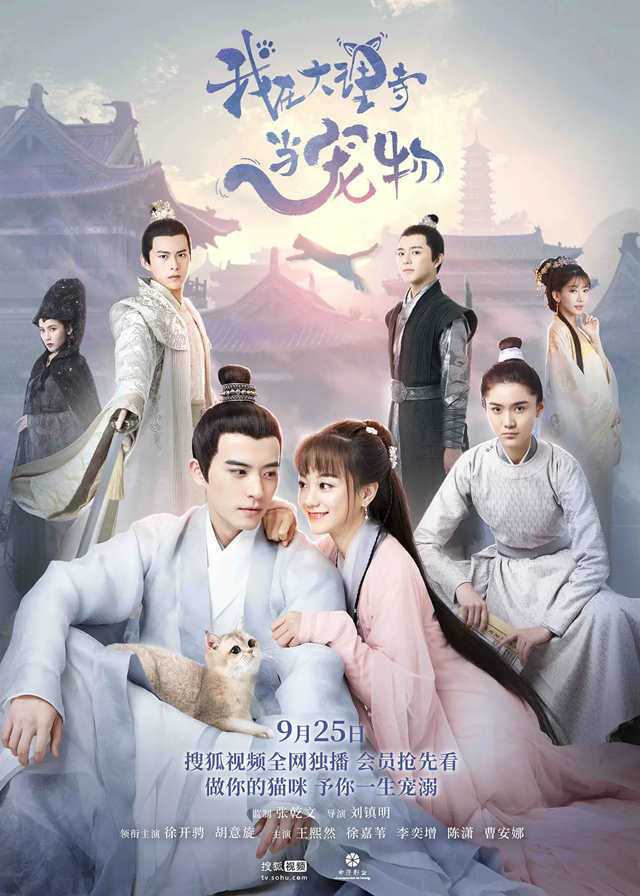 English Title: I'm a Pet At Dali Temple
Chinese Title: 我在大理寺当宠物
Genre: Historical, Fantasy, Romance
Tag: Cold man/Warm woman, Time Travel, Reincarnation, Cat, Birth Secret, Investigation
Episodes: 22
Duration: 30 min.
Director: Liu Zhenming
Writer: Liu Qiuye, Yu Yiqin, Lin Qingyu, Zhu Qienong, Mu Fei
Producer: Liu Mingli, Bian Liang, Chen Yi
Product Company: tv.sohu.com
Released Date: 2018-09-25
Boradcast Website: Caravan中文剧场, Viki
Cast
Synopsis
Ru Xiaolan, A young girl knowing Ying and Yang skills, accidentally traveled through time and space to become a cat in ancient times and meets Qing Moyan, a young minister of the Da Lisi Temple, who was suffering from Gu Du (disease due to noxious agents produced by various parasites).
They discovered that they can relieve each other's magic spell and Gu Du through an accidental kiss.
Thus, with their own purposes, they searched together for the "five-colored stones" and "ghost herb" that were scattered all over the world to lift the spell and eliminate Gu Du.
During this period, Ru Xiaolan and Qing Moyan solved numerous suspense cases, but also started the love adventure.
You May Also Like
Related Posts