Hello, the Sharpshooter – Hu Yitian, Xing Fei
Hello, the Sharpshooter is a contemporary urban youth drama, directed by Liu Yizhi, starring Hu Yitian, Xing Fei, Ma Sichao, and Luo Qiuyun, co-starring Niu Chao, Lu Qi, Zheng Yiming, and Zhu Zijie, Jia Qing, Lin Peng, Wang Dong, and Shi Mingze, with Sha Baoliang in a special appearance.

The drama is adapted from the popular novel of the same title written by Lianmu Chuguang, is about the story of Shen Qingyuan, the captain of the shooting team, who meets Tang Xin, a trainee reporter in a competition, and this "old love couple" who meet each other again in the midst of suspicion of their past love.
Details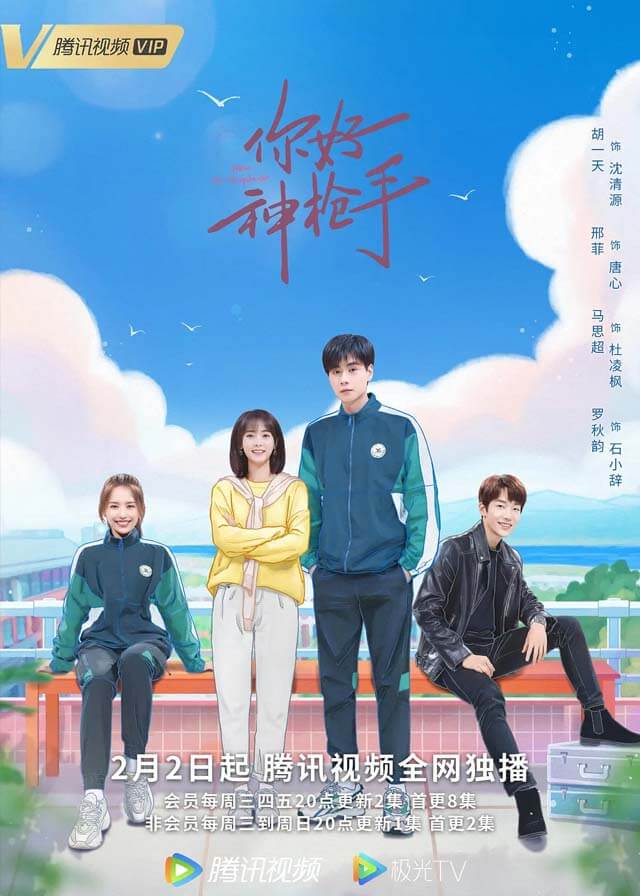 English Title: Hello, the Sharpshooter
Chinese Title: 你好,神枪手
Genre: Urban, Romance, Sport
Tag: Cohabitation, Amnesia, Car Accident, Secret Crush, Height Difference, Meet Again
Episodes: 40
Duration: 45 min.
Director: Liu Yizhi
Writer: Zhao Xuan, Lu Xingxuan
Producer: Li Liming, Wang Xue, Zhou Hao, Gu Sibin
Product Company: T.H Ent., Maoyan Ent., Wanjia Ent.
Released Date: 2022-02-02
Broadcast Website: WeTV, Viki, KUKAN
Cast
Synopsis
At the National Games, Tang Xin, a trainee reporter for a TV sports channel, is ordered to interview the champion of the 50m pistol slow-fire event. She finds that the winner is not the veteran Du Lingfeng, whom everyone expected, but the "shooting gallery tutor" Shen Qingyuan, whom she secret crush on four years ago.
The indifferent attitude of Shen Qingyuan in the interview makes Tang Xin suffer a great blow. She even stutters in the interview, and her career is nearly ended.
Tang Xin approaches Shen Qingyuan in the name of tracking reports and producing programs, trying to solve the problem at its root.
In the provincial shooting team, she meets Du Lingfeng, a former pistol slow fire champion who is not willing to lose, Shi Xiaoci, a women's air rifle competitor who is ambitious, and Chen Ning & Chen Hai, a twin brother.
She produced the highly popular shooting show that broke the workplace crisis.
As the Asian Championships are about to be held, Shi Xiaoci is accidentally injured and chooses to give her shooting dream to Du Lingfeng, while Tang Xin, with the help of Ding Fang, the provincial team psychologist, solves Shen Qingyuan's knots.
The tit-for-tat between Shen Qingyuan and Du Lingfeng was finally released. They stand side by side on the shooting stage with their dreams and love and launch a higher sprint for glory.
Reviews
You May Also Like
Related Posts
Chinese Dramas Like Hello, the Sharpshooter

How Is Fair Xing Fei And Hu Yitian's Relationship?

Xing Fei, Daddi Tang Xiaotian -A Fake Romance Turns Real?

Who Are Fair Xing Fei's Rumored Boyfriends? Ideal Type Requirement Is Easy?

Hu Yitian's Girlfriend - 3 Rumored Girlfriends

Shen Yue and Hu Yitian Greet Each Other After Rumors

Hu Yitian, Zhang Ruonan Were Spotted Dating On Chinese Valentine's Day

What's The Relationship Between Fair Xing Fei And Lin Yi?

Hu Yitian Photos

Xing Fei Photos

Xu Kaicheng, Xing Fei- Sweet And Funny Adventure In "Yue Zhao Ji"

Allen Ren Jialun and Fair Xing Fei Fall In Love in "Miss Crow with Mr. Lizard", Sweetness Is Overwhelming!

Xing Fei, Tang Xiaotian Fall In Love In "My Little Happiness"

Hu Yitian Dramas, Movies, and TV Shows List

Xing Fei Dramas, Movies, and TV Shows List

Hu Yitian, Hu Bingqing - Double Hu Staged A Long Unrequited Love

"Chengrang CP" Of Li Chuan, Huang Yilin gets rave reviews- "My Little Happiness" Sweetness Overflows