Stand By Me – Cheng Yi, Zhang Yuxi, Xuan Lu, Han Dong
Stand By Me is an ancient suspense political drama, directed by Liu GuoNan and Zhao Lijun. Starring Cheng Yi, Zhang Yuxi, Xuan Lu, and Han Dong, He Shengming, Xi Xue, Li Junyi, Fu Fangjun.

The drama is based on Fei Hua's novel "JIAN QI XING", which tells the story of twin sisters Cheng Ruoyu and Qiu Yanzhi, who are on opposite sides.

They reunite in a fatalistic way, and are involved in the dynastic storm together with Prince Li Yan and Lord Guang, and grow up together.
Details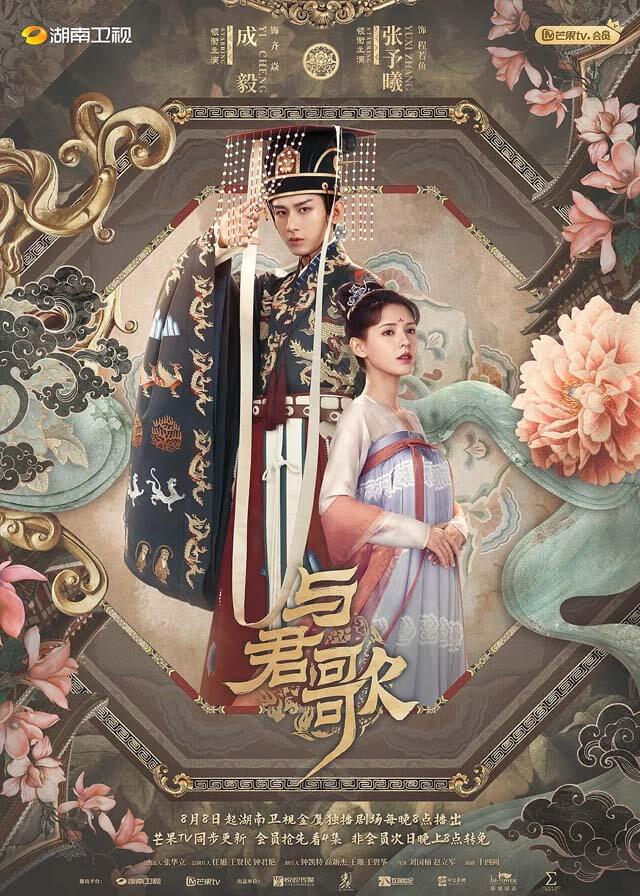 English Title: Stand By Me
Chinese Title: 与君歌
Genre: Historical, Romance, Suspense, Political
Tag: Tang Dynasty, Smart Male Lead, Royalty, Power Struggle, Revenge, Scheme
Episodes: 49
Duration: 45 min.
Director: Liu Guonan, Zhao Lijun
Writer: Shisi Que
Producer: Zhong Kaite, Gao Xinjie, Wang Shan, Wang Bizheng
Product Company: H&R Century Pictures, YueShi Media, He Li Chen Guang International Culture Media, Innovation Media Power, Li Tian TV&Film, China Wit Media
Released Date: 2021-08-08
Broadcast Website: MGTV, Viki, YoYo Television Series Exclusive, YoYo English Channel, Prime Video
Cast
Synopsis
During the years of Emperor Wenzong at the end of the Tang Dynasty, the eunuchs were in power. The Emperor and Wang Ya, Li Xun, and Zheng Zhu set up the "Gan Lu scheme" in an attempt to kill the eunuch Qiu Shiliang.
The younger sister is adopted by the Ziyi bureau and renamed Yu Bing'er, while the older sister is determined to take revenge and renamed Yanzhi. She becomes Qiu Shiliang's righteous daughter.
Seven years later, the new emperor Li Yan ascends to the throne, and Ziyi Bureau is appointed to fight against Qiu Shiliang, thus the two sisters are fated to reunite on opposite sides. Yu Bing'er has lost her memory.
Yanzhi does not recognize Yu Bing'er, who has grown into a young girl. In pursuit of Emperor Wen's edict, they become rivals and enemies. When Yanzhi learns that the person she has been framing is her own sister. She decides to sacrifice herself to save her sister.
In the end, Yu Bing'er helps Li Yan to eradicate the forces of Qiu Shiliang. After Li Yan's death, Li Chen, the lord Guang, takes the throne and is determined to revive the Tang Dynasty.
Reviews
You May Also Like
Related Posts
Chinese Dramas Like Stand By Me

Ryan Ding Yuxi, Zhang Yuxi Rumored To Be In A Relationship Again

Who is Cheng Yi's girlfriend? Meng Ziyi?

How Is Cheng Yi, Crystal Yuan Bingyuan's Relationship?

How Is Yang Zi and Cheng Yi's Relationship?

Who Is Zhang Yuxi's Boyfriend? What's Her Ideal Type

What's Liu Xueyi And Zhang Yuxi's Relationship?

Ray Ma Tianyu Falls In Love With Xuan Lu? Intimate Behavior Caused A Gossip

Zhang Yuxi Photos

Cheng Yi Photos

Liu Xueyi, Zhang Yuxi Were Exposed To Be In A Relationship, Studio Denied It.

Cheng Yi Dramas, Movies, and TV Shows List

Zhang Yuxi Dramas, Movies, and TV Shows List

Xuan Lu Dramas, Movies, and TV Shows List

Han Dong Dramas, Movies, and TV Shows List