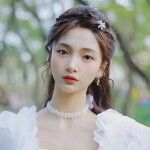 Duan Xingyu dramas, movies, and TV shows list contains the best TV series, films of Duan Xingyu and the ongoing and upcoming shows. The list will be updated continuously, bookmark this list to get the latest tv shows of Duan Xingyu.
Duan Xingyu Dramas List
TBA

#1

Historical, Romance, Fantasy

Vin Zhang, Sun Zhenni

In ancient times, the Human Emperor, Zhao Ming, petitioned on behalf of the people and sacrificed himself to resist the divine realm. After Zhao Ming's fall, his beloved, Hun Dun Zhu, risked her life to save a wisp of his soul, setting up the cycle of reincarnation for eternity. In the distant future, Zhao Ming reincarnated as Xie Xuechen, the leader of the Immortal Alliance, while Hun Dun Zhu became the Holy Maiden Mu Xuanling in the Dark Domain. The two finally reunited in the mortal realm but had forgotten their past, becoming adversaries in a "righteous versus evil" struggle. Mu Xuanling saved the heavily injured Xie Xuechen in the Dark Domain and coerced him to travel together in gratitude for saving his life. Throughout their journey, the two went from harboring schemes against each other to fighting side by side, gradually letting go of their guard and developing feelings for each other. However, amidst the conspiracy to seize the divine artifact, the "Chaos Pearl," they found themselves in a life-and-death trial. Mu Xuanling sacrificed herself to save the world, and Xie Xuechen defied fate to go back in time and rescue her. With the end of the eternal calamity, Xie Xuechen's soul finally returned to Zhao Ming, but Zhao Ming's original form had become a demon god. Mu Xuanling used love to awaken the demon god, dispelling the catastrophe, and bringing peace to the world.

2023-11-03

#2

Urban, Romance, Comedy

Bai Lu, Dylan Wang

A love story between a bossy CEO, Shi Yan, and a "foolish" female protagonist, Zheng Shuyi. They embark on a love journey due to a misunderstanding. Career-driven financial journalist Zheng Shuyi, who was determined to secure the front page, made great efforts to obtain an exclusive interview with Mingyu Yunchuang CEO Shi Yan. They left a deep impression on each other. Zheng Shuyi wrote several objective and concise reports through in-depth research on various industries, while Shi Yan continued to seek out potential and socially responsible start-ups for investment, hoping to give back to society. Shi Yan found that Zheng Shuyi's views conveyed through her reports always coincided with his own, and accepted her invitation to do a series of reports on Mingyu Yunchuang. Zheng Shuyi and Shi Yan analyzed the industry together, exchanged views, and used new media channels to bring the latest financial information to readers. They also faced various difficulties and challenges in the investment and interview process, and their hearts gradually approached each other in the back-and-forth exchange. In the end, Zheng Shuyi's career ambition to create an electronic magazine was realized, and Shi Yan led Mingyu Yunchuang to complete successful investments, opening up a new world for their careers and ultimately finding love together.

2023-08-22

#3

Fantasy, Romance, Drama

Zhao Yiqin, Duan Xingyu

Song Yiju, a senior student at the Traditional Chinese Medicine College, has long relied on the help of teaching assistant Xiao Jing to obtain credits for her courses. The two, who have known each other for many years, have always maintained a mutually beneficial relationship. However, after a daytime meteor shower, Xiao Jing began to frequently go back on his promises, leaving Song Yiju puzzled and concerned. Indeed, the current Xiao Jing is a person from a future spacetime. In order to obtain a precious medicinal herb, he entered the present reality and approached Song Yiju's grandfather, planning to steal it opportunistically. Unexpectedly, due to temporal deviations caused by time travel, a three-month gap emerged, during which Song Yiju's grandfather entrusted her to Xiao Jing's care. This situation overwhelmed Xiao Jing. To achieve his goal, he forcefully engaged in social interactions, but he gradually warmed up to the cheerful girl, Song Yiju, and found the antidote to his inner struggles. However, the moment of parting quietly approaches...

2023-08-04

#4

Fantasy, Wuxia, Drama

Peng Yuchang, Neo Hou, Wang Yinglu

The ordinary teenager, Zhang Chulan, was unexpectedly drawn into an unprecedented world of "Outsiders" when his grandfather's corpse mysteriously disappeared. Facing sudden and relentless pursuit and the sudden intrusion of the mysterious girl, Feng Baobao, Zhang Chulan decided to no longer hide his own abilities. As he traced his grandfather's past, Zhang Chulan gradually integrated into the world of strange beings, and the mysteries of history gradually emerged. There seemed to be a shocking secret behind it all, and Feng Baobao's mysterious identity seemed to be the key to unlocking the mystery. Faced with a series of crises, the young outsiders came together and formed deep friendships and bonds. On this path of growth, each person is searching for their own path and values. A showdown between light and darkness is about to erupt...
Related Posts