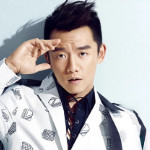 Zheng Kai dramas, movies, and TV shows list contains the best TV series, films of Zheng Kai and the ongoing and upcoming shows. The list will be updated continuously, bookmark this list to get the latest tv shows of Zheng Kai.
Zheng Kai Dramas List
2023-02-21

#1

Urban, Comedy, Drama

Zheng Kai, Yukee Chen, Dylan Wang

Planning Department 3 was once the most secretive and prestigious department within Gaofa Technologies. But in the past three years, its status has fallen due to the repeatedly unreliable plans it has submitted. However, in their own way, the people in Planning Department 3 are living the life of "ordinary strugglers". Whether it is Li Tianran, an "unpromising person" in the workplace, Fan Sisi, a girl who pursues inner peace and calmness, Wu Yimei, a cold-faced, and warm-hearted person, or Bai MaShuai, who works hard instead of being a playboy, they have their own dreams, their own persistence, and their deep feelings for the Planning Department. They progress with their colleagues and grow with the company. Although they faced deliberate criticism from the deputy director and competition from Planning Department 1, they successfully resolved the crisis with their efforts time and again and brought Planning Department 3 back to the top. They have also grown up in their work life with laughter and tears, and have gained precious love and friendship.

2021-05-27

#2

Romance, Youth

Joe Chen, Zheng Kai

Xiao Mo, a co-pilot of Midsummer Airlines, accidentally discovered a fire during a flight, which indirectly caused the death of the airline's prince Xia Yu's mother. Although the company finally ruled that Xiao Mo was not responsible, Xiao Mo resigned from his pilot position because of guilt and became a maintenance engineer. Two years later, Xiao Mo returned to the flight team and met Xia Yu, who was already a flight cadet. During his retraining at the flight school, both of them unexpectedly fell in love with Wu Di, a female pilot with an honest personality. At this time, an unfinished investigation report suddenly appeared, and the unknown truth two years ago made people suspicious of Xiao Mo again. Seeing that Xiao Mo was once again facing grounding, Wu Di's heart also got gradually close to Xia Yu. Xiao Mo was no longer retreating, using all means to find out the circumstances of the accident two years ago. He tried his best to prove his innocence and strength as a pilot, back to the blue sky again!

2015-07-17

#3

Urban, Romance, Business

Zhao Liying, Zheng Kai

Song Nuan, Zhou Gege, Gao Wen Ruo Han, and Ning Ba La are classmates in the same dormitory, graduation is approaching, they all entered a large enterprise internship. Zhang Sheng, who comes from a wealthy, is forced to be an intern because of his mother's pressure. Zhang Sheng is against Song Nuan at every turn, but Song Nuan impresses everyone with her strength and resilience. Zhao Xiaochuan, a technical man, falls in love with Zhou Gege, but painfully discovers that Gege has a crush on Zhang Sheng, his best friend. Several post-90s are growing up, and their parents are also undergoing turmoil. Song Nuan's father, Song Guangming, is unemployed and is looking for a job without telling his wife and daughter. Chen Ailian is fired by her daughter's classmate, Ning Ba La. Zhang Sheng's mother is unable to cope with the failure of her business and passes away, Zhang Sheng experiences the most important test in his life, Song Nuan never leaves his side, and they finally reap the most innocent love.
Zheng Kai Movies List
2023-09-28

#1

Romance, Comedy, Drama

Han Geng, Zheng Kai, Kelly Yu

Meng Yun and Yu Fei, this pair of close brothers, after going through the trials and tribulations of love, have finally reached the age of marriage. Meng Yun, who is still experiencing the "aftermath of a breakup," faces pressure from his family and begins the search for true love, accompanied by the question, "Why should I get married?" On the other hand, Yu Fei and his girlfriend Ding Dian, in coping with the various situations that may arise after marriage, have created a "pre-marriage cooling-off period," in which they rehearse their married life in advance. The two brothers embark on a completely new challenge in the realm of love...

2018-09-30

#2

Historical, Wuxia, Action

Deng Chao, Sun Li, Zheng Kai

This is a story about a "double". A double has appeared since ancient times and is known as a "shadow". When there is an assassination, there is a shadow. The shadow must come forward in a crisis and save the life of the master; the shadow must also be one with the real body, making it difficult to distinguish between the real and the fake. The real body has never been very secretive about the origins of the shadow and is reluctant to talk about it, leaving the truth in the dark. After being defeated by Yang Cang, an enemy general, Zi Yu, the viceroy of Pei, was wounded and used his childhood double, Jing Zhou, to work instead of him in the court and on the battlefield. At the same time, Pei Liang, the king of Pei, and Zi Yu, the viceroy of Pei, are scheming against each other. As a "shadow", Jing Zhou struggles to survive in a game of power and intrigue among the nobility.

2018-02-16

#3

Fantasy, Comedy

Yue Yunpeng, Lin Chi-ling

Bei Xiaobei, due to his appearance not conforming to mainstream aesthetics, has repeatedly encountered setbacks in life. One day, he gathered the courage to confess his love to his long-time crush, Li Ya, but was tragically rejected. Bei Xiaobei began to doubt his life and blamed all responsibility on his ancestors' imperfect genes. When he accidentally opened the family tree and traveled through time to the era of his ancestors, Mei Banfa, Mei Qiantu, Mei Xingfu, and Mei Xiwang, Bei Xiaobei decided to adjust his genes by tampering with his ancestors' marriages, in order to make himself more handsome.

2016-12-16

#4

Fantasy, Action, Adventure

Jing Tian, Andy Lau, Zhang Hanyu

In ancient China, there existed a monstrous creature known as the Taotie, which preyed on humans. Every sixty years, the Taotie would gather and invade human territory in search of food. The purpose of the human army, who defended their land by constructing the Great Wall, was to resist the invasion of these creatures. William Garin, a foreign mercenary in search of black powder for profit, and Pero Tovar, found themselves accidentally entering the Great Wall of China. They encountered the secretive Chinese military force, the Nameless Order, who were dedicated to combating the Taotie. They witnessed the elite skills and bravery of the Nameless Order, and were moved by the trust and sacrifices among the warriors. Inspired by this, William Garin wholeheartedly joined the fight to protect humanity. However, during the course of their battles, they discovered that the Taotie army was continuously evolving. Eventually, they managed to breach the Great Wall and make their way towards the imperial palace, initiating a large-scale war.
Related Posts