Count Your Lucky Stars – Jerry Yan, Shen Yue
Count Your Lucky Stars is an urban inspirational romantic drama directed by Lin Ziping, Huang Changzuo, led by Jerry Yan Chengxu and Shen Yue, and co-starring Lamu Yangzi, Miles Wei Zheming, Shen Yao, Wang Sen, Li Yuyang, Yu Silu, Li Shipeng, Bao Yaming, Lin Peng, and Du Yan.

The drama is based on the novel "Jiao Huan Ba, Yun Qi" by Mo Xi, which tells the love story between Lu Xingcheng, an arrogant editor-in-chief, and Tong Xiaoyou, an unlucky designer.
Details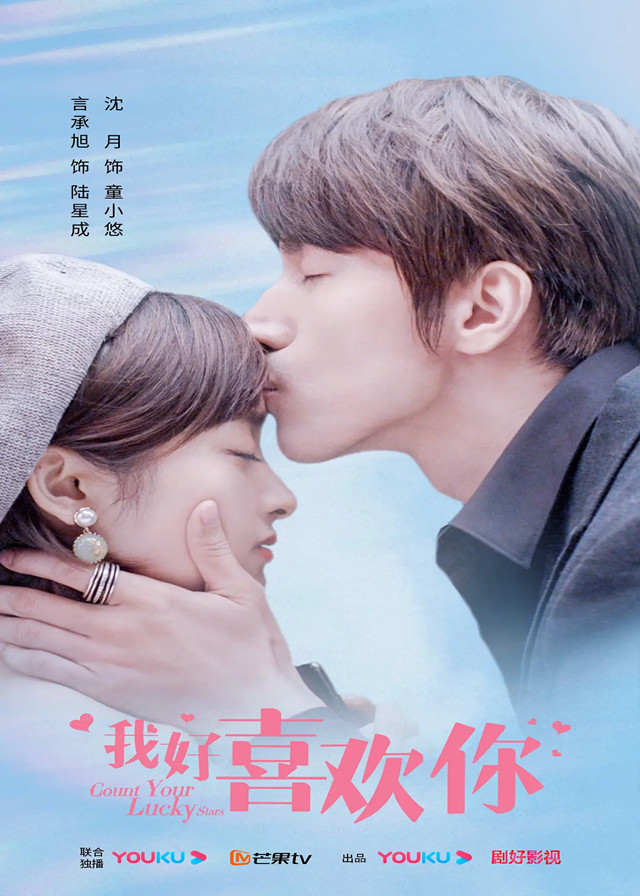 English Title: Count Your Lucky Stars
Chinese Title: 我好喜欢你
Genre: Urban, Romance, Comedy
Tag: Brothers Love Same Woman, Older Man/Younger Woman, Kiss Scenes, Love Triangle, Love/Hate Relationship, Evil Stepmother
Episodes: 34
Duration: 45 min.
Director: Lin Ziping, Huang Changzuo
Writer: Gao Wei
Producer: Sun Jin
Product Company: YOUKU, JUHAO PICTURES
Released Date: 2020-08-03
Watch On: Viki, YoYo Television Series Exclusive, YoYo English Channel, youku.tv
Subtitle:
English, Chinese, Thai, Indonesian, Malay, Vietnamese, Spanish, Portuguese, Arabic, Catalan, Czech, Dutch, Finnish, French, German, Greek, Hebrew, Hungarian, Hindi, Italian, Korean, Polish, Norwegian, Romanian, Serbo-Croatian, Swedish, Tagalog, Turkish
Cast
Synopsis
Tong Xiaoyou dreamed of becoming a designer because of the glimpse she had of Niji's dress when she was a teenager.
After graduation, she squeezed into the fashion magazine "CHIC". In the two years, she was doing odd jobs and being ordered, but she remained optimistic and positive, never giving up on her dream.
She believed that as long as she works hard and was kind-hearted, she can definitely achieve good results.
She meet Lu Xingcheng, who was cool and nasty on the surface but gentle on the inside, and her love life changed in various ways.
Lu Xingcheng became famous as a teenager and is now the editor-in-chief of CHIC magazine, the top fashion magazine.
But few people know that Lu Xingcheng also has excellent design talent. A car accident many years ago made him lose his sister.
His self-blame was hard to dispel, so he can no longer design.
Lu Xingchen and Tong Xiaoyou met, their emotions tangled together.
Tong Xiaoyou was able to see Lu Xingcheng's hard work, and Lu Xingcheng knew Tong Xiaoyou's kindness. They finally understood that good luck must be the result of hard work, and bad luck may be the choice of kindness.
Reviews
You May Also Like
Related Posts