Children's Hospital Pediatrician – Luo Yunxi, Sun Yi
Children's Hospital Pediatrician is an urban emotional drama directed by Zhou Dehua, starring Luo Yunxi, Sun Yi, Ling Xiaosu, Zeng Li, Xu Shaoxiong, Liu Jia, Hu Rui, Li Yining, Li Dongming, and Liang Ce.
Based on true events, the drama tells the heart-warming real-life story of a pediatric clinic.
Details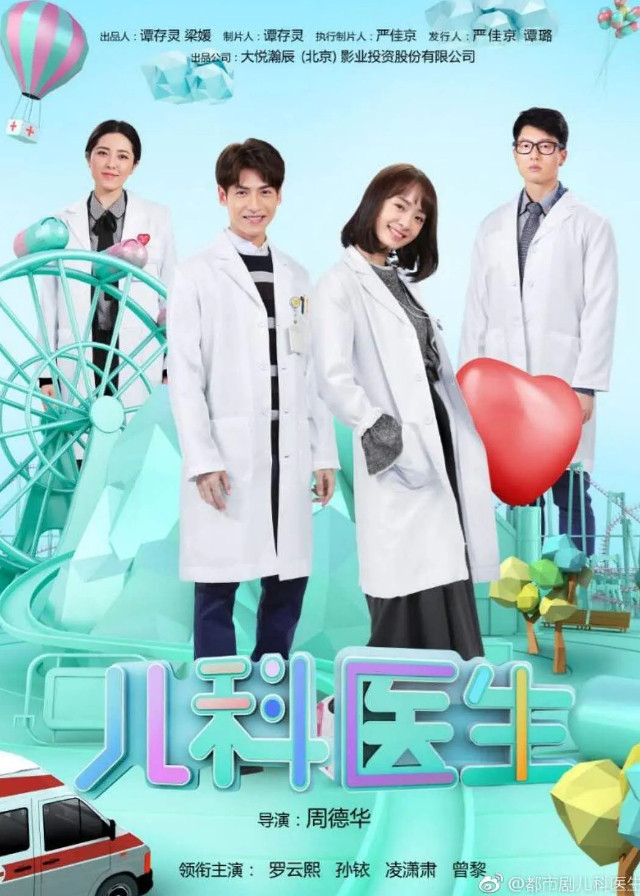 Cast
Synopsis
Tang Yujia, a resident in paediatrics, has a stubborn and a bit cute personality.
Her ultimate dream is to become a surgeon, but she never thought she would end up in paediatrics.
Tang Yujia first meets her mentor, Ye Mei, who is incredibly strict in her profession. Under her critical and "oppressive" approach, Tang Yujia grows rapidly in her practice.
Subsequently, Tang Yujia discovers that Ye Mei's first love is the paediatric Chu Zijian, whose professional prowess is in stark contrast to his embarrassing life.
Mr Chu's wife cannot bear the emotional betrayal of Mr Chu and chooses to divorce him.
However, Chu Zijian chooses Ye Mei after experiencing a divorce and the illness of his daughter.
After a few bitter experiences, Tang Yujia's marriage to Shen He grows more and more stable.
As Tang Yujia's rotation in paediatrics comes to an end, she experiences the hardships of paediatricians and is eventually moved by Zhong Qin's selflessness and love for the children, and decides to stay in paediatrics and become a competent and committed paediatrician.
Reviews
You May Also Like
Related Posts
Chinese Dramas Like Children's Hospital Pediatrician

How is Luo Yunxi and Bai Lu's Relationship?

Who is Luo Yunxi 5-year girlfriend, is the net rumor of his love history true?

Luo Yunxi and Dilraba His Favorite Actress on the same stage

Luo Yunxi and Zhang Ruonan Compose Love Symphony, How Their Chemistry Together Is?

Does Yukee Chen Yuqi Have A Boyfriend?

Luo Yunxi Was Injured In A Filming Accident, Fans Were Heartbroken, The Related Actor Issued An Apology And Denied Wearing A Ring

Luo Yunxi, Cheng Xiao Have Suprise Chemistry. What's Their Relationship?

Luo Yunxi Photos

Luo Yunxi looks very handsome in the live video streaming

Luo Yunxi, Bosco Wong Takes On The Role Of A Daddy, Taking Care Of The Baby With Fun

Victoria Song Qian, Luo Yunxi: Dangerous Relationship in "Broker"

"Lie To Love" is about to shoot? Luo Yunxi will play the leading actor, Cheng Xiao will be the leading actress?

Sun Yi Dramas, Movies, and TV Shows List

Luo Yunxi Dramas, Movies, and TV Shows List

Luo Yunxi's Mr. Moxi Season 3 aired on December 24, 2020