Begin Again – Zhou Yutong, Gong Jun
Begin Again is an urban romantic drama directed by Xu Chi, led by Zhou Yutong and Simon Gong Jun, and co-starring Garvey Jin Ze, Wu Mansi, and Li Siqi.

The drama is based on Thai author Ms. Pitchaya Turdkwanchai's literary work "Samee Ngern phon", which tells the love story of Lu Fangning, a female CEO of Luming Group, and Ling Rui, a gentle surgeon, who get married under a contract and fall in love after the marriage.
Details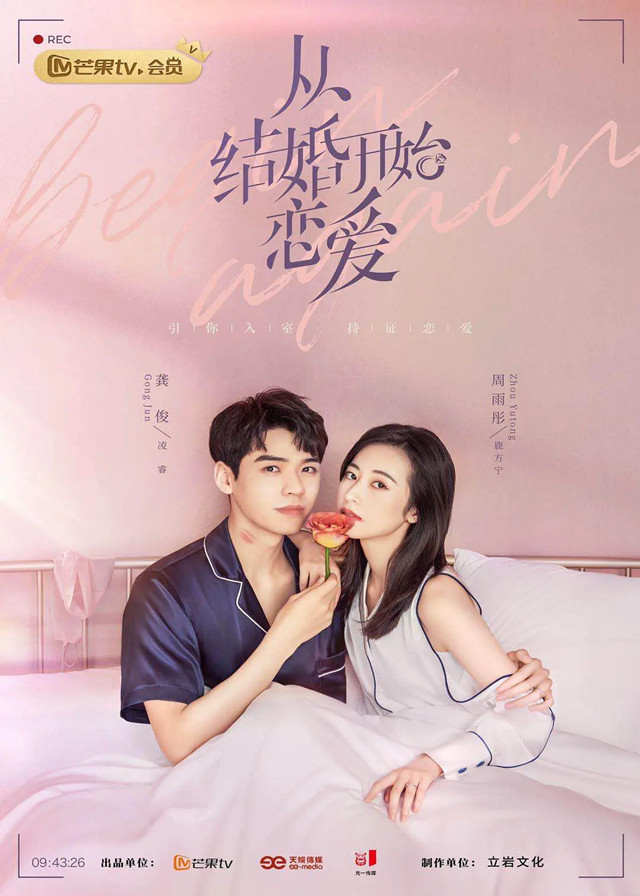 English Title: Begin Again
Chinese Title: 从结婚开始恋爱
Genre: Urban, Romance
Tag: CEO Female Lead, Strong Female Lead, Caring Male Lead, Female Chases Male First, Contract Marriage, Rich Woman/Poor Man
Episodes: 35
Duration: 45 min.
Director: Xu Chi
Writer: Chen Liwen, Jiang Yuehua
Producer: Tang Fan, Yu Hui, Luo Xiaoli, Wu Xuan, Liu He
Product Company: Hunantv.com Interactive Entertainment Media Co. Ltd, Zhejiang Dongyang Tianju Pictures & Culture Co., YUANMEDIA
Released Date: 2020-10-29
Watch On: MGTV, MGTV Drama Channel
Subtitle:
English, Chinese, Thai, Indonesian, Malay, Vietnamese, Spanish, Portuguese, Korean, Japanese, Arabic, French, German, Italian, Filipino, Russian, Swahili
Cast
Synopsis
Lu Fangning, the general manager of a large home furnishing company, was a proud girl who was beautiful, talented, and wealthy.
However, at the age of 30, due to the pressure of family and career, Lu Fangning urgently needed a husband and a child of her own.
At that moment, Ling Rui, a surgeon, appeared in front of her.
With his excellent professionalism, handsome appearance and angelic heart, Ling Rui became the perfect husband in Lu Fangning's heart.
So, Lu Fangning tried every possible means to finally marry Ling Rui.
After the marriage, Lu Fangning, who acted tough, began to face up to her own life problems, tried to change. She and Ling Rui also gradually developed an affection for each other.
But this marriage was gradually out of the imagination of both sides under the family and career turmoil.
Lu Fangning, who was suffering from a career crisis, had the intention of divorce. But Ling Rui's persistence and insistence, made her really understand the true meaning of love and marriage.
They were determined to face everything bravely in their marriage and embrace a better each other!
Reviews
You May Also Like
Related Posts
Chinese Dramas Like Begin Again

Are Simon Gong Jun, Zhou Yutong in a relationship? Why Is Their Marriage Certificate Circling On The Net?

Who Is Simon Gong Jun's Girlfriend? 3 Rumored Relationships

How Is The Relationship Between Simon Gong, Zhang Zhehan?

Is Xu Muchan Simon Gong Jun's Girlfriend Currently?

Does Zhou Yutong Have a Boyfriend? Did She Ever Date Timmy Xu Weizhou

Zhang Zhehan, Simon Gong Are Not The First Candidates Of "Word Of Honor"

Gong Jun, Zhang Huiwen Coupled In "The Flaming Heart", The Drama Is Expected.

Zhou Yutong Photos

Gong Jun Photos

Will Zhang Zhehan, Gong Jun Become Next Xiao Zhan, Wang Yibo, "Word Of Honor" Become A Hit

Grey History Of Simon Gong Jun, Sebrina Chen Yao? "The Player" Is Released After 4 years

Gong Jun Responses To The News He Will Join The 3rd Public Performance Of "Chuang 2021"

Zhou Yutong Dramas, Movies, and TV Shows List

Gong Jun Dramas, Movies, and TV Shows List

Does Jasper Liu Yihao, Zhou Yutong Look Perfect For Each other?