Youth Should Be Early – Hu Yitian, Zhong Chuxi
Youth should be early is an urban workplace drama, directed by Zhang Heyang, starring Hu Yitian and Zhong Chuxi, and co-starring Lv Chengyu, Hu Dandan, and An Yongchang.

The drama is about Zheng Qian, Cheng Xin, Kong Hao, Yao Jia Ren, Meng Xi Xi, and Mo Xiaobao, who struggle to start their own business after graduating from college, facing the reality of love and the hardship of survival in the workplace.
Details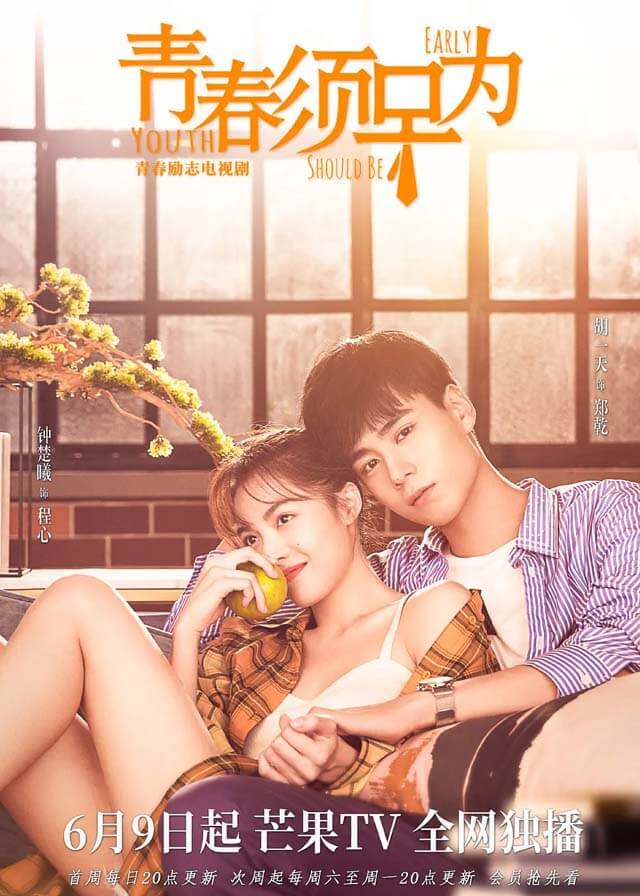 English Title: Youth should be early
Chinese Title: 青春须早为
Genre: Urban, Romance, Youth, Business
Tag: Friends to Lovers, College to Working Life, Nice Male Lead, Multiple Couples, Strong Female Lead, Rich Female Lead
Episodes: 47
Duration: 45 min.
Director: Zhang Heyang
Writer: Meng Zeguang, Chen Siyi, Wang Boyu
Producer: Li Xingjian, Ren Xu
Product Company: Blaze Film, Changjiang Culture
Released Date: 2021-06-09
Boradcast Website: MGTV, NewTV热播剧场 Hit Drama, Viki
Cast
Synopsis
At the graduation ceremony, Cheng Xin proposes to her boyfriend Zheng Qian but is unexpectedly rejected because Zheng Qian believes that he is not ready for marriage because his career is not yet successful.
Zheng Qian declines Cheng Xin's offer to join Cheng's group and looks for the job himself, but is repeatedly frustrated.
Cheng Xin has to fake an interview to get Zheng Qian to pass the interview and enter the Tengda Group. The general manager of the company is Chu Yunfei, who has a crush on Cheng Xin. When the scandal of Zheng Qian's falsified resume comes to light, Zheng Qian resigns and leaves.
After resigning, Zheng Qian and his buddies Kong Hao and Mo Xiaobao set up the "Daydream" creative studio, which quickly gained fame in the industry because of its unique ideas.
While Zheng Qian reaches a new peak in his life, a huge crisis is lurking – the assets of Cheng's group are encroached on by Uncle Liang, and in the critical moment, Zheng Qian and Chu Yunfei support Cheng Xin and finally win the victory.