You Complete Me – Hu Yitian, Qiao Xin
You Complete Me is an urban romantic drama directed by Dai Xiaozhe, led by Hu Yitian and Qiao Xin, co-starring Zheng Hao and Zhong Qi.
The drama is based on Xiao Moli's novel "Xiao Feng Bao 1.0 /小风暴1.0", which tells the story of Gao Shan, an elite in the investment industry who has returned from studying abroad, and Lin Wo, the best headhunter. They stage a story of the battle for survival and love in the investment industry.
Details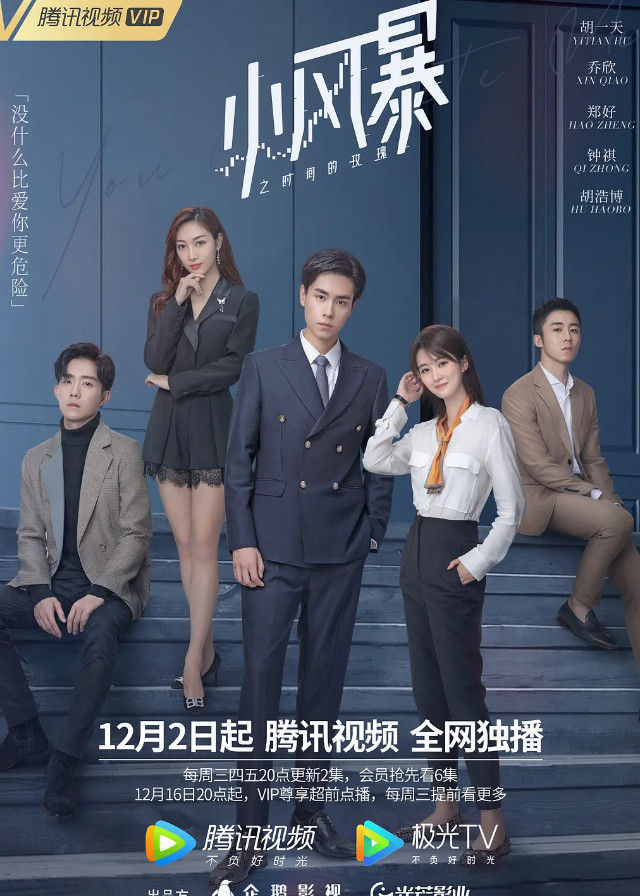 English Title: You Complete Me
Chinese Title: 小风暴之时间的玫瑰
Genre: Urban, Romance, Drama, Business
Tag: Revenge, Lying, Smart Female Lead, Male Chases Female First, Forced Kiss, Break up
Episodes: 40
Duration: 45 min.
Director: Dai Xiaozhe
Writer: Pan Xiaochen
Producer: Zhang Na, Gao Mingqian
Product Company: Tencent Penguin Pictures, RADIANT PICTURES
Released Date: 2020-12-02
Broadcast Website: WeTV, Viki, 腾讯视频
Cast
Synopsis
Gao Shan is a highly intelligent finance man who is good at scheming and plotting.
His father's accidental death has left him haunted by the truth of what happened back then.
To seek the truth, he comes alone to find a job at Mo Tian but accidentally falls in love with Lin Wo, a highly intelligent headhunter who has everything under her control.
His presence disrupts all her plans and her presence lights up his dark world.
They accompany each other through thick and thin, only to part ways over an unforgivable misunderstanding.
Two years later, tempered by time, they have reunited again, and Gao Shan plots a "love chase" to win back Lin Wo.
Reviews
You May Also Like
Related Posts