Glory of Special Forces – Yang Yang, Li Yitong
Glory of Special Forces is a contemporary military drama directed by Xu Jizhou, led by Yang Yang, Li Yitong, Jiang Luxia, co-starring Meng Asai, Jiang Long, Zhou Muyin, Liu Shuo, Guo Mingyu, with special appearances by Wu Jian, Gao Xin. 

The drama tells the story of Yan Poyue, a "soldier king" with outstanding skills, who is at odds with the group, but gradually integrates into the group under the harsh environment and difficult tasks, and grows up alongside the army engineer Ai Qianxue, the female soldier king Guo Xiaoxiao, and his comrade Xiao Yunjie. Eventually, he grows up to be an excellent armed police special operations member.
Details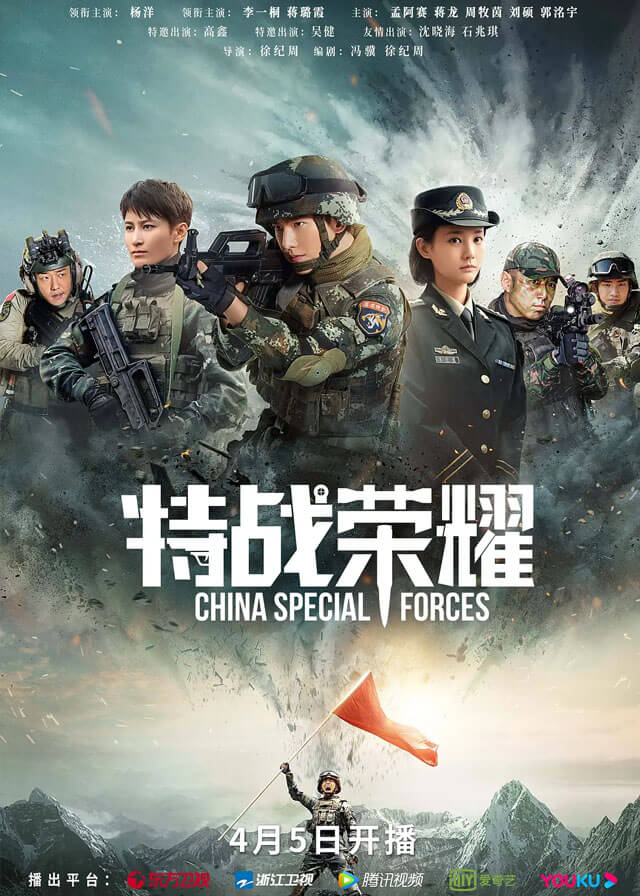 English Title: Glory of Special Forces
Chinese Title: 特战荣耀
Genre: Military, Action, Urban
Tag: Strong Male Lead, Adapted From A Novel, Coming of Age, Chasing a Dream, Drug Smuggling, Tragic Past
Episodes: 45
Duration: 45 min.
Director: Xu Jizhou
Writer: Feng Ji, Xu Jizhou
Producer: Li Kuangning, Zhao Liang, Wei Zixi
Product Company: Youhug Media , Xiron, YUEKAI Entertainment
Released Date: 2022-04-05
Broadcast Website: TencentVideo, YOUHUG MEDIA
Cast
Synopsis
Born in a military family, Yan Poyue enlisted in a detachment of the armed forces in order to prove himself to his father at the time of the entrance exam.
During the training of new recruits, Yan Poyue's training results were amazing, but he was not favored by the squadron leader Li Qiang and was assigned to the special operations squadron cooking class.
The cooking class had undiscovered talents, so Yan Poyue restrained himself and worked hard.
Due to his outstanding performance, Yan Poyue participated in the selection of the armed forces special operations team.
In order to achieve the heroic dream, Yan Poyue once focused on himself and neglected the team.
The harsh environment and difficult task made him realize his inadequacy.
With the help of his comrades, he finally realized the importance of the team and the true meaning of the spirit of collectivism, understanding the good intentions of the old squadron leader Li Qiang, once the king of soldiers, who continued to sharpen himself.
In the test of life and death one after another, Yan Poyue continued to grow, and became an excellent armed police special operations team member.
Reviews
You May Also Like
Related Posts
Chinese Dramas Like Glory of Special Forces

Yang Yang is Dating Wang Churan? The Media Revealed Their Relationship

What's Yang Yang And Zhao Lusi's Relationship?

Yang Yang's 5 rumored Girlfriend, Vicotria Song Was His Girlfriend?

Yang Yang, Dilraba: Is It Possible For them To Be In A Relationship In Reality?

What's Allen Deng Lun and Li Qin's Relationship? The Wedding Has Been In Preparation?

Yang Yang Was Involved In The Rumor Of Dating His Fan.

Did Li Yitong Get Married? It Was Rumored Her Boyfriend Is Her Strong Background

Yang Yang Photos

Xiao Zhan Ranked 1st, Wang Yibo 2rd - The Most Popular Chinese Actor in Thailand

Yang Yang, Dilraba: The Wedding Scene Of "Jing Tu CP" Was Exposed In Advance.

Li Yitong, Beven Bi Wenjun Denied The Dating Rumor

As A Playboy, Xu Kai courts Li Yitong Crazily In "Court Lady", Funny And Lovely

Li Yitong Dramas, Movies, and TV Shows List

Yang Yang Dramas, Movies, and TV Shows List

The Two Sweet Dramas Starred By Yang Yang, Ding Yuxi, Who Will You Choose?