Youth in the Flames of War – Dylan Wang, Zhou Ye
Youth in the Flames of War (Our Southwest General University) is a youthful and inspirational revolutionary historical drama directed by Gao Yijun, dircted by Dylan Wang Hedi, Zhou Ye, Ye Zuxin, Hu Lianxin, co-starring He Peng, Wang Renjun, Wang Yuzheng, Wang Yuexi, Jin Zhihao, and Xia Meng.
The drama tells the story of a group of hot-blooded youths who, despite hardships, undergo severe trials and tribulations to become outstanding talents with the belief of saving the country through science.
Details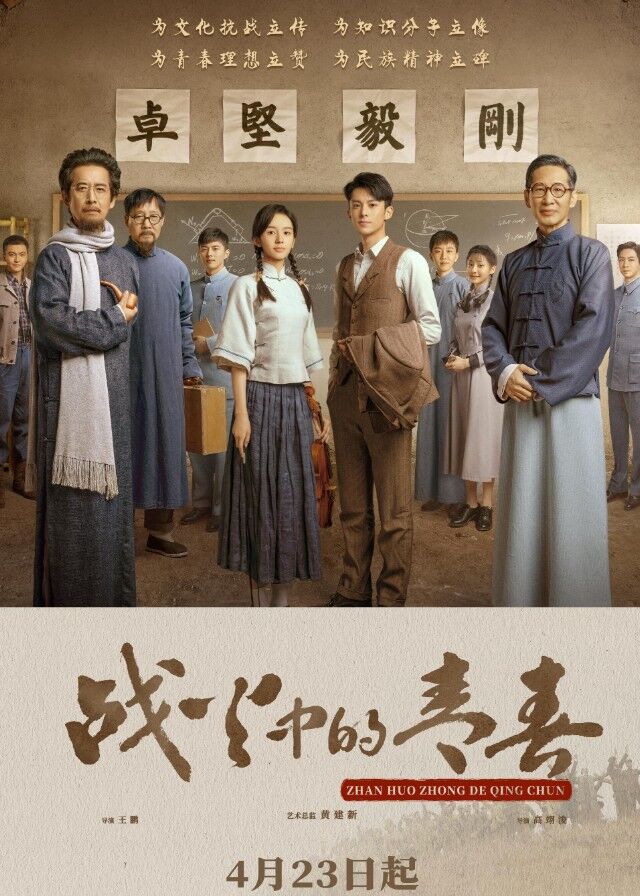 Cast
Synopsis
The history of the Southwest Associated University (SWAU), a temporary merger of Tsinghua University, Peking University and Nankai University in Kunming from 1937 to 1946, recreates the cultural resistance and self-improvement of young scholars and intellectuals during the war period, and shows the perseverance and responsibility of young scholars to carry out the great mission of national rejuvenation with a heartfelt sense of family and country.
Episode Plot
In July 1937, Cheng Jiashu, who was studying abroad in the United States, returned to Beiping (now Beijing) and prepared to apply for Tsinghua University at the request of his father. Unexpectedly, news of live ammunition exercises by Japanese troops in Changxindian sparked anger among students at Tsinghua University and Peking University, who took to the streets to protest the government's inaction. Cheng Jiashu and his childhood friend Bi Yunxiao joined the protest, and met Ye Runming, a Tsinghua student, and Lin Huajun, a Peking University student.
Cheng Jiawen came to the war zone as a volunteer, hoping to bring Cheng Jiashu back home. He brought the latest news of the war: Langfang was lost overnight, and the Tianjin garrison retreated without a fight. Lin Huajun was anxious to hear this news, because Ye Runqing, the sister of Ye Runming, was a student at Nankai University. Cheng Jiashu immediately took his brother's car key and drove with Lin Huajun to Tianjin. The Japanese held a press conference and openly announced their intention to bomb Nankai. At this point, Nankai was already in chaos, and the secretary-general of Nankai University, Huang Yusheng, was organizing the evacuation of students and the transfer of materials.
The three school principals gathered at Mount Lu, and when Zhang Boling, the president of Nankai University, learned that Nankai had been bombed, he told reporters with sorrow: "The enemy destroyed the material possessions of Nankai in this bombing, but Nankai's spirit will be further encouraged by this setback and will strive harder." After the fall of Beiping, students and teachers from Tsinghua and Peking University spontaneously organized to protect books, materials, and experimental equipment that had not yet been transferred. Although Cheng Jiashu was not a student of either school, he also participated in the efforts with all his might.
After losing their campus, the students were at a loss. Ye Runming led everyone to publish a magazine in the hope of awakening the public. At this time, Pei Yuanzhi, a teaching assistant at Peking University and a member of the underground Communist Party, brought the latest news: the Ministry of Education had decided to relocate the three schools to Changsha and establish Changsha Temporary University. Bi Yunxiao's brother's troop was recruiting soldiers and was about to go to the battlefields of Songhu. Bi Yunxiao came to sign up, and his brother showed him hand grenades produced by both China and Japan. Bi Yunxiao finally understood that our army's defeat was not because the soldiers were not good at fighting, but because our military equipment was too poor.
Ye Runming paid a visit to Lin Huajun and persuaded her to continue her studies. Lin Huajun hesitated but ultimately decided to go to Changsha with Ye Runming to pursue her education, spurred on by Cheng Jiashu's encouragement. On the way to Tianjin, Cheng Jiashu deceived his older brother and escaped back to Beiping, but unfortunately he was too late – Ye Runming, Lin Huajun, and the others had already departed. Cheng's father arranged for his two sons and his niece, Fang Yuerong, to go to the United States. However, Cheng's older brother couldn't bear to leave their elderly parents and decided to stay in Beiping.
Cheng Jiashu and Bi Yunxiao escaped the pursuit of the Japanese army and met up with Ye Runming and others in Cangzhou. The incident of infiltrating Qinghua was discovered by the Japanese army, and they took over Cheng's ancestral home and property. Wen Yiduo, who was in Wuhan, received a letter from Lingnan University and decided to give up his position in the wartime education committee, bid farewell to his wife and children, and headed to Changsha. Meanwhile, Zheng Tianting, the school administrator of Peking University, who had just experienced the pain of losing his wife, stayed behind to properly arrange the evacuation of the faculty and students and then left with his five young children for Changsha.
Ye Runming and Ye Runqing said goodbye to their parents and boarded the train to Changsha with Cheng Jiashu, Lin Huajun, and others. Pei Yuanzhi and Fang Yuerong arrived in Changsha ahead of them. Under the leadership of the interim provincial committee in Hunan, the Changsha Lin Da Party Branch was officially established. The chaotic situation in Changsha Lin Da caught everyone off guard. There was a severe shortage of classrooms and buildings, and everyone had to sleep on the floor. When would it be possible to start classes under such circumstances?
Lin Huajun was asked by Cheng Jiashu to be his tutor as he had been admitted to Lin Da. The school decided to start classes on November 1st. Changsha entered autumn, and the continuous defeats of the Shanghai-Hangzhou-Nanjing Campaign brought a large number of wounded and refugees to the city. The students took the initiative to help the wounded and assist the refugees. The grim scenes on the streets extinguished the enthusiasm that had just been ignited by the great victory, and the students realized that the war against Japan could not be won in a short time.
The harsh environment made the students realize that nothing comes easy. Cheng Jiashu worked even harder and was able to achieve excellent results in all subjects, allowing him to be accepted into the prestigious university, Lin Da. Cheng Jiashu wrote a letter to his family in Beiping to share the good news, which brought great relief to the Cheng family who had been left destitute due to the Japanese invasion. However, the burden of supporting the family fell solely on Cheng Jiawen's shoulders, forcing him to work for the puppet government in Beiping.
The classmates participated in the rehearsal of the play "Dawn". Cheng Jiashu and Lin Huajun stayed up all night revising the script and their performance was recognized by everyone. New student Wen Zhe acted suspiciously and was caught by Cheng Jiashu and Bi Yunxiao, who mistook him for a spy. However, it turned out to be a misunderstanding. Although Cheng Jiashu and Bi Yunxiao apologized to Wen Zhe, he held a grudge against Cheng Jiashu and was very angry with him.
With Lin Huajun's encouragement and help, Wen Zhe became a formal student at Linder University. Linder University invited celebrities from all walks of life to give speeches, and the speech by Xu Teli, the representative of the Eighth Route Army stationed in Hunan, was warmly welcomed by the students. When Nanjing fell, three hundred thousand compatriots were brutally slaughtered, and the whole nation was grieving and angry. The students could no longer sit peacefully in the classroom, and they all requested to go to the front lines to sacrifice themselves for the country.
A person who looked like a beggar appeared in front of Mei Yiqi. Mei Yiqi recognized him as Zhao Zhongyao, a physics professor from Tsinghua University. To avoid the Japanese army, Zhao Zhongyao hid fifty milligrams of experimental radium in a vegetable basket and walked day and night all the way to Changsha. Mei Yiqi used Zhao Zhongyao's actions of protecting the radium to persuade his classmates that completing their studies was equally important as joining the military. Cheng Jiashu, Ye Runming, and Ye Runqing calmed down and decided to finish their studies.
The Japanese army bombed Wuhan, and although Ye Runming and his sister were worried about their parents, they couldn't go home. On New Year's Eve, the students who were far away from home gathered together for warmth. Cheng Jiashu brought dumplings to Zhao Zhongyao, who recognized him as a talented student in both literature and science and invited him to audit the physics department in the next semester. The school committee and the Ministry of Education jointly decided to move to Kunming, and Long Yun, the governor of Yunnan Province, welcomed the upcoming arrival of the National Southwest Associated University.
Hunan Province Chairman Zhang Zhizhong sent Major General Huang ShiYue to lead a walking group, with eleven professors including Wen Yiduo. Shuang Xi tried to find a job as a helper in the walking group and took care of Cheng Jiashu along the way. The difficulties of the walking group far exceeded the imagination of the teachers and students, revealing a truly impoverished country to them. Despite the hardships, the teachers and students found ways to enjoy themselves, and the professors even taught lessons along the way.
The walking group entered Guizhou, where it seemed like there were no three consecutive clear days, no flat ground of three feet, and no one with even three or two silver coins. The food and lodging conditions became increasingly worse, and some of the students even slept in coffins. Many students couldn't bear it anymore and wanted to give up, but they changed their minds after they met a child named Guisheng and found out that many people in this area make a living from tobacco. Seeing their fellow countrymen living in such difficult circumstances, the students were filled with courage and wanted to change Guisheng's fate, and the only way to do that was to make the country prosperous and strong.
After 68 days of walking and passing through three provinces, the walking group finally arrived in Kunming, where they were greeted by Mei Yiqi. National Changsha Temporary University was officially renamed National Southwest United University. Due to the shortage of school buildings in Kunming, the Faculty of Law and Humanities was about to move to Mengzi. Cheng Jiashu and Ye Runming only then learned that Lin Huajun had returned to Beiping due to her mother's critical illness. Anxious to go back to Beiping, Cheng Jiashu couldn't buy a ticket and was inquiring in distress when Lin Huajun appeared before him.
Shuang Xi stayed in Kunming and became a university employee, giving his remaining living expenses to Cheng Jiashu. Fang Yuerong sensed that something was wrong with the Cheng family and pressured Lin Huajun to find out that their family business was lost and Cheng Jiawen was looking for a job. The School of Law and Literature at the university set off for Mengzi. When the train arrived at the Bisezhai station, Zheng Tianting brought the local Shama Awang to greet the teachers and students. The female students arrived at Zhou's residence, where Lin Huajun proposed to change "Yilou" to "Tingfeng Lou".
Wen Yiduo never stopped writing while Cheng Jiashu sent spicy sauce to him. Zheng Tianting teased him, "Why not take a break and go downstairs?" On April 29, 1938, the Japanese army attacked Hankou. Wen Yiduo firmly believed that the resistance war would win, and he decided to shave his beard only when the victory was achieved. Cheng Jiashu received a letter from Bi Yunxiao in Kunming, who reported that everyone was still studying hard despite the difficult environment. The Kunming Air Force started recruiting students, and Lei Zheng also attended classes in the cave dwellings in Yan'an.
The night school of the United University continued its classes, and the teaching order was also restored. Lin Huajun returned the ring to Ye Runming, who confessed the conflict between ideals and reality. The two broke up but also gained a deeper understanding of each other. On the first anniversary of the Lugou Bridge Incident, United University students and the people of Mengzi voluntarily donated supplies. Ye Runming discussed "On Protracted War" with Pei Yuanzhi, emphasizing the importance of faith in resisting aggression. Ye Runming decided to go to Yan'an after graduation.
In Kunming, Pei Yuanzhi brought Ye Runming to meet Guo Tielin, the Secretary of the Yunnan Provincial Special Committee. Ye Runming expressed his desire to join the Communist Party and wrote a party membership application, requesting Pei Yuanzhi to be his introducer. In Wuhan, there were troubles with transporting books and instruments, and Ye Runming volunteered to go with the shipment. When Ye Runming returned to Mengzi after delivering the textbooks, Cheng Jiashu accused him of disregarding Lin Huajun and they got into a fight. Lin Huajun informed everyone that she and Ye Runming had already broken up.
At the dock on the Yangtze River in Wuhan, when the Japanese army bombed the area, Pei Yuanzhi rescued Fang Yuerong. Ye Runming and Cheng Jiashu arrived at the dock. Cheng Jiashu wanted to go back to Beiping, but Fang Yuerong wouldn't let him. She told him that Beiping had been occupied by the Japanese, and his father had fallen ill. Ye's family house had been sold, but Ye Runming found his parents in a small inn and learned that his father had sold their ancestral home for the sake of the people, which made him very proud. Cheng Jiashu wrote a letter to his family, saying he would return to Beiping after the war ended to fulfill his filial duties.
In Wuhan, Ye Runming talked to Cheng Jiashu about his plan to go to Yan'an, still searching for that beam of light. Cheng Jiashu was moved and also wanted to become a useful person. While transporting books, Japanese planes came to bomb the area and Ye Runming sacrificed himself by taking a bullet for Cheng Jiashu.
In Kunming, A Mei opened a tea house called "Runming Tea House". Luo Heng followed the flight school to Kunming and invited Ye Runqing, Lin Huajun, and Bi Yunxiao to attend the flight school dance. During the dance, Lin Huajun taught Bi Yunxiao how to dance so that he could invite Ye Runqing to dance. Ye Runqing learned that the flight instructor was looking for a translator.
Lin Huajun saw off Ye Runming's parents and decided to take a leave of absence to teach in Yuxi. Cheng Jiashu planned to transfer to the physics department, and Pei Yuanzhi encouraged him to step out and face his challenges. Luo Heng visited Ye Runqing and learned that she had not been eating or drinking. He comforted her, saying that her parents were the ones who were the most upset, and that everyone was ready to start over and move forward. He hoped that Ye Runqing could also pick herself up. Lin Huajun went to A Mei's tea house and told her that she was going to Yuxi to teach, and entrusted A Mei's work to Wen Zhe.
After a difficult process of fundraising, the Lian University campus was completed. Principal Mei and the students were all excited, but the Japanese planes frequently caused trouble, and they still had to face the issue of running air raid alarms from time to time. However, over time, running air raid alarms became an interesting thing. Everyone made the best of a bad situation and continued their classes outdoors. Cheng Jiashu and Bi Yunxiao discovered a strange teenager who was not a Lian University student but always followed them around. After catching him and questioning him, they learned that he was also a student who came to apply for admission to Lian University and his name was Ding Xiaowu.
At the aviation school, Luo Heng saw that Ye Runqing was still immersed in sadness, so he took out his self-made airplane model "Luo Heng No.1" and took her "flying" into the blue sky. Ye Runqing cried thinking about everything from the past, and her sadness was relieved. During the summer vacation, both the Youth League and the Communist Youth League organized social investigation activities and came to the vicinity of Yuxi. Cheng Jiashu wanted to visit Lin Huajun, but was hesitant. Wen Zhe invited Lin Huajun to join the Communist Youth League, but was firmly rejected by her, leaving Wen Zhe in a difficult situation.
Lin Huajun and Cheng Jiashu, along with others, conducted an investigation and analysis of the population in surrounding villages and found that there was a prevalent disease called "big neck disease" in the area. They decided to help the villagers find the root cause of the disease. At the time of their departure, Cheng Jiashu still couldn't express his feelings, but Lin Huajun saw tears in his eyes as he worked overnight to split firewood for her. The social investigation team of the Qun She organization extracted data from the county chronicles they received, but the investigation was perfunctory and sloppy, and they spent the remaining time sightseeing.
Ding Xiaowu's uncle, Lao Yan, also came to Kunming from Beiping. As a tailor, he made a piece of clothing for each of Cheng Jiashu and his friends, including a gesture of gratitude for their help to Xiaowu. Cheng Jiashu also asked Lao Yan to make a suit for Lin Huajun and sent it to Yuxi. The new leader of the Sanqing Youth League, Secretary-General Zhou Hongzhang, appreciated Wen Zhe very much and clearly stated that the future direction of work is to prevent and oppose the Communists.
The Japanese bombed Kunming, and the bombs were thrown at the physics laboratory on the campus of Southwest Associated University. At the critical moment, Cheng Jiashu and his friends grabbed the experimental equipment. Just as Cheng Jiashu went back to the dormitory to get onions, a bomb fell and he was trapped in the fire. Wen Zhe not only refused to save him but also told Cheng Jiashu that Lin Huajun had arrived in Kunming and was waiting for him at the theater, causing Cheng Jiashu to be extremely anxious.
Before the school's anniversary performance, President Mei Yiqi personally visited Long Yun to explain the situation of his daughter failing the exam. His words were sincere, and Long Yun was relieved. Just as the two were preparing to go to the school to watch the performance, they learned that the auditorium's power lines had been cut, and the performance was forced to be cancelled. The school investigated the incident and the Communist Youth League believed it was the work of the Masses Association, while the Masses Association accused the Communist Youth League of framing them, with both sides insisting on their own version of events. Zhu Xiuyuan inadvertently learned that Wen Zhe was behind the incident and angrily confronted him, but was sternly dismissed by Zhou Hongzhang. Wen Zhe took Zhu Xiuyuan's position and was filled with self-satisfaction.
Mrs. Mei Yiqi took the lead in selling Ding Sheng cake on the street to boost morale and subsidize livelihoods. After a day, her feet were worn out, but fortunately, local enterprises assisted in rebuilding the school buildings that were bombed, and everyone breathed a sigh of relief. On the eve of Amei's wedding, Pei Yuanzhi brought a letter from Lin Huajun and a "Guard the Origin" seal engraved by Mr. Wen Yiduo for Wen Zhe. Faced with Wen Zhe's words of breaking his promise and not letting Amei take the exam, Amei began to regret her choice.
Ye Runqing came to UNN and shared a room with Lin Huajun at night. In the sound of rain, Ye Runqing opened up and shared her feelings, and the knot between the two gradually dissipated. After the outbreak of the events in Southern Anhui, the Three-Youth League distorted the facts and stirred up public opinion, and they confronted each other with those who exposed the truth: the Kuomintang repeatedly sabotaged the cooperation between the Nationalists and the Communists, and only the Communist Party was the cornerstone of the resistance against Japan. The Kuomintang sent Kang Ze, the head of the Three-Youth League organization, to personally handle the matter in Kunming. Kang Ze brought a group of thugs to the school and forced a speech.
After everyone was released, Lin Huajun and Cheng Jiashu confided in each other and realized how much they had grown. However, their conversation was interrupted by Shuang Xi. Wen Zhe was expelled from the university. Pei Yuanzhi resigned from the university, but vowed to continue to uphold the resolute and firm spirit of the university no matter where he was. At the moment of parting, Fang Yuerong presented Pei Yuanzhi with a marriage certificate and they got engaged. Cheng Jiashu helped Pei Yuanzhi leave, and the spies who were secretly following them missed their chance.
Late at night, Wen Zhe received a call informing him that the Three Youth League had discovered a temporary base of the underground Communist Party. Wen Zhe went to capture the people, but A Mei tried to stop him and ended up having a miscarriage. She went to inform Cheng Jiashu despite the pain. Cheng Jiashu and Lin Huajun took A Mei, who had fainted, to the hospital, and Fang Yuerong drove to save the people. With Pei Yuanzhi's accompaniment, several students from the university swore to join the Communist Party. Meanwhile, Fang Yuerong drove and crashed into Wen Zhe and his companions who were about to take action, and bullets rained down on her… Pei Yuanzhi and the others heard Fang Yuerong's warning in time to evacuate.
Lin Huajun visited A Mei and comforted her with sincere words. A Mei decided to regain her courage to face life. In Tengchong, Duan Fusheng's father organized his neighbors to donate money and grain to Southwest Associated University, which suffered from a shortage of supplies. While delivering food to his nephew Xiao Wu, Lao Yan noticed Cheng Jiashu drawing a particle accelerator and kept it in mind. Shuang Xi finally passed his exam and was congratulated by Lin Huajun and Cheng Jiashu. They celebrated together over a meal. The air raid alarm sounded again over Kunming. The teachers and students of the university were accustomed to running for cover, but someone secretly used a mirror to guide enemy planes for a surprise attack, causing chaos.
Cheng Jiashu wanted to go to Yan'an with Pei Yuanzhi, but Pei Yuanzhi advised him to study abroad instead. "That's where you'll find a more suitable battlefield, and our country needs talented people like you," he said. Unable to see Lin Huajun again, Cheng Jiashu left Yunnan. In Beiping, the Cheng family received a telegram from Jiashu saying he would be coming home today. The family was happily waiting, but the Japanese army paid a visit instead. They had learned that Cheng Jiashu was coming back and were preparing to set up an ambush to capture him.
Ye Runqing told Bi Yunxiao that from now on, she would be his other leg, and she would go back to the United University with Bi Yunxiao and take care of him for the rest of her life. Lin Huajun arranged everything for them, but when Ye Runqing returned to the hospital, Bi Yunxiao had already left quietly. He hoped that what remained in Runqing's heart was the hero, not a cripple. Finally, the victory against Japan! At a barbershop, Wen Yiduo and Li Jitong coincidentally shaved off their beards. Mei Yiqi mourned the loss of the United University students who died on the battlefield.
Lin Huajun was knocked unconscious and taken away. Pei Yuanzhi and Guo Tielin returned to find that after leaving a party application letter, Cheng Jiashu had already gone to school. Wen Zhe dared not openly go to school to capture Cheng Jiashu, so he deliberately let someone tell him that Lin Huajun was in his hands. When Cheng Jiashu was preparing to rescue her, he was knocked unconscious and taken away by Guo Tielin's men. Guo Tielin made him believe in the party organization, and he would try to rescue Lin Huajun. At the headquarters of the security command, Ye Runqing appeared as the secretary of the International Airline Relief Corporation's chairman, forcing them to release Lin Huajun.
It turns out that Cheng Jiashu did not die. The car he was in had been switched with another one before the pursuit, as part of a plan made by Lin Huajun and the underground party. Only she stayed behind, so that the secret agents would believe that Cheng Jiashu was dead and stop pursuing him. However, they were separated and didn't know when they would meet again. In Yan'an, Cheng Jiashu and Pei Yuanzhi learned that the Southwest Associated University was about to return north. Mei Yiqi announced the formal end of the National Southwest United University, and Feng Youlan read the inscription.
At the Yunan University assembly, in front of Wen Zhe, Wen Yiduo gave an impassioned final speech. On the way back, Wen Yiduo was assassinated by a Nationalist Party spy and unfortunately passed away. Wen Lihe was shot five times while protecting his father. To prevent further speculation, Zhou Hongzhang put all the blame on Wen Zhe for the assassination, making him a scapegoat and ultimately leading to his arrest and execution. In 1949, the Chinese people welcomed liberation.
You May Also Like
Related Posts