Only Side by Side with You – William Chan, Bai Baihe
Only Side by Side with You is an urban romantic drama directed by Lin Yan, starring William Chan, Bai Baihe, Li Xian, Bai Bing, Zhang Youhao, and Wang Ruoshan, with a special appearance by Qin Hailu.

The drama is based on the novel of the same name by Xiao Hu Ru Wei, which is set in the drone industry and tells the story of Nan Qiao, a cool otaku girl from a wealthy family, who meets Shi Yue, a mysterious man.
Details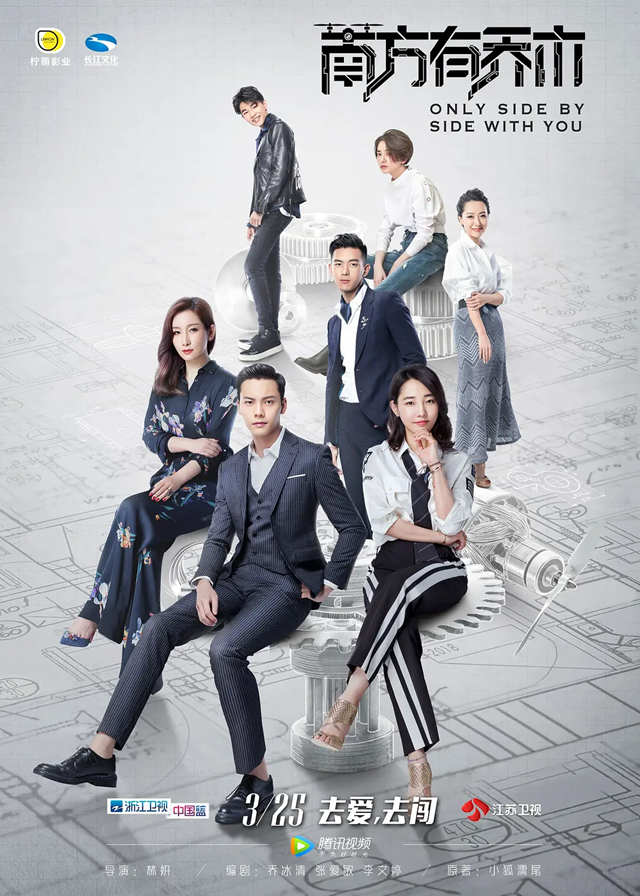 English Title: Only Side by Side with You
Chinese Title: 南方有乔木
Genre: Urban, Romance, Suspense
Tag: Revenge, Strong Female Lead, Enemies to Lovers, Male Chases Female First, Infidelity, Smart Male Lead
Episodes: 40
Duration: 45 min.
Director: Lin Yan
Writer: Qiao Bingqing, Zhang Aimin, Li Wenting
Producer: Xu Xiao'ou, Wang Ye
Product Company: LINMON PICTURES
Released Date: 2018-03-25
Boradcast Website: Viki
Cast
Synopsis
Under childhood friend, Chang Jianxiong's arrangement, Nan Qiao, the third young lady of the Nan family discovered that her fiance, Zhou Ran, was cheating on her. She chose to break up with him.
Zhou Ran threatened to withdraw his investment. In order to make her beloved technology business move forward smoothly, Nan Qiao went to a bar to meet with investors but was mistakenly acquainted with the tall, cool bar owner, Shi Yue.
Shade accidentally discovered that Nan Qiao seems to have a long-lost relationship with his own past.
He approached Nan Qiao with the intention of laying an emotional trap to investigate the past, but he fell in love with Nan Qiao unexpectedly.
When the incident of the other protagonist Chang Jianxiong reunited with Shi Yue, who has become his love rival, the past and the current emotional entanglement between them made a "war" about to break out.
The majestic and arbitrary father was firmly opposed to Nan Qiao and Shiyue's relationship, Nan Qiao also gradually learned that in Shiyue's past there was a girl, An Ning, who had a deep impact on him.
Faced with the pressure of her father, An Ning's obstruction, and indelible past, Nan Qiao and Shi Yue always stood side by side, clinging to each other and doing their best to protect the love they cherished.