Nirvana in Fire – Hu Ge, Liu Tao, Wang Kai
Nirvana in Fire is a costume drama directed by Kong Sheng and Li Xue, starring Hu Ge, Liu Tao, Wang Kai, Victor Huang, Chen Long, Wu Lei, and Gao Xin.

The drama is based on the web novel of the same name by Hai Yan, with the mainline of vindicating the unjust case, supporting the bright ruler, and revitalizing his country.

It tells the story of Mei Changsu, the "Qilin talent", who is able to clear the fog and fight against the villains with his weak body, and the series of struggles to vindicate the unjust case for years and support the new ruler.
Details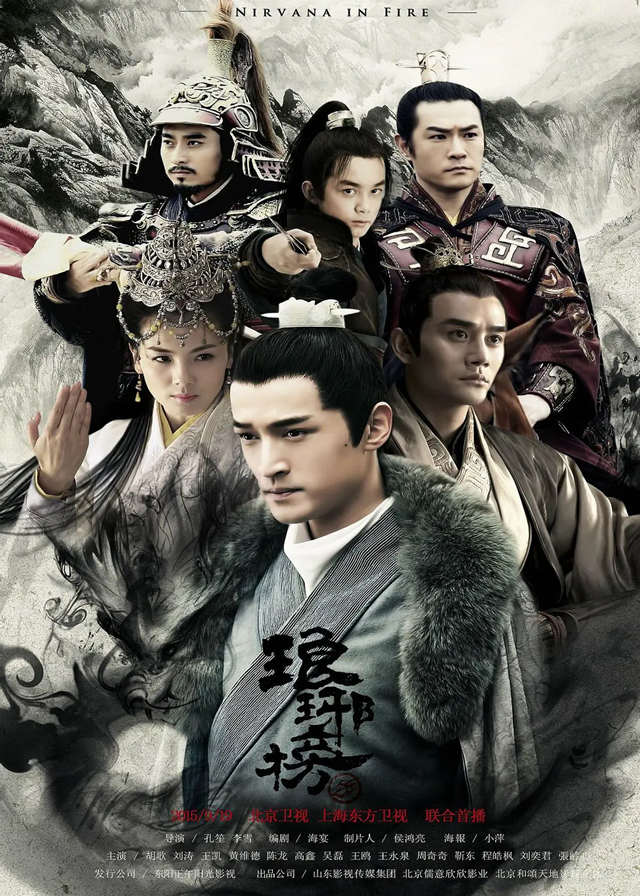 English Title: Nirvana in Fire
Chinese Title: 琅琊榜
Genre: Wuxia, Historical, Political
Episodes: 54
Duration: 45 min.
Director: Kong Sheng, Li Xue
Writer: Hai Yan
Producer: Hou Hongliang
Product Company: SHANDONG FILM AND TV GROUP, RUYI FILMS, Hesong Tiandi Pictures, CINEMATRIX, DAYLIGHT ENTERTAINMENT
Broadcasting Website: China Zone, Viki
Released Date: September 19, 2015
Cast

Hu Ge
as Mei Changsu/Su Zhe/Lin Shu

Wang Kai
as Xiao Jingyan

Liu Tao as Nihuang infana

Chen Long as Meng Zhi

Leo Wu
as Fei Liu

Victor Huang as Xiao Jinghuan

Gao Xin as Xiao Jingxuan

Zhou Qiqi as Gong Yu

Guo Xiaoran as Yan Yujin

Owen Cheng as Xiao Jingrui
Synopsis
Twelve years ago, more than 70,000 soldiers of the Chiyan Army were completely annihilated. They died unjustly in Mei Ling, leaving only the young commander Lin Shu to survive.
Twelve years later, Lin Shu was reborn as Mei Changsu, a "Qilin Talent" who established the Jiangzuo League and returned to the imperial capital as the first talent in the "Langgya List".
He was burdened with a blood feud and secretly helped his childhood friend Prince Jing in the struggle between the Crown Prince and Prince Yu.
At the same time, he met his fiancee, Mu Nihuang, the princess of Yunnan, but cannot face each other.
The story of Mei Changsu, who is sick and frail, sets out on a dark and thrilling road to win the throne in order to seek redress for injustice and to revive the country.