New Smiling Proud Wanderer – Ding Guansen, Xue Haojing, Ding Yuxi
New Smiling Proud Wanderer is a youthful historical martial arts drama directed by Jin Chen, starring Ding Guansen, Xue Haojing, Ding Yuxi, and Liu Jiatong, with Zheng Hao and Wang Jingsong in special appearances.
The drama is adapted from Jin Yong's novel of the same name and tells the story of Ling Huchong, a young disciple of the Huashan Sect, who was expelled from the sect because of his martial arts mastery, and who eventually becomes the head of the Hengshan Sect after learning the top martial arts skills in the midst of constant Jianghu disputes.
Details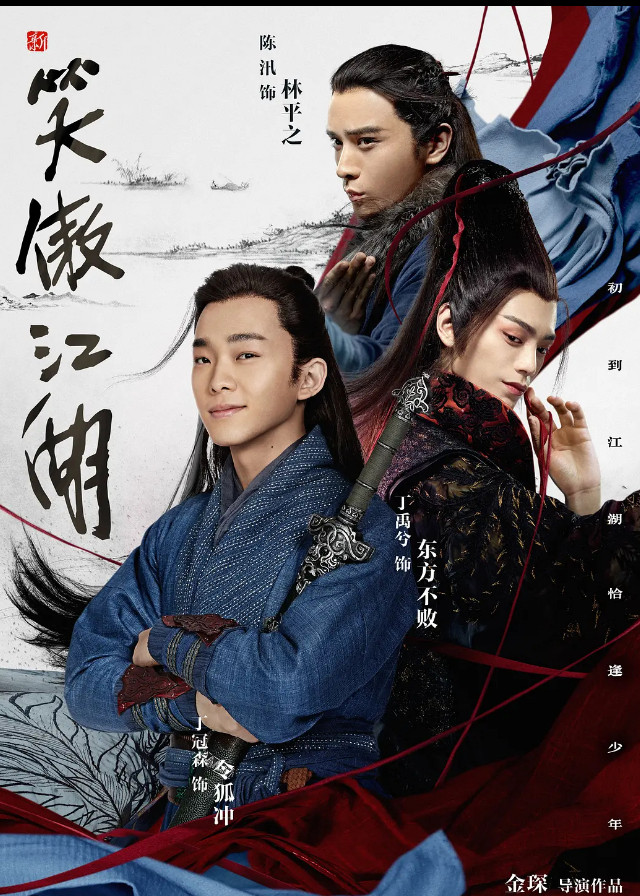 English Title: New Smiling Proud Wanderer
Chinese Title: 新笑傲江湖
Genre: Youth, Historical, Wuxia
Tag: Martial Arts, Secondary Couple, Jianghu, Sect, Taoism, Adapted From A Novel
Episodes: 37
Duration: 45 min.
Director: Jin Chen
Writer: Meng Huan, Huang Huiyi, Li Yafei, Liu Yang, Chi Hai, Wang Chao
Producer: Sun Yonghuan, Li Ji, Li Wenbin, Lu Junbiao, Chen Gang
Product Company: ENLIGHT MEDIA
Released Date: 2018-02-26
Broadcast Website: 优酷
Cast
Synopsis
Jianghu seems peaceful on the surface, but at some point, there is hidden turmoil.
Ri Yue Divine Cult, which hunts and kills famous sects, has risen in the darkness.
As the head of the Jianghu group, the Wuyue Sword Sect takes on the important task of saving the martial arts world and destroying the "demonic sect".
As the sect leaders seek to strengthen the martial arts with their united skills, they search for legendary martial arts masterpieces.
The Pi Xie Jian Pu is a masterpiece of martial arts. The story begins with it.
A disciple of the Huashan Sect, Ling Huchong, is ordered by his master to come to the Lin family of the Fu Wei Express, only to witness its tragic destruction.
When he is hunted by the Qingcheng Sect, which destroyed the Lin family, he falls into the trap of Lan Fenghuang, the Wu Du Sect, losing his identity as the right party.
Ling Huchong is eager to return to Huashan. He befriends Ren Yingying and Bai Bu on the way and the three of them form a deep friendship, but he doesn't realize that YinyYing is the soul of Ri Yue Divine Cult and Bai Bu is the one who started the revival of the Cult, Dong Fang Bu Bu.
After a serious of hardships, Ling Huchong finally becomes a proud hero in Jianghu.
Reviews
You May Also Like
Related Posts
Chinese Dramas Like New Smiling Proud Wanderer

Ryan Ding Yuxi, Zhang Yuxi Rumored To Be In A Relationship Again

Zhao Lusi, Ryan Ding Yuxi Refused To Be CP, Will They Played In "The Romance Of Tiger And Rose 2"?

Who Is Ryan Ding Yuxi's Girlfriend? Dating Kala Jiang Zhuojun?

Who Is Zhang Yuxi's Boyfriend? What's Her Ideal Type

Xiao Zhan Ranked 1st, Wang Yibo 2rd - The Most Popular Chinese Actor in Thailand

How is Ding Yuxi and Peng Xiaoran's relationship?

Ryan Ding Yuxi, Esther Yu Shuxin Sweet Love Between Writer And Editor In "Moonlight"

Ding Yuxi Photos

The Two Sweet Dramas Starred By Yang Yang, Ding Yuxi, Who Will You Choose?

Ding Yuxi Dramas, Movies, and TV Shows List

Ding Guansen Dramas, Movies, and TV Shows List

Xue Haojing Dramas, Movies, and TV Shows List

Liu Jiatong Dramas, Movies, and TV Shows List