Chronicle of Life – Zheng Shuang, Hawick Lau
Chronicle of Life is a historical romantic drama directed by Wu Jinyuan, Starring Zheng Shuang, Hawick Lau, Michelle Yim, Vin Zhang Binbin, Zhang Xiaochen, Wang Ruoxin, Zhang Zhixi, Liu Mengmeng, Cheng Yanqiu, and Cao Yan.
The drama is adapted from the novel of the same name by Fei Wo Si Cun. It tells the story of the heartbreaking love between Kangxi, the emperor of the Qing Dynasty, and Wei Linlang, a court clothes-washing girl.
Details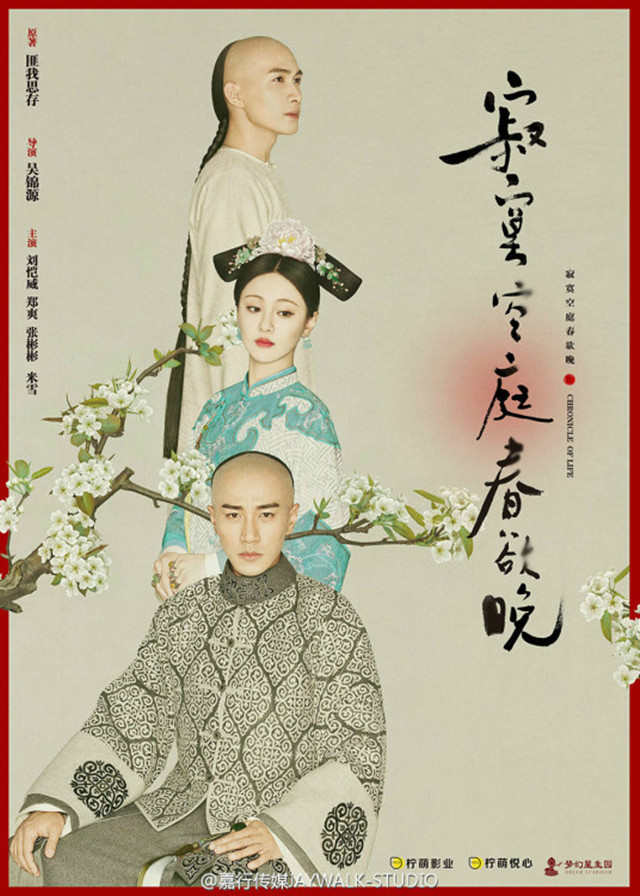 English Title: Chronicle of Life
Chinese Title: 寂寞空庭春欲晚
Genre: Historical, Romance, Drama
Tag: Qing Dynasty, Emperor Male Lead, Kangxi Emperor, Revenge, Strong Male Lead, Mental Illness
Episodes: 39
Duration: 45 min.
Director: Wu Jinyuan, Wei Hantao, Liu Zifu, Deng Yancheng
Writer: Jiang Guyu, Rao Jun
Producer: Yang Xiaopei, Yu Yi
Product Company: DREAM STARDOM
Released Date: 2016-02-01
Broadcast Website: Viki, China Zone
Cast
Synopsis
In 1669, Ao Bai was captured, and the vigorous purge of the remaining party began.
The loyal minister Abu Nai was unjustly subjected to the extermination of his family, and his young daughter Liang'er, who was only ten years old, witnessed the massacre of his family and managed to escape.
On the way to escape, she met Teenager Kang Xi, and they experienced life and death without knowing each other's identities, leaving a deep impression on each other and making a promise to meet again.
Later, Liang'er went to her cousin for shelter, Nalan Rongruo, but accidentally lost her memory. Rongruo changed her name to Wei Linlang to protect Liang'er.
They grew up together and had a good relationship with each other, but Nalan Mingzhu was afraid that Linlang's identity would lead to trouble, so he secretly sent her to the palace as a maid.
Linlang thought her life would end in silence in the palace, but Kang Xi's appearance disrupted her life and her reunion with Rongruo gave her hope.
Kang Xi recognized Linlang as the girl he was dreaming of and tried everything to make her remember the old agreement, while Rongruo secretly tried hard to take her away.
One is a bossy emperor, the other is a childhood friend, their staggered "attack " and showing of love made Linlang was caught off guard and in a dilemma.
When Kang Xi was deeply in love with Linlang, he found out that Linlang was the beloved of his good brother Rongruo. He wanted to give up his love and made them together, but was repeatedly caught by fate and made mistakes again and again.
After many twists and turns, Linlang finally realized her heart and fell in love with Kang Xi. But at that moment, she regained her memory.
On one side is a blood feud, on the other side is infatuated love, Linlang can not choose. Linlang's brother Chang Qing, who had been lurking in the palace, forced Linlang to revenge for the family.
Kang Xi and Linlang entangled and staged a sad and sadistic love for the ages.
Reviews
You May Also Like
Related Posts