Vacation of Love 2 – Liu Tao, Chen He
Vacation of Love 2 is a series of New Year light comedies directed by Yao Xiaofeng, led by Liu Tao, Chen He, Yang Le, Zhang Jiani, and Cheng Xiao, with guest appearances by Ni Dahong, Ni Ping, and Jiang Chao.
Details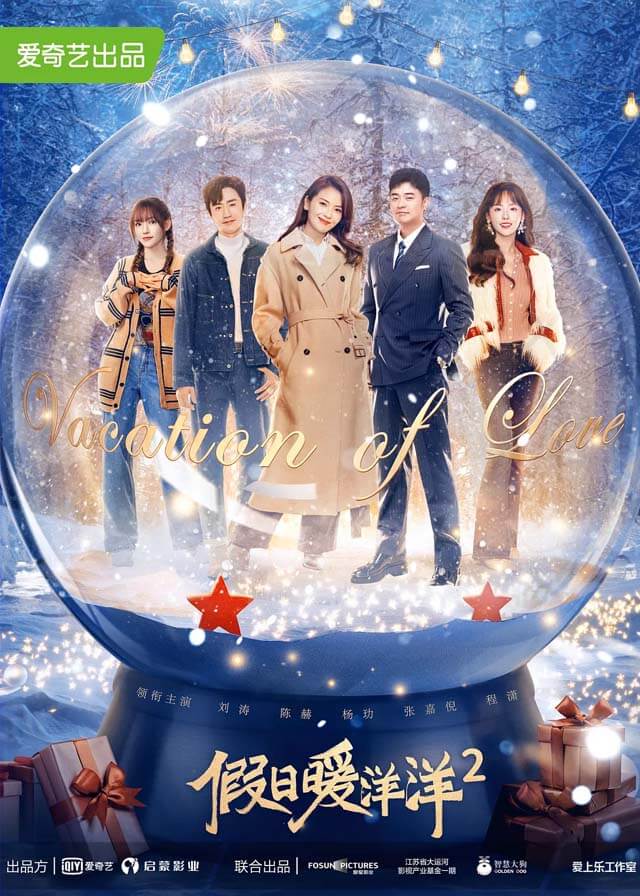 Cast
Synopsis
Another year of winter, little sister Cheng Shu's homestay was facing closing down.
However, a big deal came. It was turned out that it was her ex-boyfriend, Du Zheng, who was a star.
Liao Ran, who has dreams of becoming a Michelin chef, was pushed to help her.
Another emotional twists and turns arose among the three.
Cheng Man, the sister of a strong woman in the venture capital industry, was in Shanghai, preparing to take her daughter to Sanya for the New Year, but by mistake, she flew back home to the northeast.
The founder of the company, Kong Lingqi, who intended to save the company's financing, also followed Cheng Man to the northeast and wanted to change Cheng Man's mind.
After some twists and turns, they finally resolved their differences.
Cheng Miao, a niece who was about to graduate, went home for New Year's vacation and skied alone to vent her emotions, but accidentally got acquainted with Ma Boyuan, a drone master.
Ma Boyuan found that the girl had extraordinary talent, and at the same time, a special emotion developed when hearts collided.
This humane northern land, with its unique warmth, melted the cold ice in people's hearts and helped people who came here with their own reasons to find their own goals in life.
Reviews
You May Also Like
Related Posts
Chinese Dramas Like Vacation of Love 2

How Is Xu Kai And Cheng Xiao's Relationship

Who Is Uvin Wang Yuwen's Boyfriend? Relationship With Eric Yang Le Was Spotted

Does Cheng Xiao Have A Boyfriend? What's Her Ideal Type?

How is Wang Yibo, Cheng Xiao's Relationship, Will They Be In Love?

Arthur Chen Feiyu's Girlfriend - Cheng Xiao Or Ouyang Nana?

Jenny Zhang Jiani's Husband, Mai Chao, Cheated on Her? He was Spotted Dating a Girl

Luo Yunxi, Cheng Xiao Have Suprise Chemistry. What's Their Relationship?

Yang Le Photos

Cheng Xiao Photos

Mao Xiaotong, Yang Le Fall In Love Over A Play?

"Lie To Love" is about to shoot? Luo Yunxi will play the leading actor, Cheng Xiao will be the leading actress?

Cheng Xiao Dramas, Movies, and TV Shows List

Chen He Dramas, Movies, and TV Shows List

Zhang Jiani Dramas, Movies, and TV Shows List

Yang Le Dramas, Movies, and TV Shows List

Liu Tao Dramas, Movies, and TV Shows List