The Lost Tomb 2 : Explore with the Note – Neo Hou, Cheng Yi
The Lost Tomb 2: Explore with the Note is a suspenseful adventure drama directed by Liu Guohui, Li Ang, and Zhou Yuyi, co-starring Neo Hou Minghao, Cheng Yi, Li Man, Zhang Boyu, Liu Xueyi, Yao Yichen, Yao Lu, Ren Jialun.
Details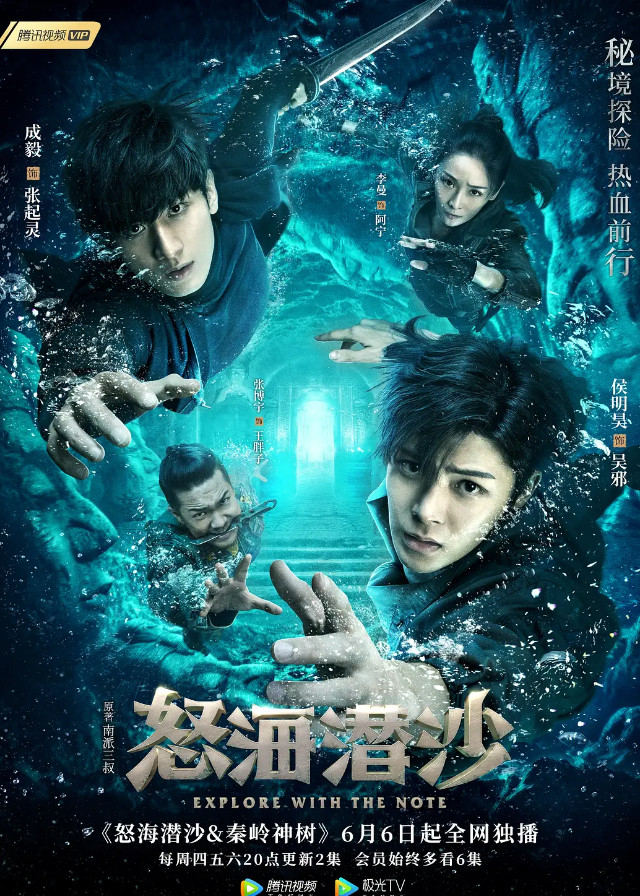 English Title: The Lost Tomb 2 : Explore with the Note
Chinese Title: 盗墓笔记2: 怒海潜沙
Genre: Adventure, Action, Suspense, Thriller
Tag: Bromance, Nice Male Lead, Tomb Raiding, Investigation, Terminal illness, Smart Male Lead
Episodes: 40
Duration: 45 min.
Director: Liu Guohui, Li Ang, Zhou Yuyi
Writer: Bai Yicong, Li Ang
Product Company: H&R CENTURY PICTURES, Tencent Penguin Pictures,
Released Date: 2019-06-06
Broadcast Website: AsianCrush, 熱點劇場Hotspot!
Cast
Synopsis
After escaping from the Warring States Tomb "Qi Xing Lord Lu's Palace", Wu Xie returns home but find that his third uncle, Wu Sanxing, has disappeared and is also involved in an archaeological team mystery from more than ten years ago.
He receives a letter from the mysterious A Ning. In order to find his uncle, he goes to the underwater tomb of a Ming Dynasty shipwreck in Xisha to look for clues. He encounters Wang Pangzi and finds a mysterious antique snake-browed bronze fish, as well as Zhang Qiling, who has lost his memory. It seems that Zhang Qiling has another reason for coming to the underwater tomb in Xisha.
In the process of diving into the mysterious Ming Dynasty ship tomb, he encounters "Hai Hou Zi", "Jin Po" and other monsters, and eventually breaks through the layers of strange organs to return to land.
However, the clues of the snake-browed bronze fish and the hexagonal bronze bell lead them to the Qinling Mountains to reveal the secret of the giant bronze tree.
Reviews
You May Also Like
Related Posts
Chinese Dramas Like The Lost Tomb 2 : Explore with the Note

Who is Cheng Yi's girlfriend? Meng Ziyi?

How Is Cheng Yi, Crystal Yuan Bingyuan's Relationship?

Does Wan Peng Have A Boyfriend? Did She Get Married?

How Is Yang Zi and Cheng Yi's Relationship?

What is Neo Hou's Ideal Type Girlfriend?

Neo Hou, Yang Chaoyue Make Romance Novels Come True!

Does Zheng Shuang Have An Affair With Neo Hou? The Hou Minghao Studio Denied The Rumor

Neo Hou Photos

Cheng Yi Photos

Guan Xiaotong Make CP With Neo Hou In New Drama "A Girl Like Me"

Cheng Yi Dramas, Movies, and TV Shows List

Neo Hou Dramas, Movies, and TV Shows List

Zhang Boyu Dramas, Movies, and TV Shows List

Li Man Dramas, Movies, and TV Shows List