The Blessed Girl – Angel Zhao, Yuan Hong, Lin Yi
The Blessed Girl is an ancient adventure fantasy drama directed by Shi Lei, led by Zhao Jinmai, Yuan Hong, and Lin Yi, co-starring Cai Wenjing, Xin Yunlai, Chen Yuzhang, Zeng Li, Zhao Tianyu, Tu Nan, and Chen Yuyan.

The drama tells the story of a continent called "Su Chuan", where a cataclysmic event leads Su Chuan into a chaotic era of division, and the people stand up to lead Su Chuan to a better time.
Details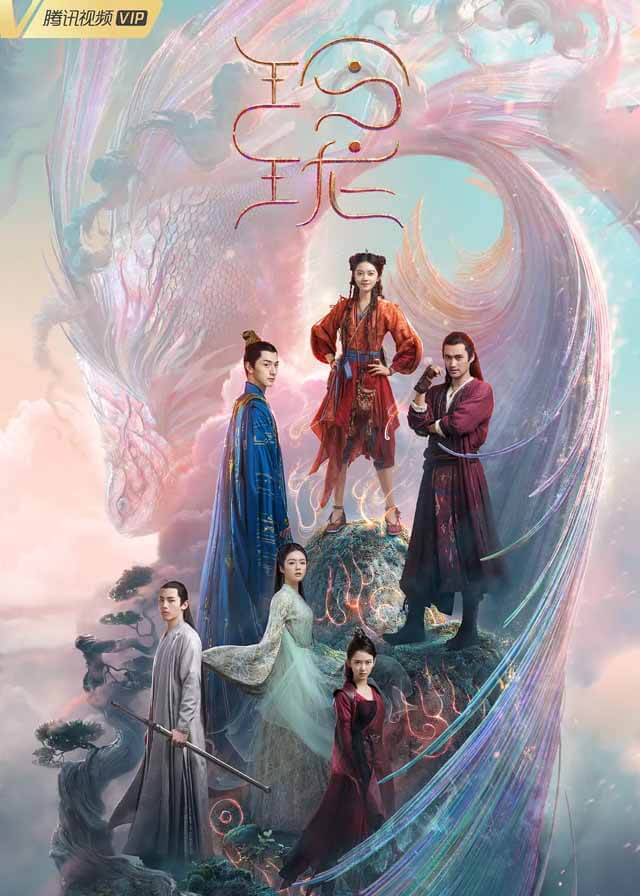 English Title: The Blessed Girl
Chinese Title: 玲珑
Genre: Historical, Fantasy, Adventure, Romance
Tag: Father-Daughter Relationship, Xianxia, Slight Romance, Strong Male Lead, Independent Female Lead, Superhuman Strength
Episodes: 40
Duration: 50 min.
Director: Shi Lei
Writer: Xu Yiming, Yu Xiuting
Producer: Zhang Na, Cai Yinong, Xia Xiling, Jia Wenfeng
Product Company: Tencent Penguin Pictures, CHINESE ENTERTAINMENT GROUP
Released Date: 2021-01-29
Watch On: WeTV, TencentVideo, Viki, Tang Ren Theater
Cast
Synopsis
In a mysterious and unknown continent named "Su Chuan", there were many beautiful legends of the mythical era.
A cataclysmic event led to the fall of the gods, and Su Chuan entered a chaotic era of division.
A few years later, a young monarch, Yuan Yi (played by Lin Yi), took the throne and vowed to end the chaos.
Believing that the source of the chaos was the fall of the gods, Yuan Yi escaped from the imperial city in disguise and finds a young girl, Huotu Linglong (Zhao Jinmai), who had the power of the gods.
Huotu Linglong lived with her father, Huotu Xin (Yuan Hong), in a remote village, and she lost her mother at a young age, she was independent and excellent.
For Yuan Yi's request, Huotu Xin left the village together with Huotu Linglong and Yuan Yi to embark on an adventure to save Su Chuan.
Evil could never rival good. Linglong and her father, with their friends, eventually defeated the forces of evil and led Su Chuan to a new and beautiful era.
Reviews
You May Also Like
Related Posts
Chinese Dramas Like The Blessed Girl

Does Lin Yi Have A Girlfriend? His Ideal Type Is Zhou Jieqiong

What's The Relationship Between Fair Xing Fei And Lin Yi?

Does Angel Zhao Jinmai Have A Boyfriend? Relationship With Edward Lai Guanlin Is A Mystery

Keep Running announced the new lineup: Bai Lu, and Lin Yi Join, Cai Xukun Quit

Lulu Xu Lu, Lin Yi- Sweet Love In "Love scenery", A Star Falls In Love With Science Geek

Does Edward Lai Guanlin Have A Girlfriend? The Relationship With Zhang Caicai Is Ture Or Not?

Bai Jingting, Angel Zhao Jinmai Bring The First Hit Drama Of The New Year

Lin Yi Photos

How Is Yukee Chen, Lin Yi's Chemistry? They Partner Sweetly In "Memory of Encaustic Tile"

Zhao Jinmai Dramas, Movies, and TV Shows List

Lin Yi Dramas, Movies, and TV Shows List

Yuan Hong Dramas, Movies, and TV Shows List