My Unicorn Girl – Darren Chen, Chen Yao
My Unicorn Girl is a youthful school romantic drama directed by Yu Zhongzhong, led by Darren Chen and Chen Yao, and co-starring Li Jiulin, Ao Ziyi, Ma Zehan, and Dai Yaqi.

The drama tells the story of a positive, sunny lucky girl, Sang Tian, who accidentally befriends Wen Bing, a "prankster boy" with face blindness. They are slowly attracted to each other's hardworking and progressive personalities. In the end, they open their hearts and work together with their teammates to successfully accomplish their "hockey dreams".
Details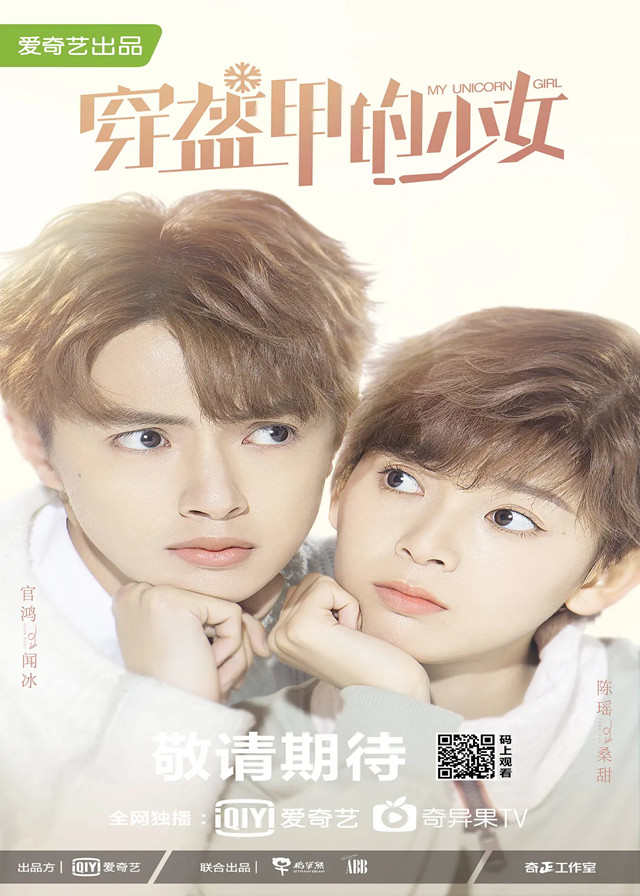 English Title: My Unicorn Girl
Chinese Title: 穿盔甲的少女
Genre: Youth, School, Romance
Tag: University, Calm Male Lead, Cohabitation, Accidental Kiss, Love/Hate Relationship, Girl Disguised as Boy
Episodes: 24
Duration: 45 min.
Director: Yu Zhongzhong
Writer: Fang Qiangqiang, Fan Kan, Chen Xiaochen, Chen Xin
Producer: Yang Bei, Feng Le
Product Company: iQIYI, STRAWBEAR, ABB.M
Released Date: 2020-08-23
Broadcast Website: iQIYI, Viki
Cast
Synopsis
Sang Tian is a lovely girl. On her 18th birthday, she made a wish to enter the skating team of her mother's alma mater, Liu Ye University Sports Academy.
However, she failed the skating entrance exam and was hired for the hockey team by accident.
Since the hockey team does not recruit girls, she had to disguise herself as "Sang Tian" and dress up as a man.
She thought her plan was perfect, but the appearance of the "prankster boy", Wen Bing, made her feel bad.
The two have been in a bad relationship outside of school, but now they were living in the same dormitory.
After one-by-one fights, they went from disliking each other to admiring each other.
They and their teammates struggled hard and won the championship of the college league.
But Sang Sweet's secret was eventually exposed and she had to leave Liu Ye.
But at this moment, there was the good news that Liu Ye will recruit the first girls' hockey freshmen next year. So Sang Tian regained her hope, restored the appearance of a young girl, put on the armor, and started a new dream journey together with Wen Bing.
Reviews
You May Also Like
Related Posts