Maiden Holmes – Chen Yao, Zhang Linghe
Maiden Holmes is a historical suspense detective drama directed by Li Xiaojiang, led by Chen Yao and Zhang Linghe, co-starring Zhang Jiading, Wang Yizhe, Huang Yi, and Zhu Minxin.

The drama tells the story of Su Ci, who suffers a family disaster and goes to the capital alone to track down the truth of her family's case in disguise. She meets and has a "sparkling" with Pei Zhao, who has superior intelligence.
Details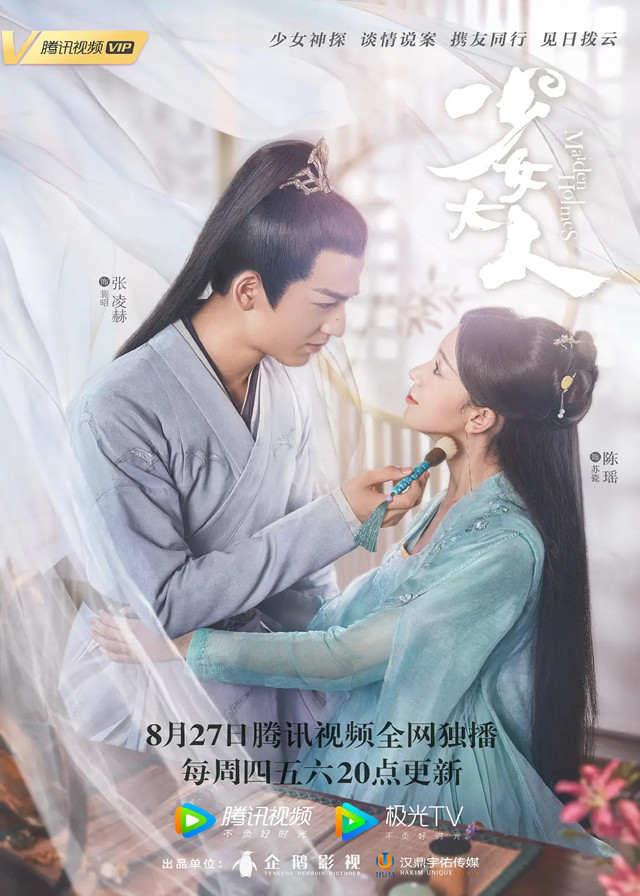 English Title: Maiden Holmes
Chinese Title: 少女大人
Genre: Historical, Suspense, Romance
Episodes: 32
Duration: 40 min.
Director: Li Xiaojiang
Writer: Liu Ying, Zhang Yaxi
Product Company: TENCENT PENGUIN PICTURES, HAKIM UNIQUE
Broadcasting Website: TencentVideo, WeTV, Viki
Released Date: August 27, 2020
Cast

Chen Yao
as Su Ci

Zhang Linghe
as Pei Zhao

Zhang Jiading as Xie Bieming

Wang Yizhe as Dong Rushuang

Huang Yi as Fei Ying

Zhang Yanyan as Queen Mother
Synopsis
When the Fanyannan Kingdom invaded the country, the nineteen-year-old Lord Qi, Xiao Yanzhi was ordered to defend the country.
He struggled in blood to turn the tide of battle, but was ambushed in the final battle of Honggu and lost his entire army.
When he returned from death to the court, he was blamed by Lord Yun. His military power was removed.
Faced with the fact that Lord Yun had supported the young emperor to ascend to the throne, secretly seizing the imperial power, Lord Qi and the young emperor reached a tacit agreement and chose to keep silent temporarily.
Since then, Lord Qi stopped interfering in the affairs of the court and pretended to be Pei Zhao, playing in the world. In fact, he was investigating secretly, vowing to find out the truth about the military defeat.
As a result of investigating the case of the lost disaster relief fund, Pei Zhao encountered Su Ci in Qing Shui. He was interested in her cool personality and her ability to solve cases.
On the way, Pei Zhao and Su Ci befriended Xie Beiming, the young master of Feiyun Villa, and Dong Rushuang, the daughter of the Poison King. They formed an investigation team.
As the cases were solved one by one, the danger was gradually approaching.
Su Ci's true identity was uncovered, the truth of the war gradually emerged.
The investigation team was involved in the power struggle of the court, the truth, love, friendship and family love were tested one after another.