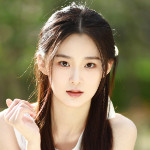 Shao Yuqi dramas, movies, and TV shows list contains the best TV series, films of Shao Yuqi and the ongoing and upcoming shows. The list will be updated continuously, bookmark this list to get the latest tv shows of Shao Yuqi.
Shao Yuqi Dramas List
2023-01-28

#1

Romance, Drama

Wang Zuyi, Shao Yuqi

Su Nan, a new media operator, is accidentally reunited with her first love, Gu Yibei. Five years ago, Su Nan left Gu Yibei at a low point in his career, leaving him angry but unforgettable. After the reunion, Yibei starts to create various coincidences and frequently meets Su Nan, and the truth about Su Nan's heartless abandonment gradually emerges.

2022-12-26

#2

Urban, Romance, Drama

Wang Kai, Tan Songyun

Gu Nanting is the deputy head of the passenger flight department of Luzhou Airlines and is known for his strict self-discipline. Due to an accidental reforming of the company, he became superior and mentors of Cheng Xiao who has a valiant and unrestrained personality. When faced with a variety of unexpected aviation incidents, they worked together to fight against and turn danger into success. Although in the way of solving the crisis, Gu Nanting, who has always pursued stability and order, was often disrupted by Cheng Xiao, who did not follow the usual rules. But they were still able to successfully solve the difficulties, and gradually overcome their own shortcomings, all the way towards their dreams!

2022-11-04

#3

Urban, Romance, Drama

Shao Yuqi, Wang Junhao

Yang Yifan, a fresh graduate, becomes an intern at an advertising agency. But unexpectedly, she finds that her ex-boyfriend Huang Yuchen is competing with her to become a full member. Huang Yuchen does not want to break up with Yifan, so he applies for a job as Yifan's colleague and wants to help her to become a full member, hoping to win back his girlfriend's heart in this way. After going through a lot of hardship in the workplace, Huang gradually understands the reason why Yang Yifan broke up with him. It was because he had lost himself and his true respect for his girlfriend. He then decides to take his job seriously and become a real competitor. Yang Yifan sees the change in Huang Yuchen, which finally makes her start to reconsider the relationship.
Related Posts