Just an Encore – Chen Xun, Ding Yuxi, Jiang Zhuojun, Zhu Danni
Just an Encore is a youth school romantic drama directed by Ji Zheng, starring Chen Xun, Ryan Ding Yuxi, Jiang Zhuojun, Zhu Danni, and Wang Ruoshan.

The drama is adapted from Xia Mingyou's novel of the same name and tells the story of Yangming High School girl Yan Ze and her schoolmate Ji Xiao, He Xinliang, best friend Gu Xiye, and her former best friend Xiao Zhuo'an.
Details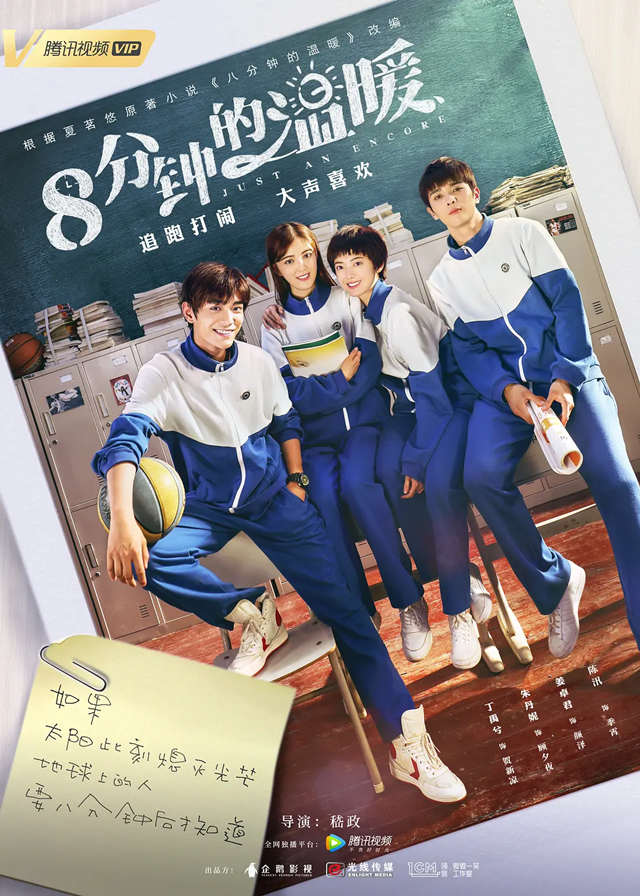 English Title: Just an Encore
Chinese Title: 八分钟的温暖
Genre: Youth, School, Romance, Friendship
Tag: Coming of Age, Secret Crush, High School, Love Triangle, Student, Ex-Girlfriend Comes Back
Episodes: 31
Duration: 35 min.
Director: Ji Zheng
Writer: Wu Yingqi
Producer: Fang Fang, Huang Jin
Product Company: TENCENT PENGUIN PICTURES, Enlight Pictures, LEAD CULTURE MEDIA
Released Date: 2019-01-30
Broadcast Website: WeTV
Cast
Synopsis
Yan Ze is an ordinary girl, she doesn't have a stunning appearance, nor does she have a tall figure, and her grades are medium.
In stark contrast to her, her best friend Gu Xiye is not only beautiful, with excellent grades, but also knowledgeable and talented. She is the adopted daughter of Yan Ze's family, Yan Ze's sister, Yan Ze's best friend, and the unbearable pain of her life.
The appearance of Gu Xiye takes away all the attention on Yan Ze.
All the places where you can see Gu Xiye, Yan Ze is just like a shadow.
Yan Ze secretly has a crush on his tablemate – School Hunk Ji Xiao. When Yan Ze found out that Ji Xiao might like Gu Xiye, her feelings with Gu Xiye became more delicate and fragile. She is full of jealousy, resentment, and quarrels.
All of Yan Ze's petty thoughts are seen by transfer student He Xinliang. He Xinliang always "happens" to appear when Yan Ze is the saddest and most depressed, using his optimistic and positive emotions to pull Yan Ze out of the "valley of jealousy".
However, Yan Ze, who is getting closer and closer to He Xinliang, has angered Gu Xiye. Gu Xiye is secretly crushing on He Xinliang and is also silently envious of Yan Ze who has a good popularity.
Her pride is not her intention, she just doesn't know how to get along with everyone like Yan Ze.
Two seemingly close girls, with their own agenda, frantically want to be like the other.
Finally, after a series of insignificant but unforgettable events, they learn to identify themselves, accept themselves, and gradually become better versions of themselves.
Reviews
You May Also Like
Related Posts
Chinese Dramas Like Just an Encore

Ryan Ding Yuxi, Zhang Yuxi Rumored To Be In A Relationship Again

Zhao Lusi, Ryan Ding Yuxi Refused To Be CP, Will They Played In "The Romance Of Tiger And Rose 2"?

Who Is Ryan Ding Yuxi's Girlfriend? Dating Kala Jiang Zhuojun?

Who Is Zhang Yuxi's Boyfriend? What's Her Ideal Type

Xiao Zhan Ranked 1st, Wang Yibo 2rd - The Most Popular Chinese Actor in Thailand

How is Ding Yuxi and Peng Xiaoran's relationship?

Ryan Ding Yuxi, Esther Yu Shuxin Sweet Love Between Writer And Editor In "Moonlight"

Ding Yuxi Photos

The Two Sweet Dramas Starred By Yang Yang, Ding Yuxi, Who Will You Choose?

Ding Yuxi Dramas, Movies, and TV Shows List

Chen Xun Dramas, Movies, and TV Shows List

Zhu Danni Dramas, Movies, and TV Shows List

Jiang Zhuojun Dramas, Movies, and TV Shows List