Hot Girl – Dilraba Dilmurat, Ma Ke
Hot Girl is an urban hot-blooded inspirational drama directed by Yuan Xiaoman, led by Dilraba Dilmurat and Ma Ke, co-starring Wang Yang, Shao Bing, Kou Zhenhai, Wang Yu, Liu Chan, Wang Lu, Tong Rui, and Jiang Mingyang.

The drama tells the story of Guan Xiaodi, Liang Dawei, and their buddies who grow up to be the bodyguards of the new century after undergoing brutal training.
Details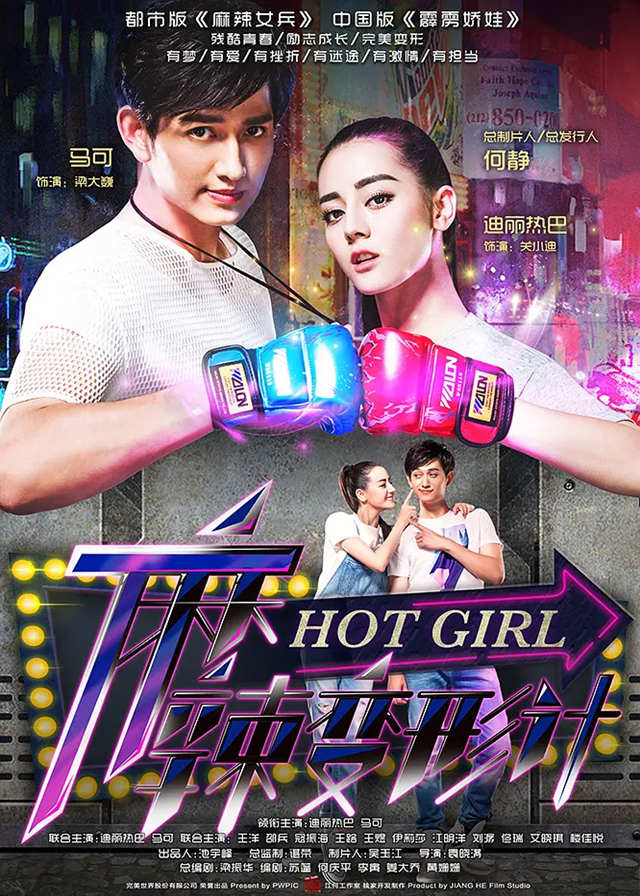 English Title: Hot Girl
Chinese Title: 麻辣变形计
Genre: Urban, Youth, Sport, Romance, Comedy
Tag: Enemies to Lovers, Martial Arts, Strong Female Lead, Birth Secret, Badass Female Lead, Fight
Episodes: 37
Duration: 45 min.
Director: Yuan Xiaoman
Writer: Liang Zhenhua
Producer: He Jing, Wu Yujiang
Product Company: Perfect World
Released Date: 2016-08-10
Broadcast Website: NewTV热播剧场 Hit Drama, Viki, Chinese Drama HQ
Cast
Synopsis
The sexy beauty Guan Xiaodi enters the bodyguard training center by coincidence, where she befriends the arrogant teenager Liang Dawei and the three other beautiful girls who have their own skills.
During the unusual devil training, Guan Xiaodi and her buddies' bodies are broken, their self-esteem is shattered, and their personalities are reshaped, gradually growing from rebellious girls to qualified female bodyguards.
After the ordeal and rebirth, Guan Xiaodi passed the final examination with her buddies with the first ranking and became a real bodyguard.
A legend about a "hot" female bodyguard started.
Reviews
You May Also Like
Related Posts
Chinese Dramas Like Hot Girl

Does Dilraba Dilmurat have a Boyfriend? Secret Marriage Rumor Troubled Her Much

Vin Zhang Binbin's Rumored Girlfriend, Who Is His Ideal Type?

Yang Yang, Dilraba: Is It Possible For them To Be In A Relationship In Reality?

Will Johnny Huang And Dilraba Declare Together After The Spring Festival Gala

Luo Yunxi and Dilraba His Favorite Actress on the same stage

Dilraba and Johnny Huang were suspected of being in love, fans asked the studio to disprove the rumor.

Dilraba, Leo Wu Lei Playing A Couple In "The Long Ballad" Led A Hot Discussion On The Net.

Dilraba Dilmurat Photos

Diliraba's Suspected Pregnancy Triggered The Discussion Once Again

Yang Yang, Dilraba: The Wedding Scene Of "Jing Tu CP" Was Exposed In Advance.

The Two Sweet Dramas Starred By Yang Yang, Ding Yuxi, Who Will You Choose?

Dilraba Dilmurat Dramas, Movies, and TV Shows List

Ma Ke Dramas, Movies, and TV Shows List