Back From the Brink – Neo Hou, Zhou Ye
Back From the Brink is an ancient romantic drama directed by He Shupei, led by Neo Hou Minghao and Zhou Ye, co-starring Riley Wang, Chen Xinyu, Zuo Ye, Kenny Kwan, and Liu Yaoyuan, with Yang Rong, Ken Chang, Ji Chen, and Sa Dingding in special roles.

The drama is based on the novel of the same name by Jiu Lu Fei Xiang, which tells the story of a young girl, Yan Hui, who was expelled from her training because she was too rebellious.

She wanted to live a life of drifting along aimlessly but was cheated by the rumored "evil dragon" Tian Yao, and had to help the "evil dragon" find all the sealed body and eventually fight against the ultimate devil king.
Details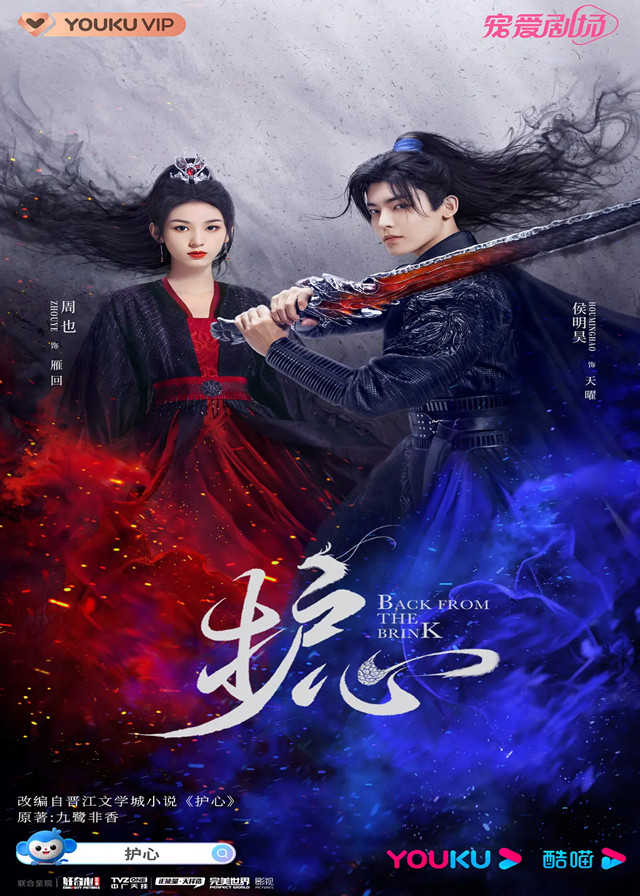 English Title: Back From the Brink
Chinese Title: 护心
Genre: Ancient, Legend, Romance
Episodes: 40
Duration: 45 min.
Director: He Shupei
Producer: Huang Yanhong
Product Company: YOUKU, YOUKU, CURIOSITY PICTURES, TVZONE, PERFECT WORLD
Broadcasting Website: YOUKU
Released Date: –
Cast

Neo Hou
as Tian Yao

Zhou Ye
as Yan Hui

Riley Wang as Bai Xiaosheng

Chen Xinyu as Xuan Ge

Zuo Ye as Feng Qianshuo

Kenny Kwan as Chang Lan/Chen Yi

Liu Yaoyuan as Zhu Li

Ken Chang as Ling Xiao

Zhang Kaiying as Huan Xiaoyan

Ji Chen as Lu Musheng
Synopsis
Twenty years ago, Tian Yao was hurt and sealed by the power of the five elements by his beloved, Su Ying, the master of the Guang Han Sect.
By chance, Tian Yao's soul escaped from the seal ten years ago, and he perceived that his dragon bone was sealed in a village lake, so he possessed the body of a boy who had died and waited for an opportunity to retrieve the dragon bone.
Yan Hui's appearance was bringing hope to Tian Yao.
It turned out that Yan Hui carried his Dragon Scale in her heart, which could help him break the seal.
So Tian Yao started to use Yan Hui and asked her to help him find the rest of his body.
Yan Hui tried to escape from Tian Yao, but instead of being separated, their relationship grew closer and closer.
Tian Yao was moved by Yan Hui's righteousness in saving his life several times, and Yan Hui also discovered Tian Yao's incessant relationship with herself in the incidents that keep getting involved.
The origin of the dragon scale, the relationship between his master Ling Xiao and Su Ying, and the mystery came one after another.