A Life Time Love – Huang Xiaoming, Victoria Song
A Life Time Love is a historical fantasy romantic drama directed by Ching-Shing Choy, led by Huang Xiaoming, Victoria Song, Sheng Yilun, and Zhang Li, co-starring Luo Yunxi, Janice Wu Qian, Shen Tai, Hao Zejia, Lin Shijie, Liu Shuailiang, Liu Fanfei, and Lin Jing, with Zhai Tianlin in a special role.

Adapted from Tong Hua's novel "Ceng Xu Nuo", the drama tells the poignant love story in the ancient times of Xuanyang Princess Mu Qingmo, who traveled out, and Chi Yun, the god of war.
Details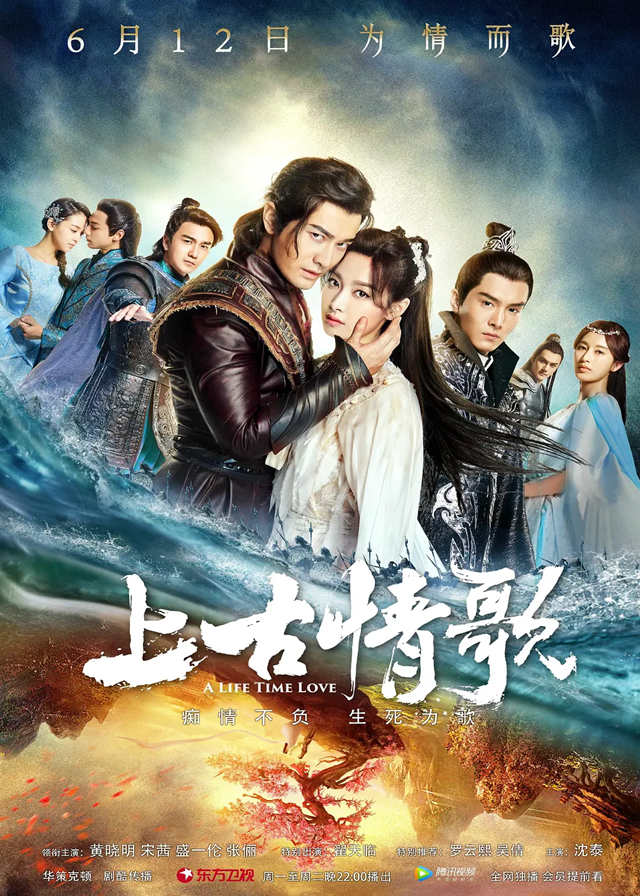 Cast
Synopsis
Born in a famous family, Mu Qingmo is honest and kind. The talented Chi Yun, who grew up in the mountains, is famous for his martial arts.
In a chance encounter, Chi Yun falls in love with Mu Qingmo at first sight. When they meet again many years later, Chi Yun starts to pursue Mu Qingmo and obtains her heart with his passion.
At this time, Mu Qingmo's brother promised a marriage for her. Chi Yun put down everything and only wants to take Mu Qingmo to retire in the mountains.
However, Mu Qingmo eventually marries Lingyun Shenglun for the sake of her family.
Mu Qingmo confesses to Shenglun about her affection for Chi Yun, and Shenglun promises not to force Mu Qingmo. Gradually Shenglun is attracted to Mu Qingmo and unwilling to let Mu Qingmo leave him.
When Mu Qingmo lost his memory due to an accidental injury, Chi Yun spends his spiritual power to heal Mu Qingmo's injury, and carefully awakened all her memories.
After recovering from the injury, Mu Qingmo cherishes the relationship with Chi Yun more and decides to let go of the worldly bondage and be together.
Unfortunately, Mu Qingmo is in danger again. Chi Yun chooses to sacrifice his own life to make Mu Qingmo and give her a "bright sky".
Reviews
You May Also Like
Related Posts