Moonshine and Valentine – Victoria Song, Johnny Huang
Moonshine and Valentine is a romantic fantasy drama directed by Chen Zhengdao and Xu Zhaoren, starring Victoria Song Qian, Johnny Huang Jingyu, Xu Kaicheng, Li Junxian, Jiang Qilin, Liu Yongxi, Zhang Bojia, Li Jiaming, and Xu Fangyi.

The drama is adapted from the novel "结爱·异客逢欢" by author Shi Dingrou, which tells the love story of an ordinary and kind newspaper intern, Guan Pipi, who met the mysterious and affectionate priest of the Fox tribe, Helan Jingting, and entangled in several lifetimes.
Details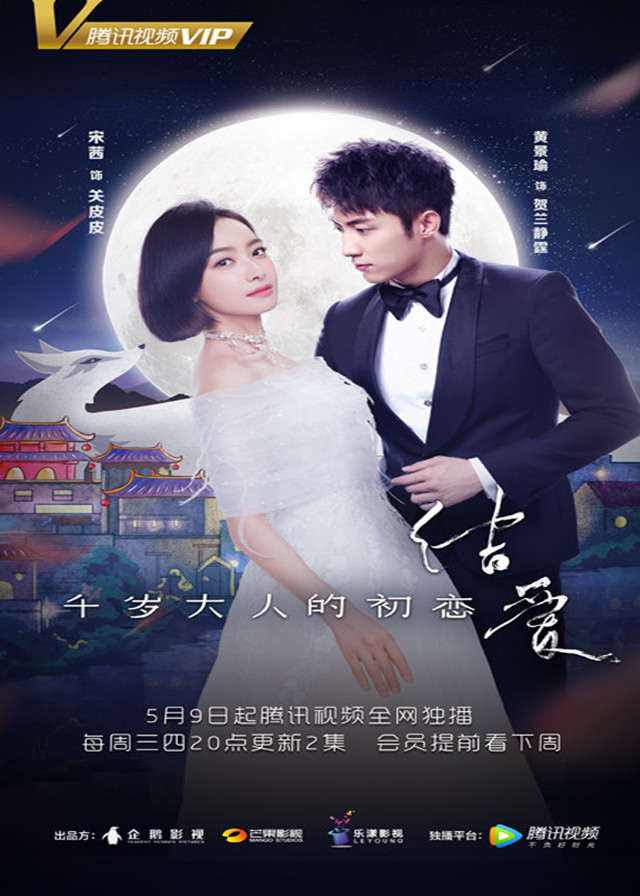 English Title: Moonshine and Valentine
Chinese Title: 结爱 ▪ 千岁大人的初恋
Genre: Fantasy, Romance
Tag: Reincarnated Lovers, Interspecies Romance, Fate, Blindness, Lovers Separated, Star Crossed Lovers
Episodes: 25
Duration: 45 min.
Director: Chen Zhengdao, Xu Zhaoren
Writer: Shen Yang
Producer: Yuan Feiyu, Lv Huanbin, Sun Zhonghuai, Yang Yali, Chu Fei, Liu Jun
Product Company: TENCENT PENGUIN PICTURES, MANGO STUDIO, DREAM CHASER PICTURES
Released Date: 2018-05-09
Broadcast Website: Viki, WeTV, YoYo Television Series Exclusive, YoYo English Channel
Cast
Synopsis
The intern reporter, Guan Pipi, received a special assignment to interview cultural relics expert Helan Jingting. This mysterious and unpredictable "jade master" has never appeared in public before.
In order to conquer him, Pippi tried every possible way but was surprised by his unbelievable habits.
He feeds on flowers, loves "moonlight baths", is blind during the day, has an excellent vision at night, and has only three heartbeats per minute, and claims to be from an alien planet, a silicon-based life form that is different from Earth's carbon-based life.
Pippi thought he was being teased and left in anger.
The succession of blows once left her in mourning. Her boyfriend and best friend betrayed her one after another, Pipi felt being abandoned by the world. Helan Jingting was the only one who stayed by her side and gave her warmth. Pipi gradually dropped her guard and learned about the world of the alien planet where Helan is.
After several twists and turns, they finally broke through the shackles of fate and came together. However, the internal strife of Helan's planet soon involved them.
In order to protect each other, they competed to give everything they have, only wishing that the other can spend this life safely!
Reviews
You May Also Like
Related Posts