Bright Eyes in the Dark – Huang Jingyu, Zhang Jingyi
Bright Eyes in the Dark is a romantic drama, led by Huang Jingyu and Zhang Jingyi, co-starring Daddi Tang, Wu Gang, Zhang Linghe, Wang Ziqi, Zeng Keni, Zhang Jin, and Lu Siyu.
The drama is based on the novel of the same name by Er Dong Tu Zi. This drama portrays the daily lives and growth of modern-day firefighters in their emergency firefighting and rescue work. It showcases the loyalty, dedication, passion, and sacrifice of these firefighting heroes.
Details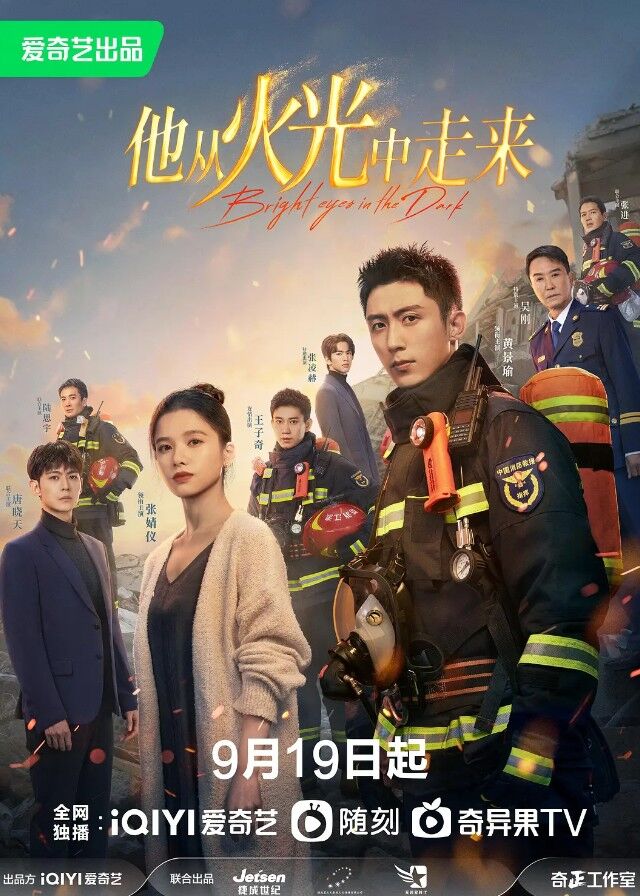 English Title: Bright Eyes in the Dark
Chinese Title: 他从火光中走来
Other Titles: Walking Through Fire for You
Genre: Urban, Romance, Military, Drama
Tag: Firefighter Male Lead, Rescue Mission, Disaster, Female Chases Male First, Emergency Service, Earthquake
Episodes: 40
Duration: 45 min.
Director: Tian Yi, Yi Yong
Writer: Liu Hongyan, Sun Ran
Producer: Ji Yiqing
Product Company: iQIYI
Released Date: 2023-09-19
Broadcast Website: iQIYI, 爱奇艺
Cast
Synopsis
With his excellent fire-fighting skills and extensive fire-fighting experience, Lin Luxiao is the Chief of the Special Duty Station in Beixun.
By chance, he was chosen to be an instructor for a reality show that aims to educate people about firefighting.
During the program, Lin Luxiao meets Nan Chu, a dancer whom he saved from a fire many years ago.
Nan Chu is attracted to Lin, but Lin is reluctant to approach her because he is aware of the dangers of his profession.
A new generation of young and brave firefighters, such as Shao Yixing and Qin Shiquan, are emerging, and Lou Minye, who has brought back advanced equipment and technology from abroad, has also returned to the fire brigade.
The three generations of firefighters, old, middle-aged, and young, have worked together in fire, earthquake, and aerial rescue and other disaster rescues, raising the level of fire safety in Beixun City to a new level.
Nan Chu and Lin Luxiao are also getting to know each other better. Faced with the most dangerous forest fire, Lin and his teammates still choose to go against the fire.
Reviews
Serein

Bright Eyes in the Dark - Great casting, Strong script

The opening of "Bright Eyes in the Dark" is incredibly impactful, with a strong sense of being on the scene. This earthquake disaster documentary is not at all exaggerated. The exhaustion, anxiety, and oppressive atmosphere of the firefighters on the ruins are deeply moving. Whether it's the pitiable helplessness of the disaster victims or Lin Luxiao and his team's determined efforts in bare-handed rescue, every scene is heart-wrenching. Once again, salute to the brave and fearless firefighters!

The casting of "Bright Eyes in the Dark" is spot-on. It feels like Johnny Huang Jingyu's acting is particularly well-suited to his real-life personality. His performance is relaxed, not too tense. He seems to be playing himself in every role, but the fact that it never feels out of place is truly remarkable.

Zhang Jingyi and Huang Jingyu make for a much more comfortable and appealing pair compared to the previous Wiliam Chan Chen Wei and Zhang Ruonan, Yang Yang and Wang Churan.
You May Also Like
Related Posts