Use for My Talent – Shen Yue, Jasper Liu
Use for My Talent is an urban inspirational romantic drama directed by Cai Cong, starring Shen Yue, Jasper Liu, Dai Yunfan, and co-starring Yan An, Su Mengdi, Lin Borui, Huang Sirui, Tan Quan, Xiao Ran, Qi Shenghan, and Zhu Xinzong.
Details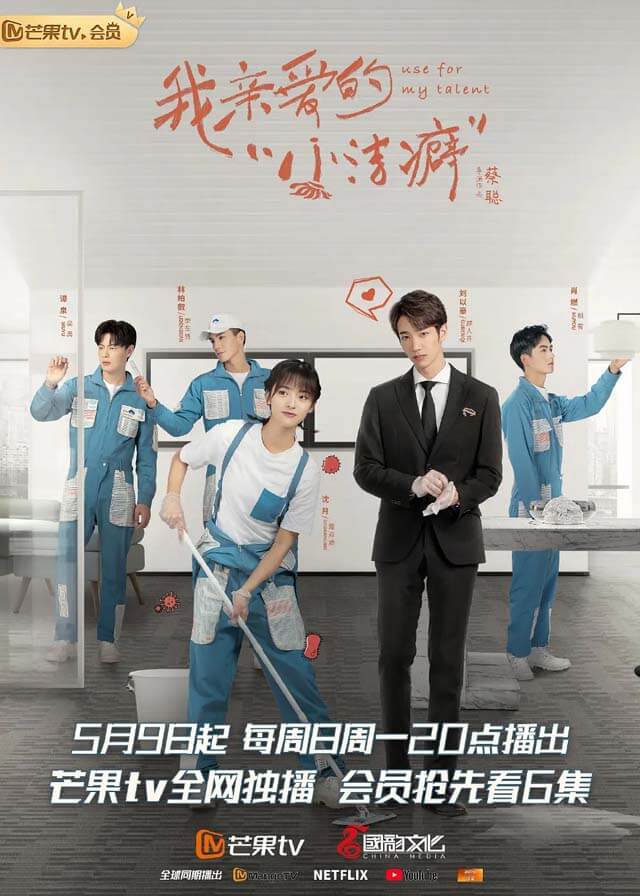 English Title: Use for My Talent
Chinese Title: 我亲爱的"小洁癖"
Genre: Urban, Romance, Comedy, Friendship
Tag: Rich Male Lead, Cinderella and Ceo, Boss-Employee Relationship, Phobia, Jealous Male Lead, Older Woman/Younger Man
Episodes: 24
Duration: 43 min.
Director: Cai Cong
Writer: Liu Huihui, Lv Youyang
Product Company: Product Company: Hunantv.com Interactive Entertainment Media Co.Ltd
Released Date: 2021-05-09
Broadcast Website: MGTV, MGTV Drama Channel
Cast
Synopsis
Gu Renqi lives an isolated and closed life because of his dysfunctional family and has a fetish for cleanliness.
Shi Shuangjiao has a beautiful family but suffered a car accident, loses her mother, and has been unkempt ever since.
These two person who does not fit in, become the same cleaning company's superiors and subordinates, just like a pair of a happy couple.
After getting to know each other in the workplace, they begin to sympathize with each other.
Under the influence of Gu Renqi, Shi Shuangjiao gradually overcomes the pain of losing her mother and faces herself again, and their relationship gradually heats up.
One day, Shi Shuangjiao learned that her mother's death was not an accident, but the culprit might be Gu Renqi's grandfather.
Gu Renqi is plunged into guilt and breaks up with Shi Shuangjiao.
Gu Renqi cooperates with the police investigation and discovers that the perpetrator of the accident was the Gu family's driver and Gu Renqi's grandfather was framed by the driver.
The misunderstanding is solved, Shi Shuangjiao and Gu Renqi get back together.
They realize that a clean and positive mind is the key to a better life.
Gu Renqi changes himself and becomes a young man who can embrace life.
They grow and bring the high-end cleaning service into the homes of ordinary people together, becoming the hygiene guards of thousands of households and regaining their dreams and values in life.
Reviews
You May Also Like
Related Posts