Fifteen Years to Wait for Migratory Birds – Zhang Ruoyun, Sun Yi
Fifteen Years to Wait for Migratory Birds is an urban youthful romantic drama directed by Ke Hanchen and Li Hongyu, starring Zhang Ruoyun, Sun Yi, Deng Lun, Zhang Xueying, Chung Lin, Liu Meihan, Zhu Yuanbing, and Dai Chao.

The drama is based on Ying Feng's novel of the same name, which tells the story of a group of young partners, mainly Pei Shangxuan and Li Li, who keep "sweating" for their dreams, their future, and their youth, and strive to move forward for a better tomorrow.
Details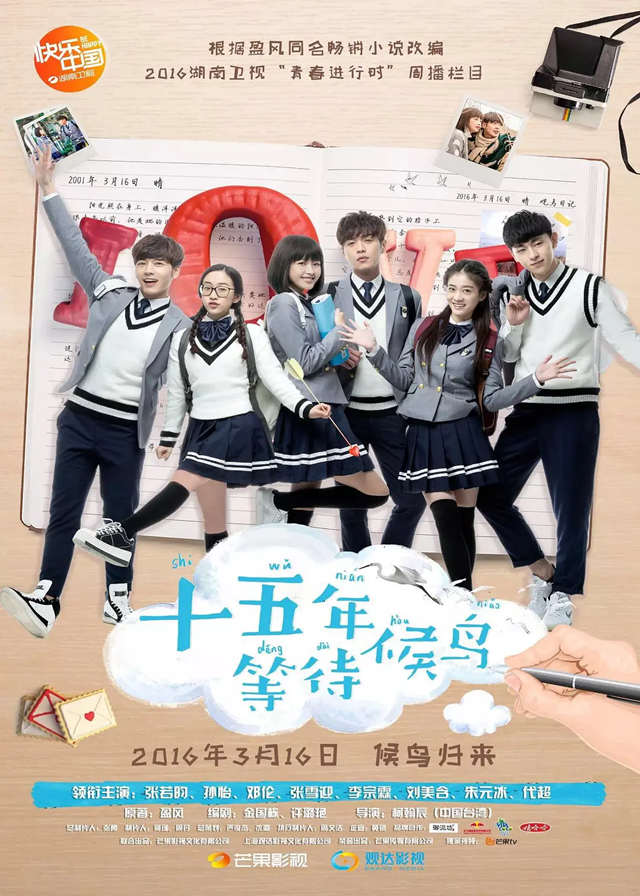 English Title: Fifteen Years to Wait for Migratory Birds
Chinese Title: 十五年等待候鸟, 候鸟的承诺
Genre: Urban, Youth, Romance
Episodes: 24
Duration: 45 min.
Director: Ke Hanchen
Writer: Xu Luyan, Jin Guodong
Producer: Zhou Dan, He Jin
Produce Company: MANGO STUDIO, GRAND MEDIA
Broadcasting Website: Viki, China Zone
Released Date: March 16, 2016
Cast

Zhang Ruoyun
as Pei Shangxuan

Sun Yi
as Li Li

Deng Lun
as Liu Qianren

Zhang Xueying
as Han Yichen

Chung Lin as Dan Ni Er

Liu Meihan as Li Jun

Zhu Yuanbing as Sun Yu

Dai Chao as Qiu Zi'an

Huang Xiaolin as Shu Min

Hu Jieqiong as Wang Shixiao
Synopsis
Li Li and Pei Shangxuan met when they were thirteen years old. Li Li immediately fell in love with this cool-looking boy and read his soft heart hidden under the cold surface.
However, to Pei Shangxuan, Li Li was just an ordinary good student, and they lived in two different worlds.
What awaited them afterward was a long fifteen years.
During these fifteen years, there were too many changes, friends and lovers around Pei Shangxuan came and went, but Li Li was the only one who stayed there and appeared by his side silently when he needed company.
However, what Pei Shangxuan didn't know was that Li Li had wished countless times that she could stop liking him who seemed to never be available, but she couldn't do it.
When Pei Shangxuan gradually realized Li Li's affection for him, Li Li suddenly decided to get married, and Pei Shangxuan knew that there must be a secret.