City of Streamer – Jing Tian, Timmy Xu
City of Streamer is a suspense romantic drama directed by Jin Chen and Gan Lu, starring Jing Tian and Xu Weizhou, co-starring Jing Chao, Xing Jiadong, Hai Ling,  Chi Jia, Wang Yifei, Mi Mi.

The drama is based on the novel of the same title by Mi Bao, it tells the story of a thoughtful private teacher, who is carefully planning to get close to her enemies, while at the same time, the male lead, who seems to be set up by her but has the same high intelligence, comes online.
Details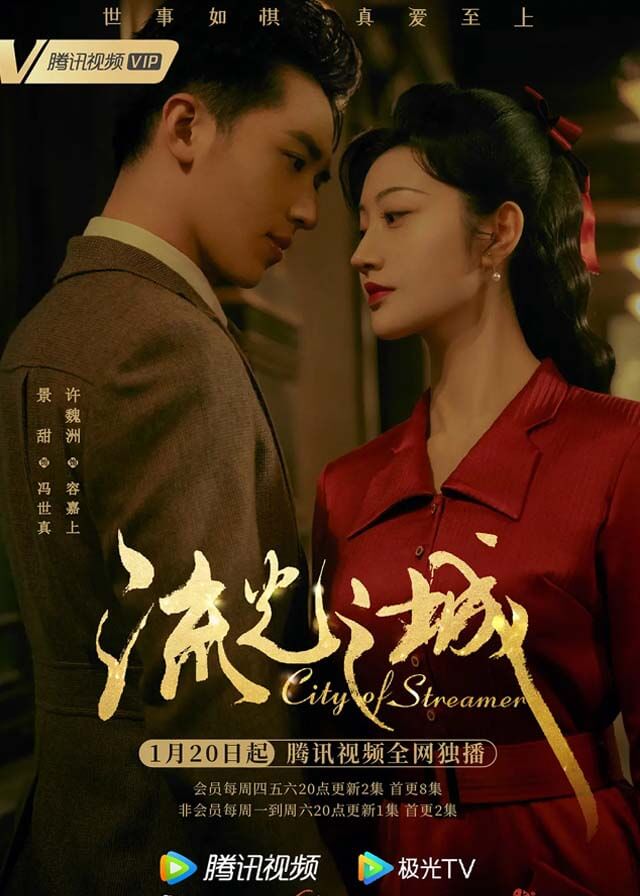 English Title: City of Streamer
Chinese Title: 流光之城
Genre: Romance, Suspense, Thriller
Tag: Smart Female Lead, Deception, Older Woman/Younger Man, Forced Kiss, Revenge, Age Gap
Episodes: 40
Duration: 45 min.
Director: Jin Chen, Gan Lu
Writer: Hu Xue, Wu Ruoyan
Producer: Wu Ruoyan
Product Company: Ciwen Media, Impact Media, ZFM, Yuanchun Media
Released Date: 2022-01-20
Boradcast Website: WeTV, TencentVideo
Cast
Synopsis
In the early twentieth century, Shanghai was under the rule of warlords and revolutionary thinking was on the rise. The Rong family was rich but unkind, committing many heinous crimes.
In order to do justice, Feng Shizhen embarks on the road of revenge. She successfully goes undercover to the Rong family and becomes the tutor of Rong Jiashang.
Then, a game that stirs up the fate of all the characters unfolds. However, as fate would have it, Feng Shizhen and her enemy Rong Jiashang, son of Rong Dingkun, grow to know and love each other through mutual temptation.
When the old grudge of more than twenty years ago surfaced, these two lovers, who belonged to different parties, broke through layers of obstacles and joined forces to uncover the shocking truth, exposing Rong Dingkun's demonic façade to the world.
In the end, sins are punished, the light of justice is restored, and Feng Shizhen and Rong Jiasheng have a love affair out of love but better than love. Under the baptism of revolutionary thinking, they finally embarked on the road of pursuing light and ideal together.
You May Also Like
Related Posts