Chinese Paladin Season 4 – Ju Jingyi, Chen Zheyuan
Chinese Paladin Season 4 is a historical Xianxia drama directed by Yang Xuan and Huang Ye, starring Ju Jingyi, Chen Zheyuan, Mao Zijun, Mao Xiaohui, and Baron Chen.
It is based on the single-player game of the same name, and tells the story of Han Linsha, Yun Tianhe, Liu Mengli and Murong Ziying, who go through various difficulties and trials in their journey to "find immortality" and learn that "to cultivate the way of immortality, one must first cultivate humanity".
Details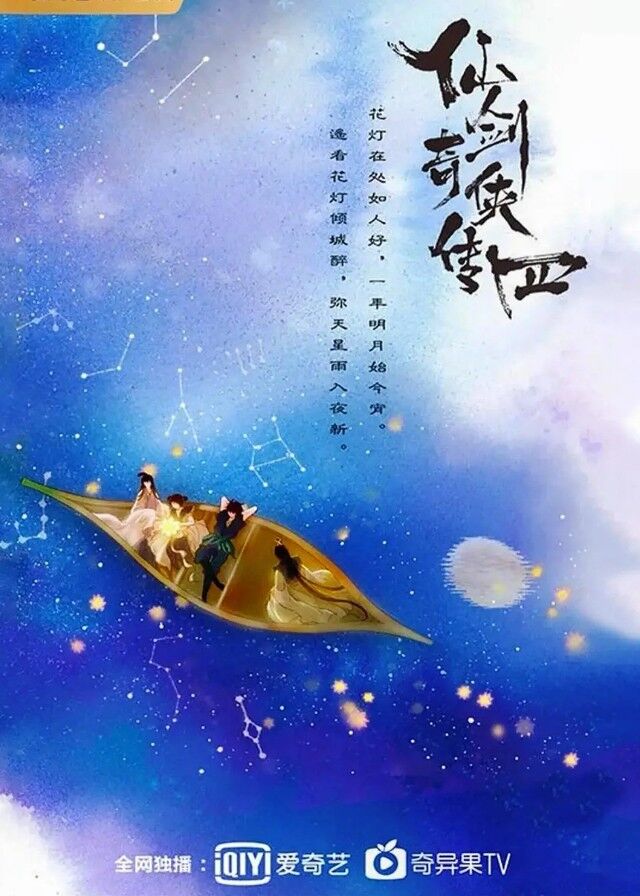 English Title: Chinese Paladin Season 4
Chinese Title: 仙剑奇侠传四, 天河传, 仙剑4
Genre: Historical, Fantasy, Romance, Immortal, Wuxia
Episodes: 40
Duration: 45 min.
Director: Yang Xuan, Huang Ye
Writer: Dong Junfeng
Producer: Deng Jun
Product Company: iQIYI
Released Date: -
Broadcast Website: iQIYI
Cast
Synopsis
Yun Tianhe is a straightforward character who lost his parents at a young age. Through a chance encounter, he meets Han Lingsha, a girl who intrudes into his father's tomb, and they form an inexplicable bond.
Along the way, he also meets another girl named Liu Mengli. In order to uncover his father's past and search for his own identity, Yun Tianhe, Han Lingsha, and Liu Mengli become disciples of the Kunlun Qionghua Sect together.
With the belief that his destiny is in his own hands, Yun Tianhe faces various difficulties and challenges, yet he firmly believes that he can control everything with his own hands.
With the help of his friends Han Lingsha, Murong Ziying, and Liu Mengli, he embarks on a path to save the demon realm and the people within a hundred miles of the Qionghua Sect, defying fate itself.
In the end, he defeats Xuanxiao, and the Qionghua Sect is destroyed.
Reviews
You May Also Like
Related Posts
Does Chen Zheyuan Have A Girlfriend? What's His Ideal Type

How is Zhao Lusi and Chen Zheyuan's Relationship? "Yuan Xing Bi Lu" CP is Gaining Great Popularity

What's Shen Yue and Chen Zheyuan's Relationship?

Chen Zheyuan, Rainbow Xu Mengjie Return To Campus, Interpreting Of The Sweet And Sentimental Youth

Who Is Zhang Zhehan's Girlfriend? Did He Get Married?

Does Ju Jingyi Have A Boyfriend? What's Her Ideal Type?

Ju Jingyi And Zheng Yecheng Are Dating Sweetly In "Love Under The Full Moon"

Chen Zheyuan Photos

Chen Zheyuan Dramas, Movies, and TV Shows List

Ju Jingyi Dramas, Movies, and TV Shows List

Wang Duo Dramas, Movies, and TV Shows List

Baron Chen Dramas, Movies, and TV Shows List

Mao Zijun Dramas, Movies, and TV Shows List

Mao Xiaohui Dramas, Movies, and TV Shows List