All the Way to the Sun – Landy Li, Wang Yang, Wang Ju
All the Way to the Sun is an urban romantic drama directed by Cao Kai, led by Landy Li, Wang Yang, and Wang Ju, co-starring Gao Ye, Xu Shao Ying, Zhang Yishang, and Wang Hao, with Wang Youjun, Liu Weiwei, Ren Bin, Zhou Xiaoou, Liu Hengfu, Rong Fei, Wang Chao, Ding Jiali, Hou Yansong, Tian Zheng, Zhai Xiaoxing, Yuan Ran, Li Delong, and Wang Yuning in special appearances.
Based on the urban novel "Da Cheng Xiao Shi / 大城小室" by post-80s female writer Jiang Lihan, the drama mainly tells the story of two post-80s girls, Li Mujia and Tian Rong, who struggle in the big city after graduation, help each other and encounter various setbacks to finally find their heart's desire.
Details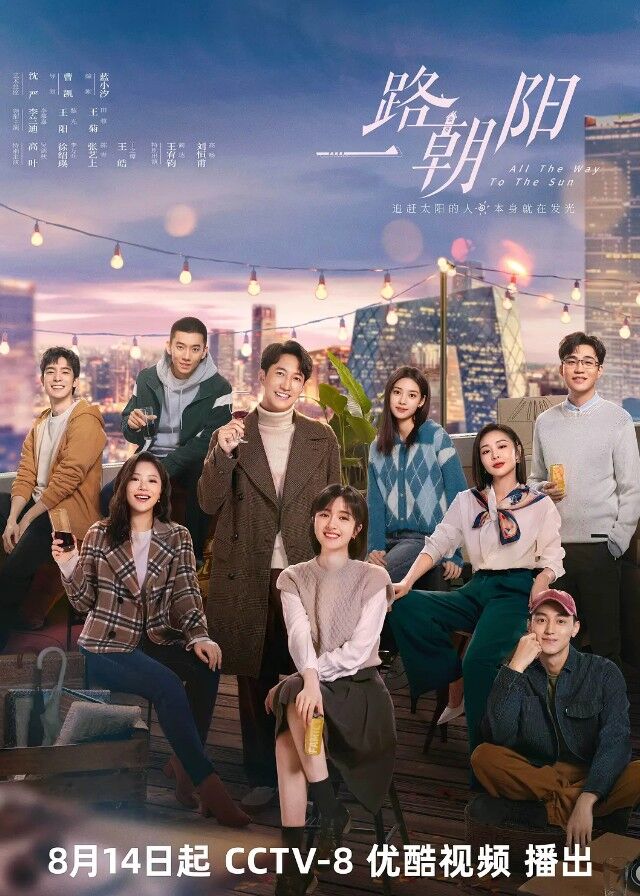 Cast
Synopsis
After graduating, Li Mujia, a young girl who came to Beijing from another place (known as "Beipiao" in Chinese), entered one of the most renowned law firms in Beijing.
Through her diligence and hard work, she went from being an administrative assistant to becoming a successful lawyer in her own right. She crossed paths with a business elite named Li Guang, and as they both rapidly grew in their careers, their relationship also faced numerous challenges.
Meanwhile, her close friend Tian Rong struggled to find a job after graduation but ended up stumbling into the real estate industry, becoming a property agent. She hastily married a Beijing boy named Li Wanbing, and their marriage faced significant tests both in terms of profession and emotions. Despite encountering various setbacks, both couples found their true passions.
From 2007 to 2019, these young women's pursuits and hopes in life underwent involuntary changes in the face of reality, but fortunately, after ten years of trials, they eventually found the sunny side of life, allowing them to continue their journey towards a brighter future.
Recap
The sun slowly rises, and a new day begins. On the bustling streets of Beijing, the capital city, cars and people rush by, hurrying to their respective workplaces for their ideals.
Today marks the grand opening of Fragrant City Garden. The flagship unit is a 208-square-meter low-density villa. Despite this, it can't deter the enthusiasm of those coming to view the houses. The sales office is lively and bustling, with a constant stream of customers. New intern Tian Rong hasn't found her target customer yet, so she calls her close friend Li Mujia to come along. Mujia's boyfriend, Ding Zhitan, rides a bike to drop her off at the sales office. Tian Rong rushes out to welcome them, asking Mujia to pretend to be a serious buyer. The manager can tell at a glance that Mujia is posing, but doesn't expose them and keeps a close eye on Tian Rong and Mujia's every move.
Tian Rong and Li Mujia are dormitory best friends, both studying law at an ordinary university in Beijing. Li Mujia has been rejected from job applications everywhere. Tian Rong takes Li Mujia aside and earnestly introduces the property and amenities to her, instructing her to be prepared to make a quick escape if they get caught. Tian Rong is diligent in her work and skilled in her business, but only a few people come to consult her. Li Mujia encourages her not to be discouraged. Tian Rong can't help but pour out her grievances to her. Her parents arranged a job in a stable career back in their hometown in Shanxi, but she stayed in Beijing for her boyfriend Fan Huapeng. Fan Huapeng graduated and found a job at a prestigious law firm in Beijing. Tian Rong is deeply committed to him. Wu Jianqiu, a senior lawyer at the law firm, visits Fragrant City Garden with her son. The scheduled salesperson, Xiao Fang, couldn't make it due to stomach issues, so Li Mujia asks Tian Rong to introduce the property to Wu Jianqiu. Tian Rong hurries to get the information on the property that Wu Jianqiu is interested in. Wu Jianqiu accidentally sees her husband, Lao Wang, with another woman at the property. They seem to be having a good time. Wu Jianqiu calmly calls Lao Wang, who gets panicked. The woman wants to confront Wu Jianqiu, claiming that their marriage is beyond repair. Lao Wang holds onto the woman tightly.
Wu Jianqiu doesn't want to cause a scene in public and decides to leave with her son as soon as possible. Tian Rong brings the property information, but Wu Jianqiu is too hurried to look at it. She asks Tian Rong to reserve the unit 508 for her. Li Mujia and Tian Rong help Wu Jianqiu and her son leave through the back door. Wu Jianqiu expresses her gratitude and promises to transfer the deposit soon. Li Mujia watches Wu Jianqiu and her son walk away, triggering memories of her father leaving her and her mother behind years ago. She's filled with mixed emotions.
Ding Zhitan wants to buy a house in Beijing but is discouraged by the high prices, so he ends up renting. His parents come to Beijing every week to help him clean, do laundry, and cook. Ding Zhitan brings Li Mujia home for dinner, and when his mother learns that Mujia doesn't have a job yet, she wants to ask his third sister in Beijing for help. The third sister calls and offers to introduce a wealthy and beautiful Beijing girl to Ding Zhitan. Li Mujia overhears the conversation and feels ashamed, using the excuse of getting food to hide in the kitchen.
Ding Zhitan follows Li Mujia to the kitchen and expresses his determination to marry her, but she comforts him and tells him not to take it seriously. After dinner, Ding Zhitan walks Li Mujia home and confronts his mother about their relationship. He reveals that they've been dating since their freshman year and that even his aunt knows about it. His parents get angry and scold him, but he remains steadfast. The manager openly questions Tian Rong's only target customer during the morning meeting. If the customer doesn't sign a contract to buy a house, she'll be fired. Tian Rong confides in Fan Huapeng, who advises her and mentions a job opening for an administrative assistant at Jin Da Law Firm. He encourages her to apply, but Tian Rong is worried that her education and experience might not be enough and considers a warehouse job instead. Fan Huapeng tells her not to give up on herself.
Tian Rong suggests that Li Mujia also apply to Jin Da Law Firm. Li Mujia finds out that the administrative assistant role has no restrictions regarding the school as long as it's a full-time undergraduate degree. She submits her resume right away. The school notifies them to move out of the dormitory soon. Tian Rong and Li Mujia silently vow to find jobs soon.
Tian Rong and Li Mujia receive interview invitations. They dress up and head to Jin Da Law Firm. Many people are here for interviews, and Tian Rong feels inadequate. She's about to back out when Li Mujia encourages her. By chance, Fan Huapeng passes by. He ignores Tian Rong, and she tries to explain herself.
Wu Jianqiu is in negotiations with Dawn Group for a business collaboration. The negotiation hits a deadlock due to fee issues. Dawn Group's CEO, Li Guang, arrives and suggests having coffee to ease the tension. Wu Jianqiu offers to make hand-brewed coffee for them, sending an assistant to buy coffee from downstairs. She calls Ding Zhitan to confirm that Li Guang hasn't contacted any other law firm. She's determined not to lower the fees.
Tian Rong enters for her interview but gets nervous and stammers, leading to a quick rejection. She's left sweating and rushes to the restroom. Li Mujia meets Wu Jianqiu in the hallway and learns about the administrative assistant position. She's determined not to miss this opportunity and passionately recommends herself. Wu Jianqiu makes it clear that they don't hire candidates from non-prestigious schools, which doesn't match Li Mujia's qualifications. Li Guang tastes the coffee and realizes it's from a café, but he doesn't expose her. He suddenly receives a phone call and leaves with his team.
Li Mujia and Wu Jianqiu share an elevator ride with Li Guang and his team. Li Guang sees a coffee delivery person downstairs and casually mentions that Wu Jianqiu got coffee from there. Li Mujia immediately informs Wu Jianqiu, proposing to intern with her team. The internship is for one month. After much consideration, Wu Jianqiu reluctantly agrees.
Ding Zhitan came to Jin Da Law Firm to pick up Li Mujia, and he happened to run into Fan Huapeng as he was leaving work. Fan Huapeng firmly believes that Li Mujia got into Jin Da Law Firm through connections, bypassing regular procedures. Ding Zhitan tries to defend Li Mujia, but Fan Huapeng remains skeptical.
Ding Zhitan accompanies Li Mujia to buy new clothes and prepares a guide for new employees. He wants to buy her a pair of shoes, but she politely declines, making an excuse about wearing old shoes. Fan Huapeng helps Tian Rong learn from her failed interview, revises her resume, and discusses how Li Mujia entered Jin Da Law Firm through connections. Tian Rong explains how they helped Wu Jianqiu and Li Mujia resolve a situation, but Fan Huapeng scolds her for missing the opportunity to be close to Wu Jianqiu and says many negative things about Li Mujia.
Tian Rong hasn't been able to make a sale and anticipates being fired. She plans to return home and ask her father for money to come back to Beijing and find work. Li Mujia encourages her, and they promise to be lifelong friends. The next morning, Li Mujia arrives at the law firm energetically, following Ding Zhitan's guide and greeting her colleagues. She realizes that the new colleagues not only hold accounting certificates but also speak multiple languages fluently, which makes her feel inferior.
Wu Jianqiu briefly explains the assistant's job requirements to Li Mujia. She instructs her to give gifts according to the client list and familiarize herself with recent cases. The team members believe Li Mujia got in through connections, and they point fingers at her. Xiao Fei assigns Li Mujia a pile of tasks, and she remembers them all. As expected, the manager fires Tian Rong first. She calls Fan Huapeng to complain, but he doesn't comfort her and instead scolds her.
Li Mujia is extremely busy and doesn't even have time for lunch. Fan Huapeng tries to get close to her and reveals the strong backgrounds of Wu Jianqiu's team members. Tian Rong rents a place and invites Li Mujia to live with her. Li Mujia works tirelessly, always helping her colleagues, and gains their trust gradually. Wu Jianqiu notices this and calls Li Mujia into her office, advising her to become an irreplaceable good lawyer rather than focusing on trivial tasks.
Wu Jianqiu admits that she's in the process of divorcing her husband, Lao Wang. She asks Li Mujia to prove Lao Wang's affair, but Li Mujia points out that what they saw at the sales office isn't enough evidence. Colleagues go to a fast-food restaurant for lunch every day, but Li Mujia finds it expensive and eats noodles at a nearby food stall instead. Ding Zhitan reminds her to build good relationships with her colleagues, but Li Mujia keeps her concerns to herself.
Tian Rong gets a job at Kangyin Life Insurance Company as a telemarketer. She's told to make seventy sales calls every day, but she faces rude responses from clients. She starts calling her relatives and friends, but they all reject her. Since Li Mujia's conversation with Wu Jianqiu, she's been declining miscellaneous tasks assigned by colleagues and focusing on mastering her work. Wu Jianqiu praises her highly.
Li Mujia's busy schedule leaves her with no time to see Ding Zhitan. He's anxious and calls her for a weekend date, but she's overwhelmed with work and declines.
Wu Jianqiu received a large order from Northern Land Development, requiring the completion of an internal audit within 186 days. This task involves assessing existing assets, liabilities, and ensuring a balance between creditors and investors' interests. Due to the tight timeline and heavy workload, Wu Jianqiu recruits and assembles a project team, canceling all leaves. Anyone on sick leave for more than three days will be automatically eliminated.
Li Mujia took the contract from Northern Land Development to the Finance Department to get Director Fang's signature. Fang, however, gave various excuses and deferred the matter. Li Mujia even brought fruit for Director Fang, but she was forcibly driven out. Wu Jianqiu had to personally visit Director Fang, who signed the contract on the spot but criticized Li Mujia for being irresponsible at work. Wu Jianqiu saw that Director Fang was intentionally making things difficult for Li Mujia and encouraged her to become stronger quickly.
Li Mujia's parents sold their old house in Tianjin and asked Ding Zhitan to buy a house in Beijing. When Ding Zhitan hadn't seen Li Mujia for a long time, her mother quickly made dumplings and asked Ding Zhitan to deliver them. Ding Zhitan called Li Mujia to discuss the house purchase, but she was on the subway heading to deliver a contract for Northern Land Development to Zhao Zong. Before she could say much, she received a call from Xiao Fei, who asked her to book two tickets to Chongqing. Ding Zhitan was furious, but Li Mujia didn't even have time to answer his call, let alone meet him.
Li Mujia arrived at Gongwang Palace after a series of transfers. It's a private club, and her phone suddenly malfunctioned. The doorman kept her outside. Li Guang happened to be arriving for an event at the club. Li Mujia asked him to help her get in, and he agreed to pass the message. She gave him twenty yuan to buy coffee and amused him. Ding Zhitan stayed up all night to make dumplings for Li Mujia, and his parents noticed he was preoccupied.
Fan Huapeng stayed up late organizing documents, and Tian Rong helped him iron his clothes and cooked him a bowl of noodles. When Fan Huapeng learned that Tian Rong had only made one sale and was facing unemployment, he couldn't help but complain, comparing her to Li Mujia. Li Mujia hurriedly returned home and continued her unfinished work. Fan Huapeng casually mentioned Wu Jianqiu's divorce, claiming that Wu Jianqiu's husband refused to divorce due to their multi-million-dollar mansion. Li Mujia quickly interrupted him, telling him not to gossip behind her back. Fan Huapeng pointed fingers at Tian Rong, which Li Mujia disliked. She asked Tian Rong to cook noodles for her and when Fan Huapeng left in response, Tian Rong followed him. Li Mujia tried to stop them, but even Ding Zhitan's arrival couldn't change the situation.
Tian Rong takes Fan Huapeng back home, and they meet a colleague on the way. The colleague inquires about their relationship, but Fan Huapeng avoids the question and intentionally keeps his distance from Tian Rong. Feeling hurt, Tian Rong suggests she bring lunch to Fan Huapeng at the firm the next day and meet his colleagues. Fan Huapeng desperately tries to make excuses to avoid this.
Ding Zhitan vents his frustrations to Li Mujia, and she promises to have steak with him this weekend and assures him she won't break the promise. Tian Rong returns home in anger, buys beer to drown her sorrows, and Li Mujia had already noticed that Fan Huapeng doesn't truly love Tian Rong; he treats her like a free babysitter. Tian Rong feels distressed, so Li Mujia encourages her to break up with Fan Huapeng. However, Tian Rong is reluctant.
Ding Zhitan wants to use the 500,000 yuan his parents gave him to buy a small house. Colleague Lao Liu made money from stock trading and offered to lend Ding Zhitan some for stock investment. Ding Zhitan calls Li Mujia to discuss this, but she firmly disagrees. After careful consideration, Ding Zhitan decides to lend the money to Lao Liu. Thanks to Wu Jianqiu and the team's persistent efforts, the acquisition by Northern Land Development is successfully completed. The CEO invites Wu Jianqiu's team to a weekend appreciation dinner. Li Mujia wants to go on a date with Ding Zhitan and asks Xiao Fei for help with taking a leave of absence.
Lao Liu makes a significant profit from stock trading and gives Ding Zhitan some money as interest. Ding Zhitan uses it to buy Li Mujia a new phone. They have steak together, and Li Mujia hands Ding Zhitan 50,000 yuan that her mother gave her, planning to use it to buy a house for both their parents to live together.
Suddenly, Wu Jianqiu calls Li Mujia and instructs her to go to Chongqing for a business trip overnight and return to the firm within an hour. Ding Zhitan is quite unhappy about this. In a hurry, Li Mujia returns to the law firm. Wu Jianqiu briefly explains the task for the trip and reminds her to prepare a suitcase in the office, ready for travel at any moment.
Tian Rong received a text message early in the morning from her manager informing her of her dismissal. She didn't want to give up just yet, so she bravely came to the company, hoping the manager would give her another chance. The manager scolded her severely and forcefully drove her away.
Li Mujia rushed to Chongqing overnight and went to meet with Diao Dexing, the general manager of Hailan Real Estate, early in the morning to handle the handover of the property. Li Mujia carefully reviewed the property's documents, confirmed all procedures were complete, and then signed the agreement. She sensed something was off with Diao Dexing and his secretary, so she quickly left after signing the contract. Diao Dexing, unwilling to hand over the property, instigated debt holders and unpaid construction workers to cause trouble. Li Mujia overheard this outside the door and promptly reported it to Wu Jianqiu.
Ding Zhitan took his parents to see a house in the new Yadong community developed by Li Guang Group. His parents pooled together 500,000 yuan, while Li Mujia only contributed 50,000 yuan. Ding Zhitan's mother was displeased and worried that he wouldn't be able to afford the monthly installment if he lost his job. Ding Zhitan reassured his mother, and Li Mujia's mother also contributed her savings to help them. Ding Zhitan wanted Li Mujia to meet his parents today when she returned from Chongqing to finalize the matter of the house.
Tian Rong sought help everywhere but was met with obstacles, leaving her feeling frustrated. Li Mujia returned from Chongqing and went directly to the law firm. Wu Jianqiu was reporting the progress of the acquisition from Northland Estates. Satisfied with the report, the representative from Northland Estates left. Wu Jianqiu was pleased with Li Mujia's trip to Chongqing and urgently had team members work overtime to organize the information.
Li Mujia was late for the family gathering where her parents had prepared a table full of dishes. Her parents were displeased, so Ding Zhitan had to call her. However, the call wouldn't connect, so Ding Zhitan went to the law firm to find her. Li Mujia and her colleagues worked late into the night before heading home. She overheard Wu Jianqiu arguing with her husband about their divorce on the phone and discreetly left.
Tian Rong was awakened in the middle of the night by the landlord, who brought a contract for the tenant Li Lan. Tian Rong realized she had been deceived by Li Lan. She pleaded with the landlord to extend her lease, but he insisted she must move out the day after tomorrow.
Li Mujia carefully reviewed the contract and found a loophole. She called her colleagues back to the office to make revisions overnight. They worked until dawn, and her colleague promised to treat her to dinner today. Ding Zhitan happened to visit the law firm and saw Li Mujia laughing with her colleagues. He felt sour inside, suspecting that Li Mujia had used connections to enter Jin Da Law Firm. Li Mujia took Ding Zhitan into the office and showed him the documents they had worked on, but he still couldn't believe she was so busy.
Li Mujia poured out her frustrations to Ding Zhitan, explaining that she worked hard every day to earn his parents' approval and to buy a house and start a family. Ding Zhitan felt that Li Mujia didn't consider him family and their arguments escalated. They ended up parting ways unhappily.
Li Mujia returned to her rented house feeling dejected, only to find out that she had to move out the day after tomorrow. She took a day off and went to a real estate agency with Tian Rong to search for a new place to live. They couldn't find a suitable place due to their low budget. Just as they were at a loss, they met a landlord at the agency registering a property for rent. The agent quickly took them to see a three-bedroom apartment, which they liked and signed the contract for on the spot. Tian Rong noticed the agency was hiring and decided to apply.
Within 24 hours, Tian Rong and Li Mujia found a new place to live and moved in. Ding Zhitan came to help, apologized to Li Mujia, and asked her to house hunt with him. They reconciled. Tian Rong called Fan Huapeng to celebrate their move, but he declined. Tian Rong left a broken fan outside their old rental place.
Li Mujia learned that Tian Rong got a job at Utuo Family Property Agency and felt sorry for her. They both shared their frustrations and concerns. Tian Rong expressed her determination to become independent in Beijing without relying on her parents' money. Li Mujia comforted her.
Tian Rong came to work in high spirits and was given three client recommendations by the manager. However, she struggled during a property showing due to her unfamiliarity with the area. One of the clients signed a contract with the landlord without her. The manager scolded her, and she left in tears.
Fan Huapeng dressed neatly for work every day, and his colleagues praised him for having a capable girlfriend. Li Mujia overheard his comments and embarrassed him in front of everyone. Li Guang visited the Yadong apartment project and learned that sales weren't going well. The manager suggested a promotion, but Li Guang disagreed, believing the upcoming Olympics would bring positive changes to the real estate market.
Lao Liu made a lot of money from stock trading and gave a substantial interest to Ding Zhitan. Ding Zhitan was intrigued and discussed stock trading with Li Mujia. She advised him not to dabble in unfamiliar territory. Ding Zhitan took Li Mujia to see a property in the Yadong complex and put a down payment on the top-floor unit. He wanted to put Li Mujia's name on the property title, but she politely declined. Wu Jianqiu suddenly messaged Li Mujia to come to the meeting room for a discussion. Li Mujia packed her bags, ready to go to Chongqing at a moment's notice, and asked for leave from Ding Zhitan. Ding Zhitan was having dinner with Old Liu and also sought his advice on stock trading techniques.
Lao Liu treated Ding Zhitan to a meal, boasting about his stock market earnings and urging Ding Zhitan to accompany him to buy a car. Ding Zhitan sought advice on stock trading techniques, and Lao Liu confidently claimed that the stock market would multiply by six times, immediately catching Ding Zhitan's interest.
The acquisition of Northland Estates was nearing completion, but suddenly Diao Dexing from Hailan Real Estate withheld the building planning permit. He demanded an additional five million yuan from Zhao Zong. Zhao Zong, along with Wu Jianqiu, Xing Xiaofei, and Li Mujia, discussed countermeasures. Wu Jianqiu insisted on adhering to the contract and not giving Diao Dexing any extra money. Diao Dexing called Zhao Zong to threaten, offering 2 million yuan this time. Li Mujia promptly refused, and Zhao Zong's brother, Zhao Lindong, secretly offered 1 million yuan. Diao Dexing agreed to this offer. Li Mujia warned Zhao Lindong not to give Diao Dexing any more money.
Wu Jianqiu sent Li Mujia to Chongqing and personally took her to the airport, instructing her to retrieve the building planning permit from Diao Dexing. He tried to matchmake Li Mujia with Zhao Lindong, but she already had a boyfriend, so Wu Jianqiu gave up. Lao Liu's stocks rose again, and Ding Zhitan envied his success. He asked Lao Liu to help him open a stock trading account.
Tian Rong worked tirelessly, familiarizing herself with every property, even sacrificing her sleep. Fan Huapeng visited Tian Rong after hearing that Li Mujia was away on a business trip. Tian Rong quickly put aside her work to cook for him. She wanted to save money with Fan Huapeng to buy a property at Yadong Apartments, but he sarcastically discouraged her, telling her to find a stable job first. This made Tian Rong feel upset. Fan Huapeng left without eating.
Early in the morning, Li Mujia headed to Hailan Real Estate and called Ding Zhitan from the taxi to let him know she was safe. Li Mujia met Diao Dexing and tried to convince him to hand over the permit, but he refused. Tian Rong showed a pregnant female client a property. When the client's daughter had an asthma attack, Tian Rong rushed her to the hospital. The husband arrived and thanked Tian Rong, asking her to arrange the signing with the seller.
Ding Zhitan invested all his house purchase money in the stock market, and his stocks opened at the daily limit up. He was in a good mood, hoping to make a fortune from stock trading. Tian Rong cooked for Fan Huapeng at her home, but the landlord interrupted, warning her not to have any inappropriate relationships. Fan Huapeng made excuses to delay buying a house and blamed Tian Rong for not working hard. A tenant asked Tian Rong to get the landlord to fix a leaking pipe, and Fan Huapeng vented his frustration about their differing values and lack of a common language.
Li Mujia stood by Diao Dexing's office, determined not to leave until he handed over the permit. She saw a photo of Diao Dexing and his daughter and tried to appeal to his emotions, but he didn't budge. Debtors came to confront Diao Dexing about his daughter's debts. Li Mujia posed as his daughter and argued with them, claiming she had already reported to the police. She scared them away, and Diao Dexing was grateful to her, handing over the permit.
Li Mujia immediately called Ding Zhitan to share the good news. He asked her to return on the earliest flight the next day. Li Mujia continued working at home, sorting through documents. Ding Zhitan felt guilty. Li Mujia successfully obtained the permit, and the Northland Estates acquisition was completed smoothly. Wu Jianqiu granted the team a week off and publicly announced Li Mujia's promotion to assistant lawyer. Fan Huapeng tried to win Li Mujia's favor, revealing that Zhao Lindong liked her, but she ignored him.
Fan Huapeng desperately tried to get close to Li Mujia, even buying her a coffee to please her. However, Li Mujia scoffed at Fan Huapeng's attempts and he had no choice but to leave disappointed.
Ding's mother arranged a blind date for Ding Zhitan through his younger sister. Ding Zhitan reluctantly agreed to meet the girl, but he made it clear that he already had a girlfriend. The girl also wasn't interested in dating and was pressured by her mother to go on the blind date. Ding Zhitan accidentally discovered that they both liked the same game, and they connected over their shared interests. Thanks to Tian Rong's persistent efforts, she was recognized as an outstanding employee last month and received a 2,000 yuan bonus. However, she unexpectedly handed in her resignation. Her manager took the money back and even withheld her last month's sales commission.
Tian Rong couldn't bear to see her hard work go to waste. She called Fan Huapeng and discussed not quitting for now. Fan Huapeng scolded her harshly and forced her to quit and find a proper job. She borrowed 2,000 yuan from Fan Huapeng to pay her rent, but he impatiently hung up the phone.
Ding Zhitan used his house down payment to invest in stocks, but the market crashed, and the stocks he chose continuously hit the limit down. He lost a lot of money and was advised by Lao Liu to cut his losses and exit. As the down payment deadline approached, he became anxious and couldn't focus on work. Li Mujia was promoted to assistant lawyer. She picked Ding Zhitan up after work to celebrate and showed off her new work badge. She urged him to pay the down payment, but Ding Zhitan made various excuses.
Li Mujia's cousin Chen Qing returned from studying abroad, accompanied by her boyfriend Gao Chang, to develop in Beijing. Li Mujia originally wanted Ding Zhitan to accompany her to the airport to pick them up, but he used the excuse of financial losses to decline. Li Mujia welcomed Chen Qing and Gao Chang at the airport, and they enjoyed exploring Beijing together.
Ding Zhitan was preoccupied with the stock market daily and neglected his work, resulting in a reprimand from his supervisor. His stocks plummeted, and he lost everything. Lao Liu advised him to tell Li Mujia the truth. Li Mujia invited Chen Qing and Gao Chang for Peking duck and called Ding Zhitan to join, but he was in no mood to socialize and abruptly hung up the call. The blind date partner invited Ding Zhitan to play a game together, and he reluctantly agreed, hiding it from Li Mujia.
Li Guang found Li Mujia's work badge on the ground after eating Peking duck. Li Mujia realized she had lost her badge and hurried back to the restaurant to look for it. Li Guang returned it to her, and Li Mujia thanked him and took his business card. In her haste, she nearly stumbled and amused Li Guang.
Tian Rong went to visit Fan Huapeng, who urged her to find a proper job quickly. She enjoyed her current job, but Fan Huapeng broke up with her in person, claiming that they had different values and couldn't communicate. Tian Rong didn't want to break up and begged him tearfully. Fan Huapeng forcefully sent her away.
Li Mujia returned home after work and found Tian Rong sitting outside her door in tears, informing her about the breakup. Li Mujia comforted her desperately. Fan Huapeng called to ask Tian Rong to send his shirt, and Tian Rong wanted to reconcile with him. Li Mujia hung up the phone, preventing her from lingering on Fan Huapeng. Unable to sleep, Tian Rong drank to drown her sorrows, and Li Mujia brought her a glass of milk and kindly advised her.
Early in the morning, Li Mujia returned Fan Huapeng's shirt and scolded him harshly. Fan Huapeng retorted, escalating their argument. Chen Qing and Gao Chang wanted to rent a house from Tian Rong, but they couldn't reach her. They learned from Li Mujia that Tian Rong had just gone through a breakup and decided to wait patiently.
Ding Zhitan wanted to be honest with Li Mujia, so he went to her law firm. He overheard colleagues discussing Zhao Lindong's interest in Li Mujia. Angrily, Ding Zhitan invested all his housing funds in the stock market. Li Mujia worked late and called Ding Zhitan, who was drinking alone at home. She wanted to visit him, but he couldn't face her and told her to report her safety once she got home. As soon as Li Mujia got home, she called Ding Zhitan, who, under the influence of alcohol, poured out his worries to her. He feared losing her and she promised to marry him once they bought a house. Ding Zhitan felt too burdened to express his grievances.
Tian Rong was unwilling to separate from Fan Huapeng. She waited outside his house, and Li Mujia arrived later to persuade her to go home. But Tian Rong was adamant, wanting to stay with Fan Huapeng. Li Mujia took Tian Rong to the rooftop and urged her not to lose herself over a breakup. Tian Rong woke up to the reality and cried in Li Mujia's arms. Li Mujia managed to convince Tian Rong to return home and encouraged her to focus on work.
Tian Rong was starving and wanted to stew chicken soup, but she discovered that Dr. Xiaozhang had used the chicken to practice suturing. Despite this, Tian Rong made a pot of chicken soup, and Li Mujia and Dr. Xiaozhang praised her culinary skills. Feeling the pain of her recent breakup, Tian Rong believed that owning a house was more dependable than relying on a man. She called her parents to ask for money to buy a house.
Tomorrow is the deadline to pay the down payment, and Xiao Wei from the sales office at Yadong Apartments can't reach Ding Zhitan. She ends up calling Li Mujia for help. Li Mujia calls Ding Zhitan and arranges to meet him tomorrow morning at 9 o'clock to collect the money. Ding Zhitan is at a loss due to his losses in the stock market. He reluctantly agrees, and Li Mujia calls her mother to share the good news.
Li Mujia waits at the sales office for a long time, but Ding Zhitan doesn't show up. She calls him, and in frustration, Ding Zhitan smashes his phone. Through Xiao Wei, Li Mujia learns that today is the deadline. Ding Zhitan had already requested an extension of one month. She has no choice but to leave in a taxi on her own. On the way, she witnesses a car accident involving someone who looks like Ding Zhitan. The ambulance takes the injured person away. Li Mujia rushes to the hospital, only to realize she mistook the person. In her hurry, she scratched her foot without even noticing.
Li Mujia spends the entire day waiting downstairs, and Ding Zhitan finally returns with his head down. He confesses that he used the housing funds to invest in stocks and lost everything. Li Mujia is stunned, struggling to believe the reality. Ding Zhitan is now penniless, and he forces Li Mujia to make a decision on the spot whether she'll still be with him. Caught off guard, Li Mujia is speechless. Ding Zhitan assumes that Li Mujia no longer loves him, and he vents all the built-up frustrations, accusing her of being vain and not caring about him. Li Mujia doesn't want to explain too much, but Ding Zhitan persists. He believes that even if they get married, they will eventually break up due to her ambitions. Li Mujia is heartbroken and wants to discuss it once he's sober. Ding Zhitan is in utter despair and rushes back home.
Li Mujia arrives at the Yadong Apartment construction site overnight, recalling the beautiful moments she shared with Ding Zhitan. Her emotions are complicated. Li Mujia is asked to work overtime at the law firm due to Wu Jianqiu's situation. She arrives at the office feeling down, and Wu Jianqiu learns about her breakup. She encourages Li Mujia to free herself from the pain and accompanies her to the hospital to bandage her wound. Li Mujia works late at the law firm and opens up about her troubles to Tian Rong, who does her best to comfort her. That night, Li Mujia can't sleep and is comforted by Tian Rong's presence, promising to stay by her side.
Ding's mother learns that Ding Zhitan lost the house money due to stock trading and scolds him severely. She feels that the gap between Ding Zhitan and Li Mujia is too big, but she doesn't want them to break up. She asks Ding Zhitan to send dumplings to Li Mujia. Li Mujia appears absent-minded at work, and Wu Jianqiu expresses concern for her. Ding Zhitan comes to give Li Mujia dumplings, observing the hurried people coming and going from the building. He feels inferior and gives up on the idea of winning back Li Mujia. He hopes for her well-being, but Li Mujia can't bear to let him go. As Ding Zhitan walks away with a desolate figure, tears stream down Li Mujia's face uncontrollably.
Tian Rong brings her parents to see houses, and they're concerned about the pressure of the mortgage. Tian Rong wishes for a home of her own, and her parents fully support her. After breaking up with Ding Zhitan, Li Mujia throws herself into her work, but memories of their six-year relationship still bring her to tears. Wu Jianqiu notices this. Ding Zhitan remains despondent and makes frequent mistakes at work.
Wu Jianqiu has a heart-to-heart talk with Li Mujia, who opens up about her feelings. Wu Jianqiu also shares her own marriage experience with Wang Wei. They have an open conversation, and Wu Jianqiu encourages Li Mujia to rise above the difficulties and face life bravely. Li Mujia's outlook brightens, and she feels fortunate to have met Wu Jianqiu. Tian Rong carefully selects several properties for her parents to visit. She treats her clients sincerely, honestly explaining the pros and cons of each property and recommending the most suitable options, gaining their trust.
Tian Rong took the clients to view the property, and the clients were very satisfied. They decided on the spot. Tian Rong's parents prepared a big table of dishes, and Li Mujia and Dr. Xiao Zhang enjoyed a hearty meal. After the meal, Tian Rong discussed the matter of buying a house with her parents. Her parents learned that she had broken up with Fan Huapeng and agreed to provide 600,000 savings to support Tian Rong.
Wu Jianqiu repeatedly called Li Guang to urge him to sign the contract quickly. However, Li Guang hesitated to sign. He believed that there were hidden currents within the group due to equity issues. He wanted to sort things out thoroughly before allowing Wu Jianqiu's team to enter, to avoid unnecessary trouble for their work. Tian Rong took her parents to look at several houses. In the end, they chose a residential area further away from the city center. Her parents were concerned about the inconvenience of the distance from their workplace, but Tian Rong was more interested in the development prospects of the chosen area, thinking that distance wouldn't be an issue.
Wu Jianqiu took Li Mujia to meet Li Guang. On the way, he briefly introduced Li Guang's situation. She specifically arranged for the restaurant to have a blackberry-flavored red wine, making sure that Li Mujia would remember the origin of that wine. Upon their first meeting, Li Mujia recognized Li Guang as the person who found her work badge. She pretended not to know him, and Li Guang also didn't mention their acquaintance. He told Wu Jianqiu honestly that he wanted to straighten out internal issues before signing with her. Wu Jianqiu and Li Guang discussed the cooperation framework. The three of them had lunch together. Li Mujia wasn't knowledgeable about wine, and she inadvertently ordered a different wine than the one Wu Jianqiu had reserved. Li Guang detected the mistake in the first sip. He didn't want Li Mujia to feel embarrassed, so he quickly made an excuse to leave. Wu Jianqiu explained the situation to Li Mujia, leaving her blushing with embarrassment.
Li's mother wanted Li Mujia to bring Ding Zhitan back for the Lunar New Year. She couldn't reach Li Mujia and had to call Ding Zhitan, only to find out that Li Mujia and Ding Zhitan had already broken up. Li's mother called to ask for the reason behind their breakup. Li Mujia explained that they couldn't get along, but her mother insisted and pressured her to reconcile with Ding Zhitan. Li Mujia felt trapped by her mother's persistence.
Tian Rong decided to buy three properties, intending to live in one and rent out the other two. Her parents strongly disagreed and advised her to buy just one property. Tian Rong reiterated her intentions multiple times, as long as her parents lent her the 600,000 yuan. Wu Jianqiu assigned Li Mujia to continue working on the Dawn Tower project. Li Mujia quickly drafted the contract and went to have Li Guang sign it. She thanked Li Guang for not revealing that they already knew each other. Li Guang gave Li Mujia a bottle of wine – the one Wu Jianqiu had failed to order.
Li's mother personally visited Ding Zhitan. He was having a meal with his parents, and he discreetly notified Li Mujia. Li's mother brought a large can of pork ribs, Ding Zhitan's favorite dish, and advised him to reconcile with Li Mujia. Ding's mother felt Li Mujia wasn't a suitable match for Ding Zhitan. She blamed Li Mujia for being too busy with work and pushed all the responsibility for Ding Zhitan's stock market losses onto her. Ding Zhitan tried to defend Li Mujia, but his mother remained adamant, criticizing Li Mujia harshly.
Li Mujia arrived later and thanked Ding's mother for making dumplings. Li's mother advised them to talk things through. Li Mujia didn't want to bring up the subject again, so she tried to leave with her mother. Ding's father handed 100,000 yuan to Li's mother, and Li Mujia hurriedly sent her mother away. Then she sought out Chen Qing and asked him to invest the money for short-term gains, intending to return the money to Ding Zhitan. Tian Rong's parents couldn't persuade her and left her with 600,000 yuan before returning home. Tian Rong pledged to establish herself in Beijing as soon as possible. Not long after, regardless of her department manager's advice, she took out a loan to buy three properties.
Li Mujia handed the bottle of wine to Wu Jianqiu, who immediately called Li Guang to express gratitude. Li Guang was momentarily stunned because he had intended to give that bottle of wine to Li Mujia. Wu Jianqiu detailed the team's responsibilities and accelerated their progress on the Dawn Tower project.
Tian Rong talked non-stop to Li Mujia about her grand goal of buying three properties with loans. She urged Li Mujia to use the 100,000 yuan from Ding Zhitan's parents to buy a property as well. Li Mujia wanted to repay Ding Zhitan as soon as possible.
Workers at the Dawn Tower construction site were injured by detached stone materials. Wu Jianqiu immediately called Li Mujia, who hurried to the site. As a representative lawyer for Dawn Tower, Li Mujia expressed condolences to the injured and they demanded a compensation of 50,000 yuan. The developer, Mo Da Group, the largest shareholder of Dawn Group, refused to agree. The workers showed poor quality stones that could easily be broken by hand. Li Mujia promised to resolve the issue within 24 hours, and only then did the workers disperse. The project manager of Mo Da Group was displeased with Li Mujia's actions. He negotiated with her, hoping she would back down. Li Mujia ordered him to handle the injured workers' issue promptly.
Li Mujia truthfully reported the issue of detached stone materials to Wu Jianqiu and brought a piece of stone from the scene. Wu Jianqiu immediately called Li Guang to report the matter. Li Guang handled the issue properly, arranging compensation for the injured workers. One of the injured workers sent Li Mujia a banner to express gratitude. Wu Jianqiu spoke highly of Li Mujia's actions.
Tian Rong completed the down payment and loan procedures and finally succeeded in buying three properties. Holding the property certificates in her hands, she was incredibly happy. She took Li Mujia to visit her new home, treating the properties as if they were her boyfriends. Tian Rong saved money by renting out one of the properties. Li Guang accompanied Mo Da Group's Chairman, Mo Dahai, to visit the building. Mo Dahai intended to lease the office spaces to Fortune 500 companies and multinational corporations. Li Guang suggested reserving some space for small and medium-sized enterprises, but they disagreed on this matter.
Li Guang couldn't persuade Mo Dahai and planned to contact other shareholders. He asked Wu Jianqiu to report on behalf of the injured workers, which led to Li Mujia being disciplined and forced to take leave. Li Mujia couldn't understand – she had fought for the best interests of the injured workers. Wu Jianqiu felt helpless and couldn't explain everything to her. When Li Guang learned that Li Mujia had been suspended, he blamed himself. He decided to undermine Mo Dahai's authority as a last resort.
As the Beijing real estate market warmed up, property prices increased. Regretful, Ding Zhitan's parents advised him to buy a second-hand house. Learning that Li Mujia had been suspended, Tian Rong came to visit her. Ding Zhitan called Tian Rong to discuss buying a house. She suggested he buy a second-hand house. Soon after, Tian Rong found a house for Ding Zhitan, who promptly bought it. Li Mujia wanted to return the money to Ding Zhitan, so she arranged to meet him after work.
Ding Zhitan and Li Mujia separately arrived at the restaurant where they used to date. They noticed the wish cards they had hung together were still there, and both felt uncomfortable. Li Mujia returned the money to Ding Zhitan, wishing him happiness. They raised their glasses and drank to each other's well-being. To pay off her mortgage, Tian Rong economized in every way. She didn't want to worry her parents, so she only shared good news with them.
When Li Mujia returned home from work, she found that the power was out and there was a leak upstairs. She called the property management late at night and learned that a leaking pipe was the cause. Li Guang invited Jiang and Zhao, his friends, to have hotpot together. He elaborated on his thoughts and ideas in real estate. He was dissatisfied with Mo Dahai's pursuit of high profits. Jiang and Zhao provided advice, and in passing, they mentioned Li Mujia treating Li Guang like a lobby manager.
Li Mujia finished work late and suddenly noticed someone was following her. Terrified, she pretended to be calm and called her mother for help. The pursuer was relentless. Li Mujia panicked, and while trying to escape, she accidentally fell. Wanting to call for help, she mistakenly dialed Li Guang's number. Li Guang was engrossed in a conversation with his good friend, and when he called back, Li Mujia's phone was unreachable.
Li Mujia was being followed. Terrified, she fled in a panic. The person in black pursued her relentlessly. Li Mujia quietly hid at the alley entrance, waiting for the person in black to approach. When they got closer, Li Mujia swung her bag at them, catching them off guard. The person in black picked up a dropped wallet and Li Mujia seized the opportunity to escape. She ran breathlessly to a bustling street to regain her composure.
Li Mujia called Li Guang to explain that she had dialed the wrong number earlier. Then she took a taxi to Chen Qing's house. Chen Qing advised her to move out soon. Li Mujia immediately called Tian Rong, who promised to find her a suitable place to live. When Li Mujia returned home from work, she saw TV reporters covering the demolition in the area. She casually complained, and the reporters interviewed her randomly. Li Mujia appealed to relevant authorities to strengthen safety regulations in the area to protect people like her who returned home at night.
Seeing Li Mujia on TV, Li Guang realized that she had been stalked the previous night. Due to the Dawn Tower's workplace injury incident, Li Mujia had been suspended. Bored at home, she went to the law firm early. Xing Xiaofei stood up for her and advised her to rest. The bed in the tenant's room suddenly collapsed. Reluctant to spend money on a new bed, Tian Rong reinforced it with some boards and accidentally hurt her waist. Tian Rong called Li Mujia for help, and Li Mujia rushed over without hesitation.
Tian Rong inquired and found out that calling an ambulance would cost 120 yuan. Concerned about the money, she struggled downstairs, but Li Mujia arrived in time and took Tian Rong to the hospital. Chen Qing and Gao Chang arrived later. Fortunately, Tian Rong hadn't injured her bones. The doctor prescribed medication for her injuries. Chen Qing and Gao Chang helped Li Mujia take Tian Rong home, fixed the bed, and left only after making sure it was safe. Li Mujia stayed behind to take care of Tian Rong.
The project manager of Dawn Tower was arrested for using inferior materials. His family caused a scene at Li Mujia's rental house. Dr. Xiao Zhang called Li Mujia back, and after explaining the serious consequences of their actions, they still wouldn't listen. They slapped Li Mujia hard. Dr. Xiao Zhang shielded Li Mujia and was also beaten. Li Mujia felt wronged, but Dr. Xiao Zhang comforted her.
Li Guang didn't want to beat around the bush with Mo Dahai anymore. He wanted to sue Mo Dahai directly. Li Guang and Wu Jianqiu discussed having Li Mujia as the attorney. Wu Jianqiu worried that Li Mujia might not be able to handle it alone, but Li Guang was determined and wanted to make up for his debts to her. Li Mujia was ecstatic. She called Tian Rong to share the good news and planned to celebrate before finding a new place to live.
Tian Rong took Li Mujia to view an apartment. The community was nice and had 24-hour security. The only downside was the relatively high rent. Li Mujia was satisfied and single-mindedly focused on winning the lawsuit. She aspired to move into the Jinlong Bay villa area. Tian Rong negotiated with the landlord, securing the lowest possible rent for Li Mujia. Li Mujia moved out that day, and Tian Rong wholeheartedly assisted her.
Using the pretext of discussing the lawsuit, Li Guang invited Li Mujia for a meeting. Li Mujia arrived on time and realized that Li Guang wanted to have a meal with her. She didn't understand why he entrusted such an important case to a novice like her. Li Guang admitted his desire to make it up to her and suggested she move into a friend's place. Li Mujia politely declined and left without having dinner, claiming she had work to do.
Tian Rong, Chen Qing, and Gao Chang came to warm up Li Mujia's new home. The four of them enjoyed themselves, celebrating Li Mujia's successful career. The manager brought a set of property listings, and Tian Rong eagerly took charge. She visited the listings promptly and discovered that several real estate agencies wanted an exclusive deal with the landlord. The landlord proposed signing exclusively with whoever successfully closed the deal first. Tian Rong helped the landlord's wife move and even volunteered to clean the house. As a result, the landlord's wife handed her the keys.
Mo Dahai hired the renowned lawyer Gu Sheng. Li Mujia felt uncertain, but Wu Jianqiu encouraged her. Gu Sheng came to Jin Da Law Firm to exchange views. Li Mujia followed the procedure and negotiated with him.
Photos
Reviews
Supin

All the Way to the Sun - A bit unexpected, reality is the best way forward

The urban-themed drama "All the Way to the Sun" shines with a new brilliance, portraying various aspects of the workplace for today's young generation. Whether it's the depiction of emotions, the authenticity of the plot, its universality, or the relatability, everything is remarkably well done.

In "All the Way to the Sun", the portrayal of young individuals striving in the big city is vivid and authentic. It's likely that anyone who is currently experiencing or has experienced a similar journey can see a reflection of themselves. The hope is that every young person working hard in the big city will unintentionally transform from gravel to pearls, creating a youth they won't regret.

Gao Ye, you truly are my one and only role model! You're perfect for the role of a strong career-driven woman with an empowering aura! Handling your unfaithful ex-husband calmly and resolutely, showing no mercy; interacting with powerful clients confidently and gracefully; treating the inexperienced female lead with kindness while maintaining appropriate boundaries. Encountering such a senior figure in the workplace is truly a stroke of the good fortune earned over a lifetime!
You May Also Like
Related Posts