Defying The Storm – Hu Yitian, Zhang Ruonan
Defying The Storm is a war romantic drama directed by Jin Chen, led by Hu Yitian, Zhang Ruonan, Wang Jinsong, Zhang Xilin, Ryan Zhang He, and Lin Zilu, co-starring Liu Jiatong, Zhang Yuqi, Li Mincheng, Ma Xiaofan, Cai Xinyang and Liu Yangke, with special appearances by Vengo Gao Weiguang, Hu Yajie, Brenda Wang Siyi, Xi Yuli, and Ma Li.

Focusing on the national tragedy of 1937-1945, the drama tells the story of two generations of three intellectual families in Beiping who make choices and sacrifices in the face of the great upheaval and changes of the times.
Details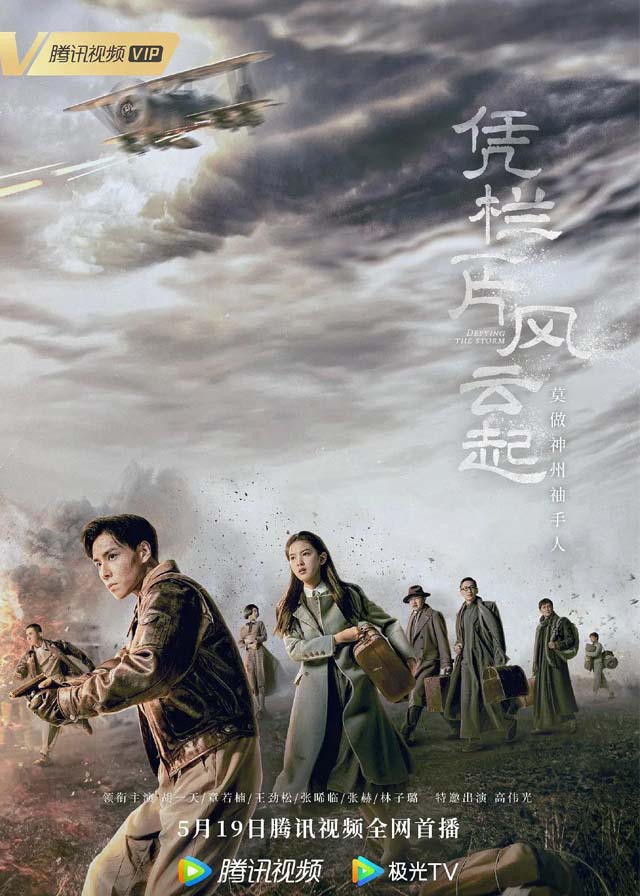 English Title: Defying The Storm
Chinese Title: 凭栏一片风云起
Genre: War, Romance, Drama
Tag: Bromance, Slow Burn Romance, Multiple Couples, Death of a Character, Chinese Republican Era, Historical Fiction
Episodes: 40
Duration: 45 min.
Director: Jin Chen
Writer: Mai Ling, Wu Xiaomei
Producer: Sun Xu
Product Company: HUACE GROUP, Beijing Zhongtian Xique Pictures
Released Date: 2022-05-19
Broadcast Website: Huace, Viki
Cast
Synopsis
In 1937, Beiping and Tianjin were occupied by the enemy. In order to preserve the "fire seed" of culture, several universities in the north decided to move south to Changsha.
Soon after, Changsha was also at war. Meng Haitang, who was a lecturer at the medical school of National Peking University, escorted the young students to Chongqing.
During the escort, Meng Haitang Kang Lanshan and Zhang Qi created a school in exile.
Meng Haitang and Zhang Qi fell in love in the friction, and they supported each other to Chongqing and developed the medical school under Peking University.
Soon after, Haitang was dismissed from the school for some reason.
Haitang and Zhang Qi went west to Kunming, got married in the presence of Mr. and Mrs. Ling Kang, and redeveloped the medical school in Mengzi.
During the Yunnan-Burma Campaign, Haitang and Zhang Qi led some students to the battlefield and established a field hospital.
During the Battle of Pinggu, Zhang Qi was captured by the Japanese and his whereabouts were unknown since then. Haitang, who was pregnant at the time, suffered a miscarriage for the only bloodline of the Zeng family.
In 1949, Haitang and LansHan refused the invitation to go to the Taiwan area and stayed in newborn China. Haitang continued her career in education, while Kang Lanshan followed her husband's footsteps and engaged in historical research.
Haitang never stopped looking for Zhang Qi, and only after thirty years were they reunited.
Reviews
You May Also Like
Related Posts