The Weasel Grave – Ethan Juan, Xu Lu
The Weasel Grave is an adventure web drama directed by Guan Hu and Fei Zhenxiang, starring Ethan Juan, Xu Lu, Hao Hao, Liu Chao, Li Muchen, Shang Tielong, and Hu Xiaoguang.
The series is based on the novel series "Gui Chi Deng / 鬼吹灯" and focuses on Hu Bayi, who is about to go abroad when he packs his luggage and discovers a photo that brings back memories of the youths twenty years ago, telling the story of their adventures during they went from city to work in the countryside in the 1960s.
Details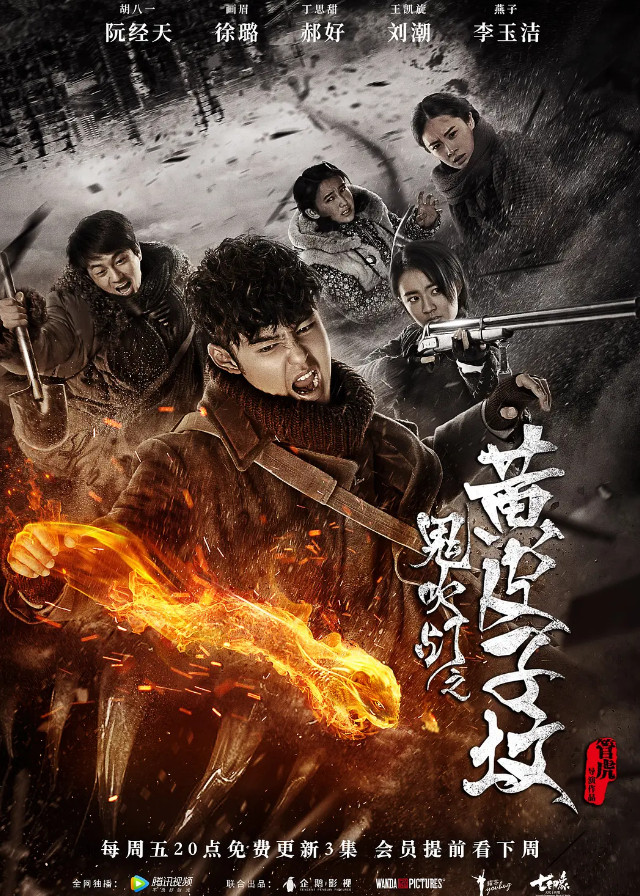 English Title: The Weasel Grave
Chinese Title: 鬼吹灯之黄皮子坟
Genre: Adventure, Suspense, Thriller, Action
Tag: Tomb Raiding, Investigation, Adapted From A Novel, Supernatural, Bromance, Cultural Revolution
Episodes: 20
Duration: 35 min.
Director: Guan Hu, Fei Zhenxiang
Writer: Feng Ji, Xu Su
Producer: Zhu Wenjiu
Product Company: Tencent Penguin Pictures, Youhug
Released Date: 2017-07-21
Boradcast Website: WeTV, Viki, YoYo English Channel
Cast
Synopsis
When Hu Bayi is about to go abroad, he finds an old photograph when sorting through his old things.
At that time, he and Wang Pangzi were working in the countryside in the Daxinganling Mountains.
They went to the mountains to hunt weasels in exchange for fruit candy, and to catch bears for their bile in order to cure people. But to their surprise, they entered a collapsed Weasel Grave.
Legend has it that decades ago, a group of bandits known as the "Ni Er Hui" dug out a gold and jade chest from the Grave, and then the bandits and the chest disappeared together in the desert grasslands.
At the same time, a letter from their comrade Ding Sitian invites them to the grasslands, and they are delighted to go there when the horses get scared.
In order to find the lost horses, the three of them and a herdsman, Lao Yang Pi, enter the Hundred-Eyed Cave, commonly known as the Hall of Hell.
Here, there are some remnants of the Japanese "water supply unit", a strange building with no rooms, a basement numbered "0" and, even more frighteningly, two weasels with white fur following them around.
You May Also Like
Related Posts