The Story of Xing Fu – Zhao Liying, Tang Zeng
"The Story of Xing Fu" is a drama co-directed by Zheng Xiaolong and Yao Yuan, written by Zhao Dongling, starring Zhao Liying, Liu Wei, Tang Zeng, Zhang Keying, and Zhang Xiqian, with a special appearance by Luo Jin.

The drama is adapted from the full-length novel The Legend of Qiu Ju, which tells the story of a girl named He Xingfu who grows up under the multiple trials of career and marriage, love, and affection.
Details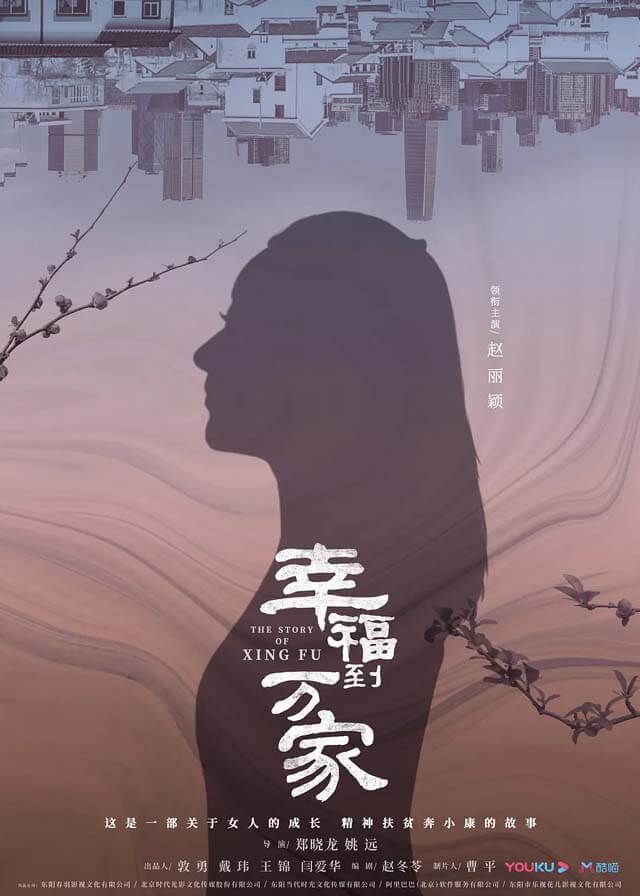 English Title: The Story of Xing Fu
Chinese Title: 幸福到万家
Genre: Contemporary, Urban, Law
Episodes: 40
Duration: 45min
Director: Zheng Xiaolong, Yao Yuan
Writer: Zhao Dongling
Product Company: SG-Culture Media, Alibaba, Le Flower Film and TV
Broadcasting website: Youku
Release date: 2021
Cast
Zhao Liying
as He Xingfu

Liu Wei as Wang Shantang

Tang Zeng as Wang Qinglai

Luo Jin as Guan Tao
Synopsis
He Xingfu is married to Wanjiazhuang, and when her sister is humiliated at the wedding, she smashes Wan Chuanjia, the son of Wan Shantang, the village clerk, in desperation.
When the village builds a health care factory and expropriates He Xingfu's in-laws' farmland, she bravely confronts Wan Shantang in court and finally receives reasonable compensation.
When He Xingfu has a hemorrhage during childbirth, Wan Shantang organizes villagers to donate blood to save her, and she is very grateful.
But the letter she sent before attracts the discipline inspectors, and Wan Shantang gets angry and has a fit, causing public anger among villagers.
Unable to cope with the pressure, He Xingfu and her husband go to work in the city.
In city life, He Xingfu and her husband are in constant conflict and their marriage has gone wrong.
He Xingfu returns to her hometown to run a bed and breakfast, flourishing the tourism industry of Wanjiazhuang.
When the health care factory is polluted, make way for stands up to lead the villagers to fight bravely against the interest groups, winning the respect and support of everyone.
Wan Shantang takes the initiative to make way for He Xingfu, and she is elected the new leader of Wanjiazhuang.