Stairway to Stardom – Puttichai Kasetsin, Song Yi
Stairway to Stardom is an urban romantic drama directed by Yang Lei and Han Qing, co-starring Puttichai Kasetsin (Push), Song Yi, Chong Danni, Yan Xi, Zhao Jian, Hu Bing, Feng Lei, Huang Tingting, and Li Yitong, Han Xue, with Wang Ziwen, Darren Wang, Guan Xiaotong, Orlando Bloom, Mei Ting, Yang Xue in special roles.

The drama is focusing on the entertainment industry, telling the story of Su Cheng, who enters the colorful showbiz as an artist's assistant at the beginning and becomes a movie queen with her own talent and hard work.
Details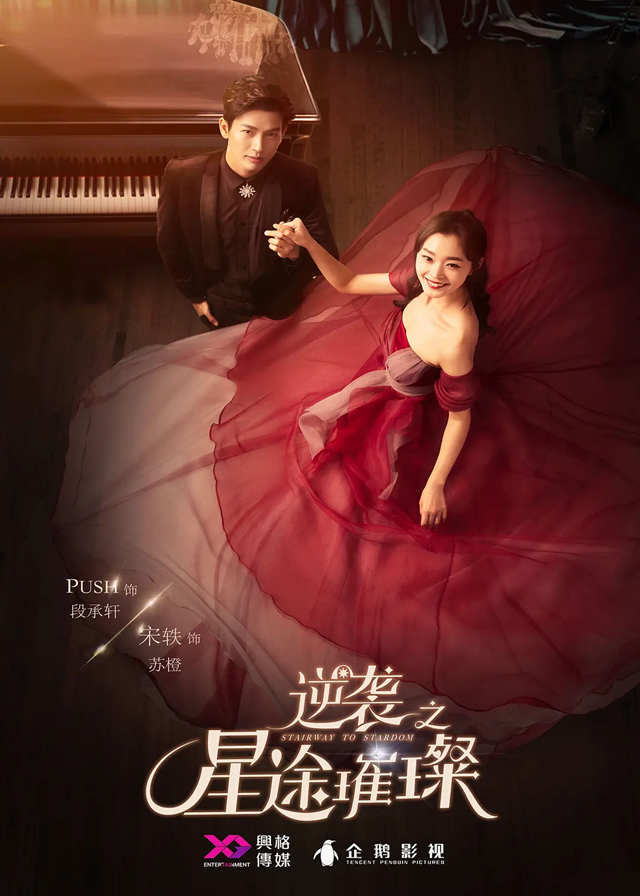 English Title: Stairway to Stardom
Chinese Title: 逆袭之星途璀璨
Genre: Urban, Romance
Tag: Actress Female Lead, Love Triangle, Marriage, Unrequited Love, First Love, Arranged Marriage
Episodes: 48
Duration: 45 min.
Director: Yang Lei
Writer: Yang Lei, Zhang Tan, Li Yujie, Yang Zhili, Ding Qian, Ni Shanshan
Producer: Fan Feifei, Fang Fang
Product Company: TENCENT PENGUIN PICTURES, XG ENTERTAINMENT
Released Date: 2017-06-09
Boradcast Website: TencentVideo, WeTV
Cast
Synopsis
Su Cheng, a college girl, has always quietly liked the young star named Yan Chufei.
In order to get closer to her beloved, Su Cheng chose to become an artist's assistant and thus enters showbiz.
In a talent contest, Su Cheng achieved great success and eventually became an artist under Duan Chengxuan's company embarking on the road of acting.
With the help of her manager, Duan Lingwei, Su Cheng made a name for herself and finally attracted the attention of Yan Chufei.
However, the good times did not last long, a series of accidents had made Su Cheng's life and career have fallen to the bottom, but she did not get discouraged, but showed a resilient side. She finally proved her strength with hard work, and also attracted Duan Chengxuan's attention.