Nothing But You – Leo Wu, Zhou Yutong
Nothing But You is an urban romantic drama directed by Chen Chang, led by Leo Wu Lei and Zhou Yutong, co-starring Jiang Peiyao, Zhu Yongteng, Zhang Tao, Xia Haoran, Ma Fanding, Li Qing, Ma Boquan, Gao Mingchen, with Tu Yansong and Guo Keyu in special appearances.
Details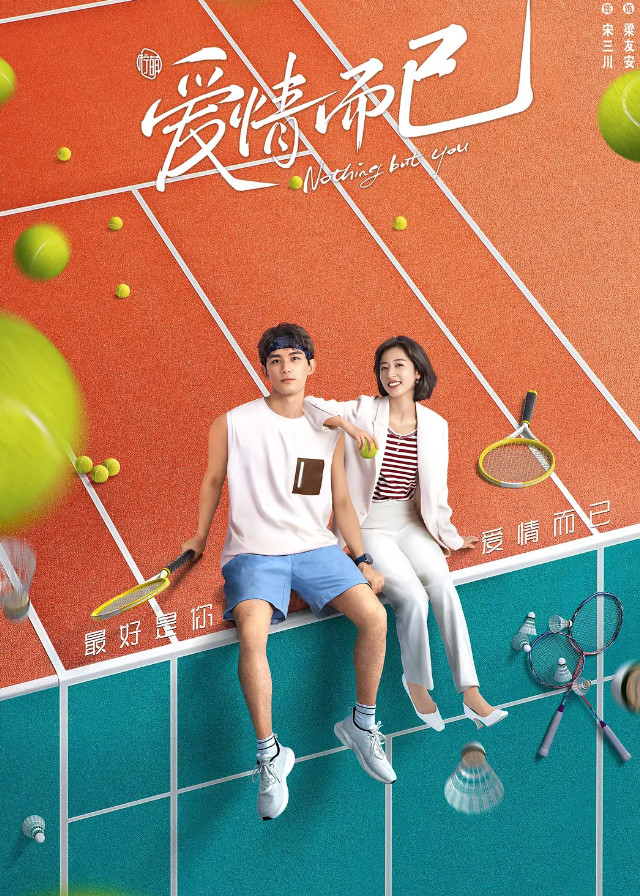 English Title: Nothing But You
Chinese Title: 爱情而已
Genre: Urban, Romance, Sport
Tag: Older Woman/Younger Man, Age Gap, Athlete Male Lead, Tennis Player Male Lead, Hardworking Female Lead, Hardworking Male Lead
Episodes: 38
Duration: 45 min.
Director: Chen Chang
Writer: Zhang Yingji
Producer: Chen Fei, Xu Xiao' ou
Product Company: LINMON PICTURES
Released Date: 2023-03-27
Broadcast Website: WeTV, Linmon Pictures Official, Viki, iQIYI
Cast
Synopsis
Liang You'an, a workplace elite who has reached a bottleneck in her life, and Song Sanchuan, an athlete who is used to riding the bench, join a tennis club by chance.
One is a new club manager and the other is a badminton-turned-tennis player. They work together with their teammates to build a remarkable professional club against all odds.
In the process, Liang You'an and Song Sanchuan gradually develop an affection for each other but also face conflicts from their ideas and experience.
As the club develops, they surpass themselves and strengthen their trust as they take on challenges one after another, ultimately reaping the rewards of professional growth and beautiful love.
Reviews
You May Also Like
Related Posts