New Life Begins – Bai Jingting, Tian Xiwei
New Life Begins is a historical fantasy romantic comedy, led by Bai Jingting and Tian Xiwei, Chen Xiaoyun, and Liu Guanlin.
It is adapted from the novel "Qing Chuan Ri Chang" by Duo Mu Mu Duo. The drama mainly describes the daily life between Li Wei and Yin Zheng in a very relaxed and warm style.
Details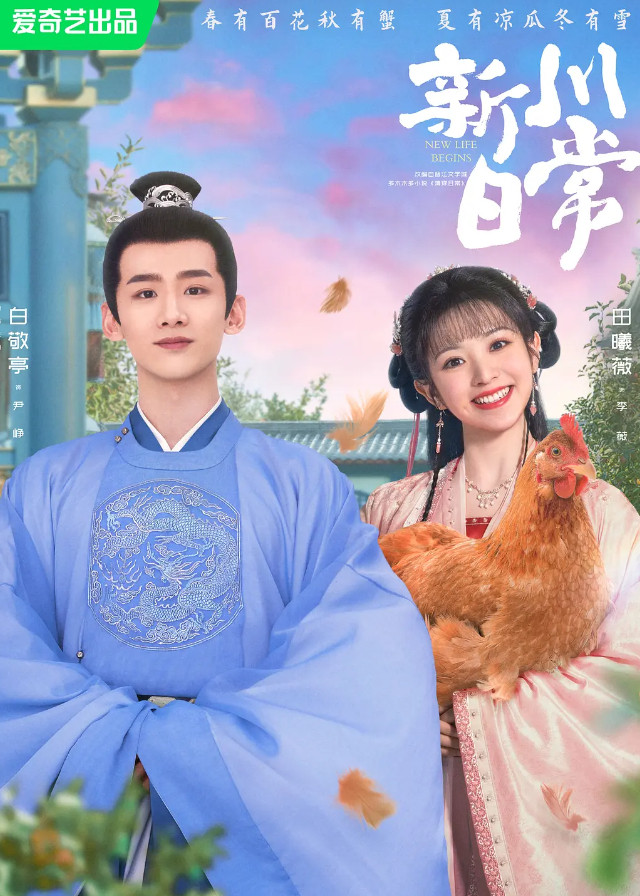 English Title: New Life Begins
Chinese Title: 卿卿日常 (新川日常)
Genre: Historical, Fantasy, Romance, Comedy, Life
Tag: Arranged Marriage, Nice Male Lead, Multiple Couples, Prince Male Lead, Cheerful Female Lead, Sismance
Director: Zhao Qichen
Writer: Ji Rousang, Ding Lu, Zheng Zhuoqun, Duo Mu Mu Duo
Producer: Yang Bei, Liu Wenyang, Wang Xiaoyan, Gao Yuan
Product Company: iQIYI
Released Date: 2022-11-10
Watch On: iQIYI, MZTV Exclusive, Viki
Cast
Synopsis
A marriage election brings girls from all over the world together in Xin Chuan.
Yin Zheng, the sixth young master of Xin Chuan, and Li Wei, who only wants to work hard to lose the election and live comfortably in her hometown, accidentally meet and start a new and interesting life together with many problems.
As Yin Zheng sets up his own house and enters the court, they gradually develop a mutual understanding, and spend lives together, growing up with other siblings of different personalities and destinies, writing together the warm daily life of the Xin Chuan family.
Reviews
You May Also Like
Related Posts
Chinese Dramas Like New Life Begins

What's Bai Jingting and Tian Xiwei's Relationship? New Life Begins Gets Hurt The Most?

Bai Jingting and Song Yi Relationship is Revealed, Fans: Good Job!

The Relationship Between Bai Jingting And Sandra Ma Sichun Is True Or Not?

Who Is Tian Xiwei's Boyfriend? Qu Chuxiao?

Bai Jingting, Sandra Ma Sichun Fall In Love In "You Are My Hero", Experiencing His First Screen Kiss

Does Bai Jingting Have A Girlfriend? What's His Ideal Type?

Kevin Xiao Kaizhong, Tian Xiwei Make Viewers In The Honey Pot, "Be My Cat" Zero Publicity But High Reputation

Bai Jingting Photos

Bai Jingting, Angel Zhao Jinmai Bring The First Hit Drama Of The New Year

Bai Jingting, Janice Wu Qian's CP Is Less Attractive Than Ni Dahong In "Octogenarian And The 90s"

Bai Jingting Dramas, Movies, and TV Shows List

Tian Xiwei Dramas, Movies, and TV Shows List