Miss The Dragon – Dylan Wang, Zhu Xudan
Miss The Dragon is an ancient fantasy romance drama co-produced by TENCENT PENGUIN PICTURES and Can Ling Pictures, directed by Min Guohui, starring Dylan Wang and Zhu Xudan, and co-starring Deng Wei, Pan Meiye, Zhu Zanjin, Dai Wenwen, Zhan Yu, and Yang Zhiying.
Adapted from the text-based game, the drama tells the love story of the Dragon King and the maid Liu Ying in their three lifetimes.
Details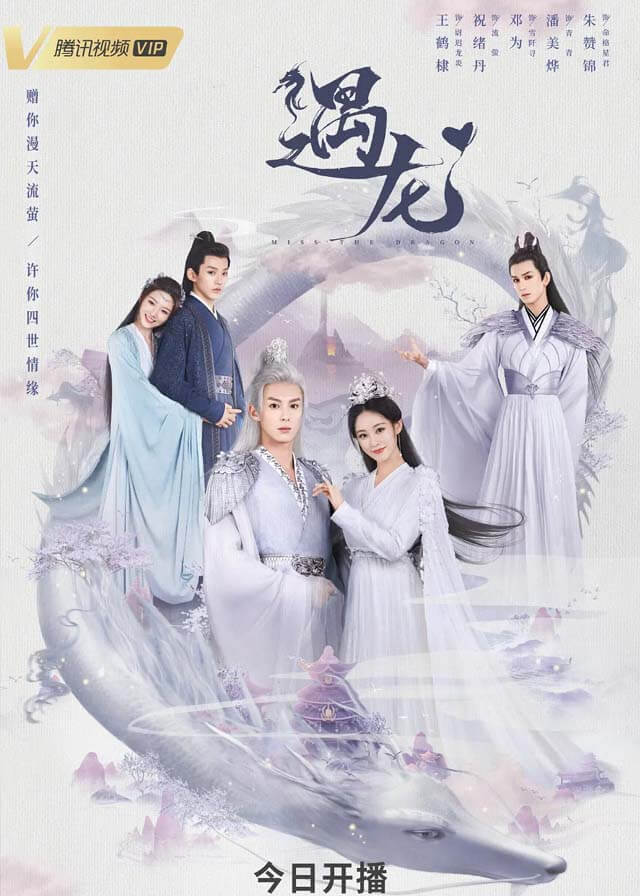 English Title: Miss The Dragon
Chinese Title: 遇龙
Genre: Historical, Romance, Fantasy
Tag: Reincarnation, Xianxia, Nice Male Lead, Special Power, Multiple Couples, Marriage
Episodes: 36
Duration: 35 min.
Director: Min Guohui
Writer: Shi Hui
Product Company: TENCENT PENGUIN PICTURES, Can Ling Pictures
Released Date: 2021-05-10
Boradcast Website: WeTV, Viki, TencentVideo
Cast
Synopsis
Liu Ying is a maid beside Xiahou Xue, inadvertently encountered a snake and was scared, Liu Ying rushed to catch the snake. She didn't know that this snake is a dragon cultivated for thousands of years, named Yuchi Longyan.
In order to return the favor, Yuchi Longyan took Liu Ying away. Xiahou Xue, who was concerned about Liu Ying, mistakenly thought that Liu Ying was missing and encountered a wolf demon on her way to find her, and was accidentally killed by Yuchi Longyan.
Yuchi Longyan fulfilled Liu Ying's wish to save Xiahou Xue and guard her for three lifetimes. Yuchi Longyan privately protected Liu Ying from one life to the next until the fourth life, Gu Qingyan, was aware of Yuchi Longyan's existence.
In order to save Yuchi Longyan, who was punished by the Heavenly Rule, Gu Qingyan's soul was absorbed by the Ming Ge Star Load, and finally the other half of her soul merged with Yuchi Longyan, helping Yuchi Longyan to defeat the Ming Ge Star Load.
You May Also Like
Related Posts