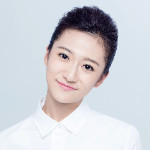 Yu Yue dramas, movies, and TV shows list contains the best TV series, films of Yu Yue and the ongoing and upcoming shows. The list will be updated continuously, bookmark this list to get the latest tv shows of Yu Yue.
Yu Yue Dramas List
2023-04-20

#1

Urban, Romance, Action

Tsao Yu Ning, Yu Yue

Miss "Xu Xixi" wakes up from a coma and loses her memory. She falls in love at first sight with her bodyguard, Lu Jinyan. However, she learns from her childhood friend, Ding Beifan, that she is not really Xu Xixi, but rather An Yue, who looks exactly like her. An Yue discovers more shocking secrets during her investigation, while Lu Jinyan, as a bodyguard, harbors his own hidden motives. The two struggle between suspicion and ambiguity, while searching for the truth, and they also make heartwarming confessions of love amidst the crises they face. They stick together through thick and thin, and a unique romantic relationship unfolds between the bodyguard and the two-faced girl.

2021-04-15

#2

Urban, Romance, Suspense

Tsao Yu Ning, Yu Yue

Ruan Nianchu, a quirky drama actress, and Li Teng, a cool guy with a good face, meet accidentally. Li Teng saves Ruan Nianchu in the midst of a crisis, and they have a mutual affection for each other. However, their trajectory of life is different, so they part ways. Five years later, a reunion shatters Ruan Nianchu's life. Their relationship is heating up rapidly, but they encounter many obstacles. After solving one after another misunderstandings and crises, hand in hand, they fight together to crack the conspiracy of the villain and return to an ordinary and happy life.

2020-05-21

#3

Urban, Romance

Jiang Mengjie, Liu Te

After six years of being a full-time wife, the twenty-seven-year-old Ling Xunxun ended her marriage. Since she did not have the financial strength, she left her son Dudu to be raised by her ex-husband, and she had to live in the house of her best friend Zhou Quan. However, when she was involved in a car accident, she had to find a job as soon as possible to pay off her debts and find a way to get back the custody of her son. However, having no work experience for many years, she has long been out of touch with society, and has repeatedly failed in her job search…

2018-01-30

#4

Historical, Fantasy, Wuxia

Nicky Wu, Fortuna Yu, Chen Zheyuan

The Red Soul Stone, which has been guarded by Mount Shu for many years, has moved for no apparent reason, and the power it contains has caused an unprecedented catastrophe for the Huoli Tribe and the entire martial arts world. As the chosen guardian of the Huoli tribe, Yu Yingqi goes to Mount Shu with his sister Yu Yingnan to learn martial arts in order to find the five elements that can counteract the Red Soul Stone and regain the guardian's power. This leads to a love-hate battle between good and evil, from Mount Shu to Cang Xu to the Xuan Ji Sect and the Luo Xian Palace.

2015-12-28

#5

Youth, Romance, Friendship

Wang Mengli, Vin Zhang, Jin Zehao

Fang Hui disappeared in the university campus. After leaving, she experienced growth and met everyone again. Her relationship with Chen Xun and Qiao Ran restarts, and the company's boss, Zeng Wenhui, becomes a new character in the emotional war. Zhao Ye and Lin Jiamo have a love-hate relationship both in the career and emotion. Shen Xiaotang and Wang Senzhao also take on their own fate paths.

2015-09-22

#6

Historical, Fantasy, Wuxia

Zhao Liying, William Chan, Nicky Wu

The Shushan Sect is the first sect in Jianghu and has been leading the martial arts world for many years. In order to protect the world, Zhuge Yuwo, the head of Shushan, fights with Lu Pao Zun Zhe, an outcast of the Shushan Sect, who tries to steal the Chihun Stone. Ding Yin was originally an ordinary hunter from the village of Woyun, he is rescued from the bloodshed of the demon clan and sent to Shushan. But by chance, Ding Yin is able to refine the Chihun Stone into his body, which leads him to join the Shushan Sect to learn swordplay. He finds out that the daughter of Lu Pao Zun Zhe, Yu Wuxin, looks exactly like his beloved wife, and they fell in love. At the same time, there is also a betrayer within the Shu Mountain Sect, who collude with the Demon Clan. In order to strengthen the boundary, Zhuge Yuwo sends Ding Yin, Dan Chenzi, Zhuge Ziying, Zhou Qingyun, and Zhang Xian down the mountain to find the legendary three sacred swords, namely Shen Mu, Qing Suo, Zi Cheng. The three swords are found by Ding Yin and the others, but they are caught up in an even greater conspiracy. Meanwhile, the battle between the Demon Clan and the Shushan Sect grew more and more bitter, as Lu Pao Zun Zhe leads his men to attack Shushan. In the face of treachery and betrayal and the impending battle, Ding Yin and Yu Wuxin are going on a love-hate relationship. In the end, they choose to save the world.
Yu Yue Movies List
2016-02-01

#1

Comedy, Drama, Family

Zhao Benshan, Yan Ni, Rayzha Alimjan

The film is about the generation gap between three generations of a family. After the daughter who had been living in the north for 14 years heard about her father's premonitory symptoms of Alzheimer's disease, she returned to her hometown with her American-educated granddaughter, and together with classmates who came after hearing the news, they found ways to persuade her father to move to Beijing. The elderly man, who lived alone, could only see his daughter and American-educated granddaughter during holidays. They had been longing for a reunion, which finally came true, but unexpectedly, the hilarious story began from this reunion with the appearance of the granddaughter's ABC boyfriend.
Related Posts