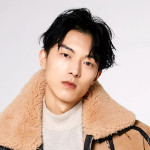 Wei Tianhao dramas, movies, and TV shows list contains the best TV series, films of Wei Tianhao and the ongoing and upcoming shows. The list will be updated continuously, bookmark this list to get the latest tv shows of Wei Tianhao.
Wei Tianhao Dramas List
TBA

#1

Historical, Romance, Fantasy

Li Zixuan, Chen Jingke

Lacking self-confidence and feeling unnoticed, the modern underachieving girl, Li Mengmeng, accidentally time-traveled to a strange place - the Qi Kingdom. There, she transforms into a divine envoy. Despite her poor academic performance in the modern world, she successfully rises in the ranks in the Qi Kingdom and becomes the mentor to the young and scheming Emperor Qi Yan. They form a tacit partnership and work together to achieve great success.

2023-02-08

#2

Romance, Drama

Wei Tianhao, Qu Mengru, Dai Gaozheng

Ye Qinglan, the daughter of the Ye family, is framed by the former young master of the Mu family and becomes an unwilling bride, and takes a series of revenge.

2022-09-08

#3

Romance, Drama

Chen Fangtong, Dai Gaozheng

After the ruin of her family, Dong Tingyao, a daughter of a wealthy family, becomes a maid and hibernates in a warlord's house in order to take revenge, and falls in love with Fang Tianyi, a bloodthirsty warlord.

2022-06-24

#4

Youth, School, Romance

Jia Yi, Wei Xiao

In order to realize her dream of being a musical actress, Cheng Ming, a talented senior girl, started to break through the difficulties of her mother, her school, and the professional content review of the art examination, and successfully entered one of the leading art colleges in China to become a student of musical theater. Then she met and became close friends with the top popular star You Zhiqi, Wei Feng, Ai Mi, Ding Dongdong, Qu Shiyun, Zhang Yuyong, and Fang Yali. She formed a lively group, gaining friendship as well as innocent love with You Zhiqi. With a sunny, kind, and aggressive heart, Cheng Ming faces the difficulties around her and grows up quickly, getting closer to her dream step by step, and making her own youthful era together with everyone else...

2021-08-22

#5

Historical, Romance, Immortal

Guo Junchen, Connie Kang

Chun Yao is guarding the Wan Chuan demons originally, due to a mistake was deported, became the king of the demons in the Bai Ling Tan. He had to take Han Sheng, the unlucky princess of the northern land, to start a journey to find the "Su Shu" to avoid the "thousand-year doom". Han Sheng enters the Bai Ling Tan and accidentally discovers that she is carrying the "Su Shu", which is only available to demons, so she follows the Chun Yao to explore the mystery of "Su Shu", and together they experience a lot and gradually fall in love with the Bai Hua Tan master who is inconsistent and arrogant……

2021-08-02

#6

Youth, School, Romance

Richards Wang, Hu Yixuan

Xia Xiaoju transferred to a new school before the college entrance exams and met a new group of friends, including the generous Cheng Lang, the straightforward Lu Shiyi, and careless Qiu Letao, and so on. Although the new environment made her panic, and her acquaintance with her new friends started with a series of small misunderstandings, the frankness and mutual help made the young people form a deep friendship. They helped each other in their studies and united in the sports meeting so that their friendship became better and better. They shared their family troubles and choices in the future, experiencing the taste of growing up together. When the college entrance exam finally came, Cheng Lang missed his favorite major, he didn't do well because he was delayed in saving a life. Lu Shiyi hid from his family and enrolled in the major that his father opposed most. While Xia Xiaoju and Qiu Letao were admitted to their dream schools with exceptional performance. However, they encountered new problems in their university life. Cheng Lang faced the difficulties of interdisciplinary studies, Lu Zhiyi had to overcome psychological barriers, and Xia Xiaoju was confused about the direction of her life. But they rose to the challenge and supported each other, gradually establishing their dreams in life amidst confusion and frustration, and experiencing the sweetness and bitterness of friendship and love. Xia Xiaoju and her friends reaped the benefits of such a warm and struggling youth.

2020-03-19

#7

Youth, Romance, Sport

Janice Wu, Zhang Xincheng

In primary school, the timid Li Yubing has been bullied by his tablemate Tang Xue. However, they have an ice dream in common. When they reunite at the University, Li Yubing has become the "ice boy" of the ice hockey team, while Tang Xue is a confused student. Li Yibing sets a trap to make Tang Xue his assistant. During this revenge, Li Yubing gradually discovers the advantages of Tangxue's character, and the courage he relies on most to play hockey comes from Tangxue. And Tang Xue also found the lost dream of speed skating with li Yubing's help. They finally get to know each other well. But as the pressure comes one after another, such as misunderstandings in their childhood, the skating genius Yu Yan's intervening. Tang Xue's first love Biancheng returning, the interference of her cousin Zhou Ran, her parents' obstruction, and injured in a competition, sports career choices, and so on. They turn love into motivation and skate towards an unknown and throbbing life on the ice surface where love and dreams intertwine.

2019-03-19

#8

Youth, School, Romance

Nicky Li, Zhao Yiqin, Li Geyang

Su Cancan, a young girl who loves literature, met her good friends during her adolescence, the lively and cheerful Xu Meili, the handsome and unrestrained Lan Tianye, the gentle and elegant Lin Jiaze, the beautiful and melancholy Tao Yating. In everyone's growth, there are many little secrets, there are also many worries. The sweetness and sadness of life also left one after another time's mark on Su Cancan. Whether it is a secondary school or university time, in Su Cancan's short but long youth, she has many unforgettable memories. These memories contain laughter and tears. Su Cancan grew up slowly in ignorance, not only gaining family love, friendship but also experiencing a shining transformation. After growing up, Su Cancan finally relied on her own efforts to reach a place she never dreamed of during her youth, and also unconsciously became someone else's dream. The dream at the age of eighteen became a reality at the age of twenty-eight. The people who were with her at the age of eighteen are still with her at the age of twenty-eight. A hurricane of youth suddenly blew by, leaving a field of golden memories.

2018-07-02

#9

Youth, Suspense, Thriller

Jiao Junyan, Wei Daxun

Tang Yixiu, a post-90s youth, aspires to become a police officer to uphold justice. In the course of a mission, he accidentally meets a post-90s girl, Gu Jing, in a hospital. Gu Jing was born in a police family and also has the same dream of becoming a police officer, but she had an accident overseas and fell into a deep coma. Due to Tang Yixiu's mistake, Gu Jing finally wakes up and recovers from the accident. However, Gu Jing cannot remember anything related to the accident, only that a wounded man appears in her mind from time to time. With the encouragement of Chief Li, Gu Jing regains her dream and passes a number of exams, and becomes a police officer. For a new case, Tang Yixiu and Gu Jing meet again. They support each other to uncover the truth of the case. In addition, Gu Jing has had an excellent memory since she was a child, and her ability to analyze details is matched by Tang Yixiu's practical experience, and they become more and more compatible with each other as partners. In the process, Tang Yixiu realizes that Gu Jing is troubled by her past and agrees to help her retrieve her memories. In the process of solving the case, they work together with the leaders and partners of the criminal investigation team and become excellent post-90s people's police officers.
Related Posts