Because of You – Sun Yi, Deng Lun
Because of You is an urban romantic inspirational drama directed by Zhou Xiaopeng and starring Sun Yi, Deng Lun, Wu You, Dai Chao, Kelvin Lee, Liu Mintao, Pan Yijun, Guo Hong, Luo Gang, and Wu Jing.

The drama tells the inspiring story of how Zhang Guoguo, a young girl who lives in a wonton store but has an amazing talent for embroidery and a mysterious birth, grows up against the odds in the fashion world.
Details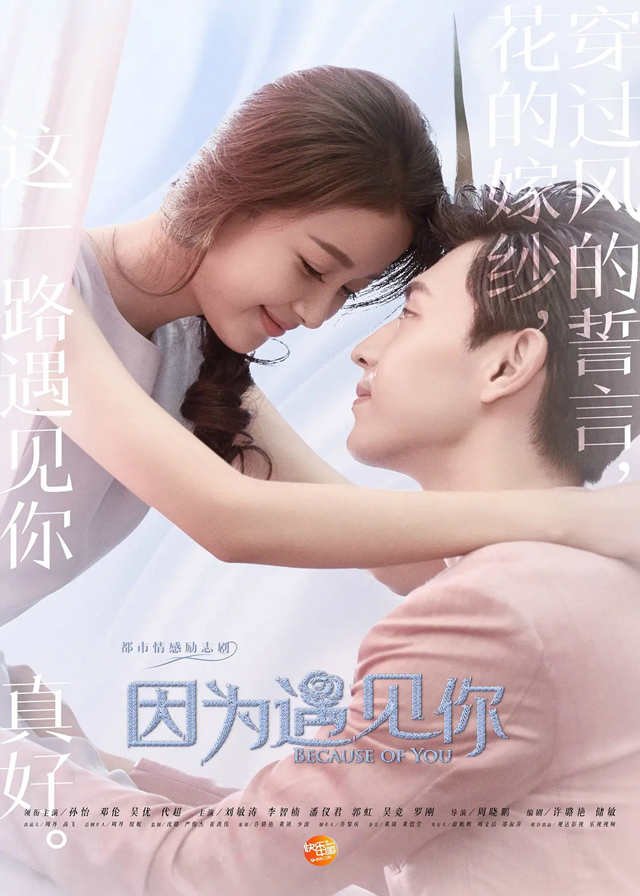 English Title: Because of You, Because of Meeting You
Chinese Title: 因为遇见你
Genre: Urban, Romance
Episodes: 46
Duration: 55min.
Director: Zhou Xiaopeng
Writer: Xu Luyan,Chu Min
Producer: Zhou Dan
Produce Company: GRAND MEDIA
Broadcasting Website: Viki
Released Date: March 2, 2017
Cast

Sun Yi
as Zhang Guoguo

Deng Lun
as Li Yunkai

Wu You as Zhang Yuxin

Dai Chao as Li Yunzhe

Liu Mintao as Song Xiuhua

Kelvin Lee as Lu Sichen
Synopsis
Zhang Guoguo, who grew up in Tongli wonton store, was the delivery girl in town.
Although Guoguo did not have high education, her warm and cheerful personality won the love of the neighbors.
However, they didn't know that Guoguo was the daughter of the second daughter-in-law of the famous Suzhou embroidery workshop "Jinlvge", who grew up in Tongli by accident.
Guoguo had a unique talent for embroidery. Although she was once opposed by Wang Aiyu, she was recognized by everyone for her persistence and hard work and was given the opportunity to study at the Jinlvge.
Guoguo was grateful to Wang Aiyu for raising her, so she considered Wang Aiyu's biological daughter Zhang Yuxin as her own family.
Unexpectedly, Yuxin became the student of Guoguo's biological mother Xu Huijie. She incorporated the design concepts learned abroad into her embroidery and became a strong rival of Guoguo.
As they pursue their dreams together, they fell in love with the brothers, Li Yunkai and Li Yunzhe respectively.
In the face of fame and wealth, Yuxin lost herself, while Guoguo remained the original intention of learning embroidery despite the setbacks.
In the end, Guoguo awakened everyone's conscience with his kind heart and made a career in embroidery herself.