Wu Xin: The Monster Killer 2 – Elvis Han, Chen Yao
Wu Xin: The Monster Killer 2 is a fantasy web drama directed by You Dazhi, starring Han Dongjun, Chen Yao, Landy Li, Wang Yanlin, and Mike, with Liu Songren, Lin Dongfu, and Wei Zongwan in special appearances.
Adapted from the series of novels of the same name by Ni Luo, the drama tells the story of Wu Xin's adventures in the isolated island-era Shanghai Bund with Xiao Ding Mao, Su Tao, Gu Ji, and Bai Liuli.
Details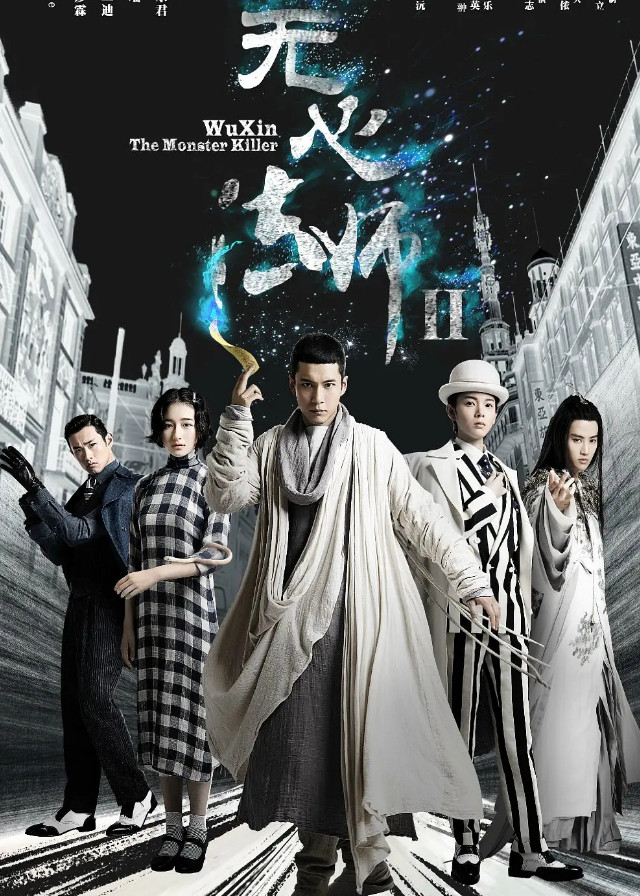 English Title: Wu Xin: The Monster Killer 2
Chinese Title: 无心法师 2
Genre: Romance, Fantasy, Thriller, Suspense
Episodes: 27
Duration: 45 min.
Director: You Dazhi, Li Yichong, Li Gongle, Huang Xiaoying
Writer: Xu Ziyuan
Producer: Cai Yinong
Product Company: Tencent Penguin Pictures, SohuTV, CHINESE ENTERTAINMENT GROUP
Released Date: 2017-08-14
Broadcast Website: TVB Drama
Cast
Synopsis
In the early 1930s, a man comes to buy a Song dynasty porcelain pillow, a family heirloom, from the Su family.
Mr. Su refused him and smashed the pillow. But his daughter Su Tao came out to clean it up and accidentally found a delicate bronze mirror among the broken porcelain.
Curious, she took the mirror back to the attic to play with it, but this leads to a series of strange and bizarre events.
In order to make a living, Wu Xin took Bai Liuli with him every day to set up a fortune-telling stand in front of a casino. On this day, he met Su Tao again.
With the help of Wu Xin, Su Tao finally got in touch with her brother.
She follows Wu Xin and moves into a small lane in the slum, where she lived a happy and cozy little life for the time being with Wu Xin and Bai Liuli(the little white snake), waiting for her brother's return.
At the time, the young master of the Chamber of Commerce, Xiao Ding Mao, intrudes into the lives of Wu Xin and Su Tao.
He is the adopted son of a Shanghai businessman. The businessman left for Hong Kong and split the power of the Concession into two, leaving the mobsters group, led by Chen Daguang, and the Chamber of Commerce, led by Xiao Ding Mao.
Xiao Ding Mao fought with Chen Daguang on one hand, on the other hand, he showed a strange interest in Wu Xin and Su Tao.
When Bai Chuanlin from Japan suddenly intervened, Bai Liuli was captured after a few fights, but accidentally discovered the secret of the bronze mirror.
Faced with Bai Chuanlin's advances, Wu XIN decided to take the initiative. He set up a game within a game to destroy the bronze mirror of Bai Chuanbin.
This would have killed Bai Chuanbin, but Gu Ji secretly helped him escape in exchange for the position of agent in the tobacco industry.
After some turmoil, the Yin-Yang master disappeared, Chen Daguang fell down, and even Gu Ji left.
As the days seemed to return to peace, Wu Xin took Su Tao with him, living in the midst of war and in the ever-changing times.
Su Tao fell in love with Wu Xin...
Reviews
You May Also Like
Related Posts