The Sleepless Princess – Zheng Yecheng, Hu Yixuan
The Sleepless Princess is a historical romantic fantasy drama directed by Gao Zongkai, led by Zheng Yecheng and Hu Yixuan, co-starring Yang Lin, Lin Xinyi, Zhou Dawei, Peng Biyao, Shu Yaxin, and Zhang Jinming, with Huang Cancan in a special role.

The drama is about a sweet and sadistic romance between Princess Xu Chuyue, whose fate is influenced by the birthstone, and Xue Yao, a great general of the dynasty.
Details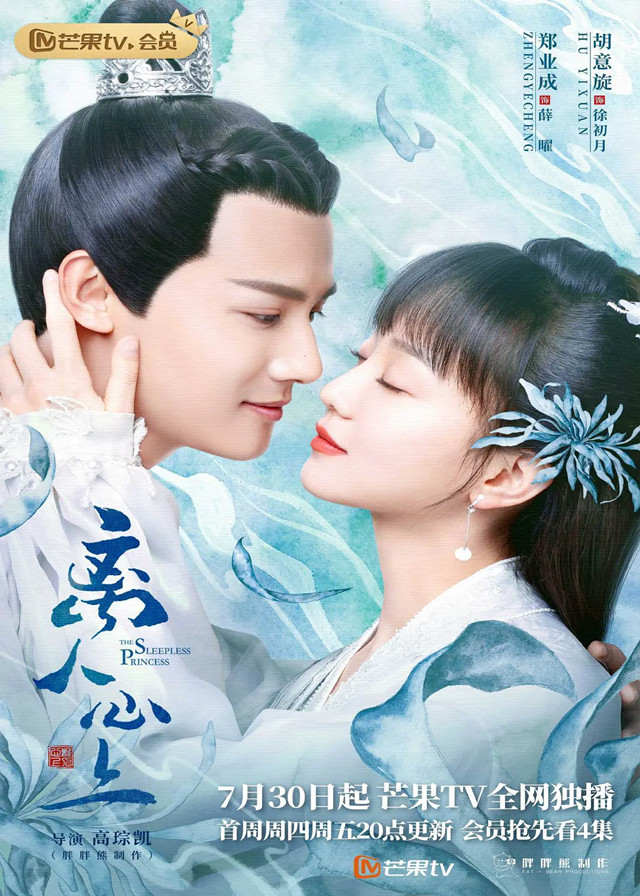 Cast
Synopsis
The ninth Princess Xu Chuyue and the decisive General Xue Yao have never interacted before, but they were brought together by a palace assassination.
Xue Yao blocked an arrow to save the princess, and the princess concealed his identity in return for saving her life.
They were granted a marriage by the emperor, living together. Their grudges and misunderstandings were solved.
Xue Yao thought that the princess was very strange, so he not only put her on an ankle chain but also tied her to a stake as an arrow target, in order to force her to tell him what she had seen and heard that night at the palace.
The princess was also dissatisfied with Xue Yao's attitude. After her marriage, she repeatedly escaped, although she was also afraid of the general, she was determined to pursue freedom.
However, they fell in love because of sleeping together. Because Chuyue discovered that Xue Yao can cure nightmares, she gradually attached to him, and the general also gradually treated the lovely princess with tenderness.
Reviews
You May Also Like
Related Posts