Love Me If You Dare – Wallace Huo, Sandra Ma
Love Me If You Dare is a suspenseful romantic drama directed by Zhang Kai Zu and starring Wallace Huo, Sandra Ma Sichun, Zhang Luyi, Wang Kai, Zhang Lingzhi, and Yin Zheng.

The drama is adapted from Ding Mo's deduction novel of the same name and focuses on the story of Bo Jinyan, a globally known criminal psychologist who gains love while solving bizarre cases one after another.
Details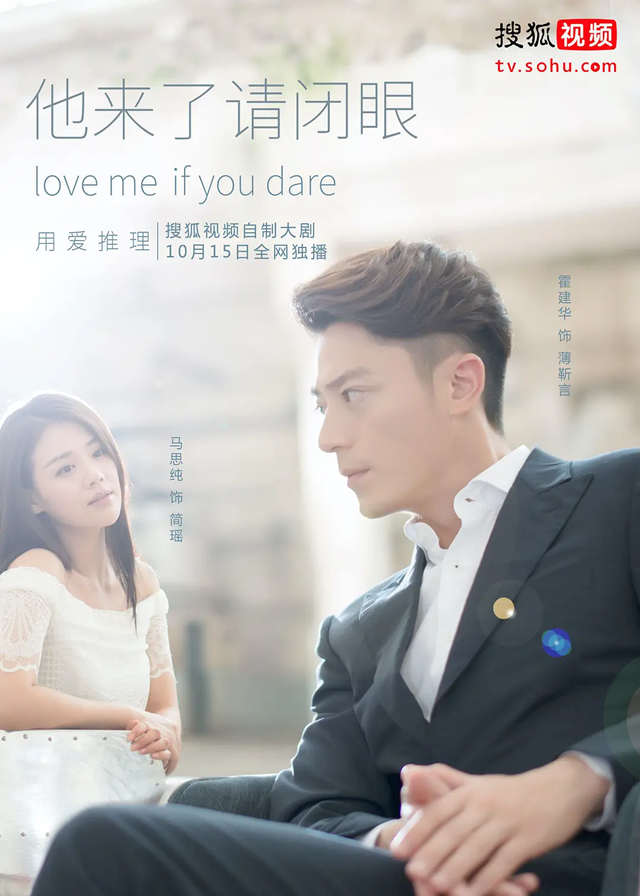 English Title: Love Me If You Dare
Chinese Title: 他来了, 请闭眼
Genre: Urban, Suspense, Romance, Thriller
Tag: Investigation, Murder, Rich Man/Poor Woman, Bromance, Tragic Past, Dissociative Identity Disorder
Episodes: 24
Duration: 45 min.
Director: Zhang Kaizhou
Writer: Hai Yan
Producer: Hou Hongliang
Product Company: Sohu TV, SHANDONG FILM AND TV GROUP, SMG PICTURES, DAYLIGHT ENTERTAINMENT
Released Date: 2015-10-15
Watch On: Prime Video, Viki, AsianCrush, Caravan中文剧场
Subtitle:
English, Chinese, Korean, Japanese, Indonesian, Arabic, French, Bulgarian, Czech, Danish, Dutch, Estonian, Finnish, German, Greek, Hindi, Hungarian, Italian, Lithuanian, Malay, Norwegian, Polish, Portuguese, Romanian, Russian, Serbian, Serbo-Croatian, Slovak, Spanish, Swedish, Tagalog, Thai, Turkish, Vietnamese
Cast
Synopsis
A mysterious criminal psychologist, Bo Jinyan, recruited a senior student, Jian Yao, as a translator and life assistant.
On the one hand, he taught Jian Yao with his high intelligence and professional knowledge and trained her to be a detective assistant. They worked together to solve difficult murder cases such as the serial disappearance of teenagers.
On the other hand, Bo Jinyan gradually developed feelings for Jian Yao as they spent time together. The huge contrast between his high IQ and low IQ also added a lot of twists and turns to this relationship.
While their affection gradually deepened, the danger was also quietly coming.
A few years ago, as the youngest professor of criminal psychology at the University of Maryland, Bo Jinyan pursued the sensational "Flower Ogre" case when he was in the United States. In order to protect the hostages, he also became a victim and was imprisoned for six months, suffering from torture.
In order to escape, he disguised himself as a second personality who loves crime and gained the trust of the criminals.
Because the "ogre" Xie Han left a message in the first case he solved after returning to China, he set a trap in the second case and almost caught him.
As a result, it annoyed Xie Han, who took advantage of the weaknesses of Bo Jinyan's friends and abducted Jian Yao, all for the purpose of forcing out Bo Jinyan's so-called second personality.
In order to save Jian Yao and with the help of his friends Li Xunran and Fu Ziyu, Bo Jinyan maneuvered with Xie Han. At the risk of losing his reputation, he pretended to reveal his "second personality" to gain Xie Han's trust again, finally saving Jian Yao and punishing this psychopathic murderer.
Reviews
You May Also Like
Related Posts