Farewell to Arms – Zhang Han, Jiao Junyan
Farewell to Arms is an anti-war drama directed by Lian Yiming, led by Hans Zhang Han and Jiao Junyan, co-starring Ye Xiangming, Liu Haikuan, Liu Changde, Zhang Yamei.

The drama is based on a novel of the same name by Jiu Gui. It tells the story of Zhang Songling, who was framed by a traitor on the eve of his wedding and his family was ruined. He hid his pain and resolutely joined the army to fight against the enemy.
Details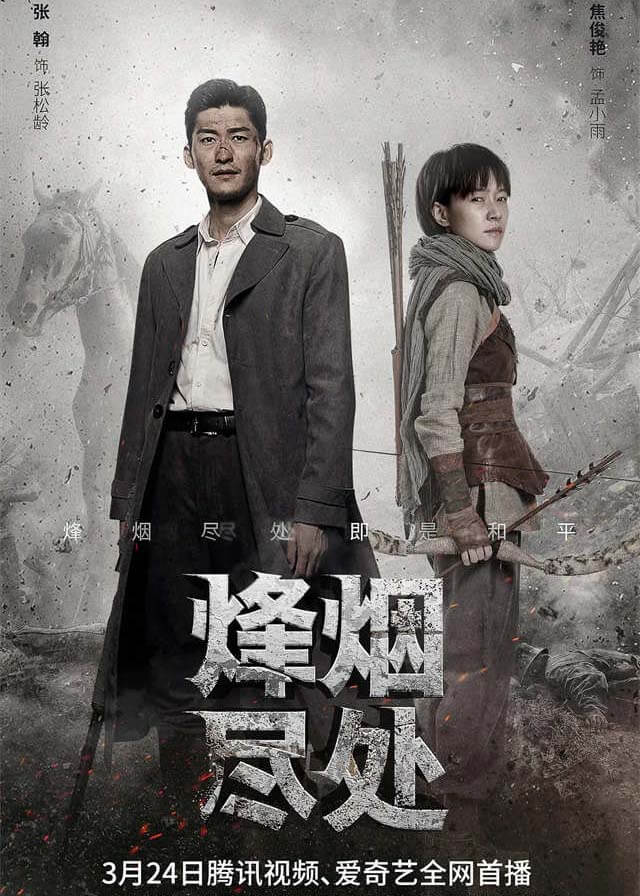 English Title: Farewell to Arms
Chinese Title: 烽烟尽处
Genre: War, Military, Action
Episodes: 38
Duration: 45 min.
Director: Lian Yiming
Producer: Qi Shuai, Wang Yuren
Product Company: GOLDEN PUND MEDIA
Broadcasting Website: WeTV
Released Date: March 24, 2022
Cast

Zhang Han
as Zhang Songling

Jiao Junyan as Meng Xiaoyu

Ye Xiangming as Zhu Chengbi

Liu Haikuan
as Peng Xuewen

Shih-Chieh King as Wei Ding

Wu Qiang as Zhao Tianlong

Zhang Yamei as Peng Weiwei

Luo Guangxu as Zhang Youcai

Su Yujie as Xiaoye Tailang

Chen Zhen as Wang Hong
Synopsis
In July 1937, the situation in North China was urgent and the Japanese were preparing to launch a full-scale invasion of China.
Heishi Village in Chahaer Province seemed to be calm, but in reality, it was turbulent.
On the eve of his wedding with his beloved, Zhang Songling, a talent, was framed by traitors, and his family was ruined.
Zhang Songling hid his pain and resolutely joined the army.
After several hard battles, his military education was improved rapidly, and he understood that the responsibility of a soldier is to protect the people.
Later, Zhang Songling was seriously wounded and came to the grassland, where he joined the guerrilla forces under the leadership of the Communist Party of China, uniting the people of the grassland to fight the Japanese invaders together.
Zhang Songling learned the sincerity and selflessness of the Communist Party and realized that the Communist Party of China was the hope of China. He joined the Communist Party of China with honor and became the leader of the guerrilla forces and the backbone of the Red Anti-Japanese Army.
Zhang Songling led the team, united the people, fought against the invaders and traitors, and finally succeeded in driving the invaders out of the grassland, despite the hardships and sacrifices.