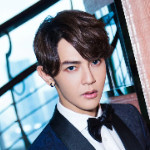 Jiro Wang dramas, movies, and TV shows list contains the best TV series, films of Jiro Wang and the ongoing and upcoming shows. The list will be updated continuously, bookmark this list to get the latest tv shows of Jiro Wang.
Jiro Wang Dramas List
TBA

#1

Adventure, Thriller, Action

Jiro Wang, Jia Qing

Tang Feng, a talented archaeology student at Jinling University, suffers an assassination attempt by an unknown person at an extreme sports challenge organized by his mentor Liang Yunjie. What he thought was just a competition for fame and fortune, the series of events that follow are unexpectedly related to a huge restoration treasure left behind by the Western Xia Dynasty. To save his life and to find his mother, Luo Zhongping, the missing archaeologist, Tang Feng sets out on a treasure hunt with Han Jiang, the extreme sports expert, Liang Yuan, the granddaughter of Liang Yunjie, and Song Jinyu, his roommate from the archaeology school who is always at odds with him. During the journey, Tang Feng and his companions are faced with all kinds of difficulties, and at the same time, Tang Feng discovers that each of them seems to have an unknown purpose. When they finally win the battle at the last minute, they find themselves being used. In the end, Tang Feng discovers the secret of the "jade screen", and everyone finally understands the true secret of the treasure. Tang Feng and his teammates set out again to protect the relics of Western Xia and stop the loss of the national treasure, to have a final battle with the mastermind behind it, and finally win.

2018-06-08

#2

Historical, Romance, Comedy

Gina Jin, Jiro Wang

After entering the palace, Bu Meng, the daughter of Kangcheng imperial governor, has been pretending to be sick to avoid servicing the Emperor in order to avoid the court's troubles and to avoid having her fate arranged by others. In the harem, she met the smart and clever Yan Fei, Qu Pin, who loved crying and eating, and the emperor, and Xiao Guiren who was a strong martial artist from a general's family. They have similar temperaments and became good friends. The emperor, who had been criticized by his governor many times, decided to vent his anger on the daughter of the governor, Bu Meng. As he contacted her more and more, he was attracted by her different personality and started to create contact with her intentionally. However, Bu Meng avoided it, on an occasional trip out of the palace, they became friends. Bu Meng also gradually found a lot of advantages of the emperor and was deeply in love with the emperor. For love, she decided to give up her obsessions!

2017-08-02

#3

Fantasy, Action, Adventure

Jiro Wang, An Yuexi

Cao Yanbing, a descendant of Wei Wu, is a spirit general who vows to protect the stability of the spirit world. The accidental entry of Xia Ling triggers a dramatic change in the spirit realm. A mysterious evil force that has been secretly coveting the world launched a surprise attack, resulting in the destruction of the boundary between the human world and the spirit world. Cao Yanbing and Xia Ling have to embark on a journey together to suppress the spirits.

2016-06-30

#4

Fantasy, Romance

Zhang Zhehan, Li Yitong

At the end of the Qing Dynasty, the Eight-Power Allied Forces invaded Beijing and in a massacre, Nie Rufeng's family encountered a life-threatening situation. In this situation, Nie Rufeng's wife, Ying Die, chased Nie Rufeng and his daughter away to face the enemy alone. Fifteen years later, Nie Rufeng's eldest daughter, Nie Qingcheng, befriended Mingxia who came from a wealthy family. In the midst of the chaotic world, they fell in love and got together after all the twists and turns.

2015-01-04

#5

Youth, Romance, Friendship

Joe Cheng, Xu Lu, Jiro Wang

Eight single men and women, living as singles in a unified and managed bachelor pad. In this flat, relationships are forbidden and singleness is promoted, and anyone who breaks the rules will be expelled from the bachelor pad. But behind each of them is a secret, a rich cartoonist who hides his identity, a female illustrator who suffers from a broken relationship, and a police officer who goes undercover in the bachelor pad...
Jiro Wang Movies List
2018-02-16

#1

Fantasy, Comedy

Yue Yunpeng, Lin Chi-ling

Bei Xiaobei, due to his appearance not conforming to mainstream aesthetics, has repeatedly encountered setbacks in life. One day, he gathered the courage to confess his love to his long-time crush, Li Ya, but was tragically rejected. Bei Xiaobei began to doubt his life and blamed all responsibility on his ancestors' imperfect genes. When he accidentally opened the family tree and traveled through time to the era of his ancestors, Mei Banfa, Mei Qiantu, Mei Xingfu, and Mei Xiwang, Bei Xiaobei decided to adjust his genes by tampering with his ancestors' marriages, in order to make himself more handsome.
Related Posts